So you thought that the unimaginable could not happen. The signal is heard loud and clear. Keeping your money in a fiduciary account will not only earn no interest; there will be an actual cost of parking your funds in a bank relationship. The madness that has engulfed the financial sector is preparing to escalate the systematic looting of saved capital. Ponder the consequences of negative bank rates and ask, what exactly can anyone do or where can they place their money for safekeeping. The first objective of entrusting your funds to a financial institution is to have the ability to obtain access to the return of your capital.
The Less Than Zero article analysis explains accordingly.
"Since central banks rates provide a benchmark for all borrowing costs across a country's economy, yields on a range of fixed-income securities – including government bonds of countries like France and Germany – also slipped below zero. Banks are reluctant to pass on negative rates to retail depositors for fear of losing customers, even though that hurts their profit.

In theory, interest rates below zero should reduce borrowing costs for companies and households, driving demand for loans. In practice, there's a risk that the policy might do more harm than good."
Only a dullard would believe that banking institutions will not eventually drop their interest rate pay outs to depositors, as their own costs are taxed or central banking policy demands that the value of the currency must be diminished.
The example that Australia Wants To Tax Bank Deposits: Will The US Follow? This report poses an obvious question for anyone keeping money in the depository system.
"Several months ago, the government of Australia proposed to tax bank deposits up to $250,000 at a rate of 0.05% (5 basis points). To be clear, the proposal seems to plan on taxing the banks based on the amount of deposits they're holding—but it's pretty obvious this will be passed on to consumers in the form of lower interest rates."
Taxes on bank deposits are generally the same as negative interest rates.
Taxes always start small… then increase over time.
Taxes are rarely used for their stated purpose.
If this can happen in Australia, is anyone foolish enough to think it can't happen in the US or Europe?
Reuven Brenner, in The Potentially Devastating Consequences of Negative Rates, published in Real Clear Markets, the admittedly benedictory of this planned policy.
"The fact that the U.S. stock market has been – at least nominally – at an all-time high is not particularly surprising in such an environment. The problem is that stock-market signals no longer convey the information they did during normal times of positive interest rates. According to Bloomberg, companies have been buying back their shares at $5 billion per day, or roughly 2 percent of the value of shares traded on U.S. exchanges. Since 2009, they have bought back more than $2 trillion of their shares, spending about 95% of their earnings on buybacks and dividends, while issuing bonds at the low interest rates. Central banks' zero interest rate experiment brought about the profitable financial engineering and increased nominal stock prices. The latter do not signal improved real prospects, but only that the buying of one's own shares is a good investment with zero or negative interest rates."
Individual net wealth has declined and real income has been in the tank since the 2008 meltdown is indisputable for the average family. Retirees have been hurt the most. The Negotium essay, Low Interest Rates Impoverish Savers makes the case that minuscule interest rates harm savers and concludes: "The submissive banking customer needs to take a hard look on continuing their depositing relationship with the commercial saving establishment."
This determination is based upon pure common sense. The tangible purchasing power of the U.S. Dollar in this deflationary income scenario is buffeted by higher prices for staple and necessary costs. The end result is a loss of wealth and dim prospects of recouping the decrease in value of their cash.
What actions can be taken while your paper money can still be used to buy assets?
Even if a dramatic implosion of the international financial system can be forestalled or in a perfect world, avoided; the slow drop by drop decline in the marginal liquidity of the personal resources will accelerate even faster. All fantasyland prospects of prosperity returning as indebtedness continues are pure poppycock.
Going to cash presents another risk as author, Pater Tenebrarum's assessment in The Consequences of Imposing Negative Interest Rates, indicates. "In the US, private persons who are found in possession of large amounts of cash must fully expect that it will be confiscated without trial or any evidence of a crime by means of the "civil forfeiture" procedure."
Even if ready Federal Reserve notes are not stolen, the other danger is a currency recall. The "crayola currency" substitution, which has already taken place with hardly a whimper from the public, trained the population for a very real possibility that the U.S. Dollar may go extinct and a new fiat medium with a substantially lower purchasing power would be introduced.
Protecting capital in equities or bonds keeps your money at the mercy of the Corporatocracy. Stashing your notes in a saving account where a charge for keeping a deposit is certainly painful. None of these options are safe much less foolproof.
Buying physical metals has a strong historic record of preserving your remaining wealth. However, how long do you think it will take to criminalize holders of gold when the financial dam busts?
The only certainty known is that only the NWO elites have prepared their vision for global enslavement through the credit and debit paper transactions that they control. Populism demands a new era of monitory accountability and honest money.
Only from the ashes of central banking pillage through a political realignment of decentralized power can the world crawl back to solvency.
Today many intellectuals and modern theologians slavishly follow after whatever passes for current trends in scientific and evolutionary theory, thus they believe the Genesis account ex nihilo, the supernatural, the fall, miracles, the Resurrection of Christ, hell, angels, demons and possession are out dated concepts.  Despite this, in 1967 Mortimer J. Adler, the guiding genius behind The Encyclopedia Britannica and Great Books of the Western World, predicted that belief in a spiritual reality would not only return but be considered orthodox science.  His prediction has come true, for today, Eastern-oriented occult pantheism (evolutionary New Age cosmic humanism (1) and esoteric neo-pagan materialism (evolutionary secular humanism) have nearly merged, making it difficult to distinguish one from the other.
Over the past three hundred years, the Western Christian tradition has slowly but steadily been eclipsed, first by scientific evolutionary materialism, now by Eastern-oriented scientific cosmic humanism which has infused and spiritualized the former, transforming it into an agency for the transmission of the naturalistic structure of the evolving universe of matter and psychic energy and other revelations from fallen angels and evil spirits.  This legion of disembodied beings call themselves everything from Transcended Masters to Maitreya, Semjase, the Council of Nine, Space Brothers and ancient Ennead of Egypt together with evil spirits going by such names as god, christ and jesus.  All of this has led Martin Lloyd-Jones to declare:
"The modern world, and especially the history of the present century, can only be understood in terms of the unusual activity of the devil and the "principalities and powers" of darkness…In a world of collapsing institutions, moral chaos, and increasing violence, never was it more important to trace the hand of the "prince of the power of the air."  If we cannot discern the chief cause of our ills, how can we hope to cure them?"  The Christian Warfare
In the space of a few short decades occult New Age spirituality (2) has made profound inroads. Its upsurge manifests itself in the form of everything from obsession with the paranormal, channeling cults, ghost-hunting, necromancy, light-bearers, spirit guides (3), goddess worship, shamanism, transcendental meditation and visualization (4), 'new' contemplative or centering prayer (5), the enneagram (6), labyrinth walking (7), yoga (8), Wicca (9), revitalized Norse paganism, transformational festivals (10), vampires (11), Ouija boards (12), poltergeists (13), the proliferation of 'new' religions and Lucifer as the Angel of Light:
"Medium and psychic Sylvia Browne admits there are dark entities that choose from the beginning to be this way, but she denies the devil. According to Browne, God sent Lucifer down to watch over people when God saw they had chosen "the dark side." According to Browne, "Lucifer is neither dark nor fallen. He wasn't rejected by God or banished from the light."  (The Dark Side: Beyond Good and Evil, Marcia Montenegro, Christian Answers for the New Age)
The hugely popular "new" contemplative or centering prayer (5) is a hybrid drawn from prayer practices of the Christian contemplative heritage fused with Eastern mysticism. The hybrid version,
"…originated in St Joseph's Abbey, a Trappist monastery in Spencer, Massachusetts. During the twenty years (1961-1981) when Keating was abbot, St Joseph's held dialogues with Buddhist and Hindu representatives, and a Zen master gave a week-long retreat to the monks. A former Trappist monk who had become a Transcendental Meditation teacher also gave a session to the monks. ….Centering prayer is essentially a form of self-hypnosis. It makes use of a "mantra," a word repeated over and over to focus the mind while striving by one's will to go deep within oneself. The effects are a hypnotic-like state…" (The Danger of Centering Prayer, Rev. John D. Dreher, Catholic Education Resource Center)
In the foreword to Philip St. Romains book, "Kundalini Energy and Christian Spirituality," Keating acknowledges that kundalini energy is the focus of the "new" Christian contemplative prayer. He states:
"Since this energy [kundalini] is also at work today in numerous persons who are devoting themselves to contemplative prayer, this book is an important contribution to the renewal of the Christian contemplative tradition. It will be a great consolation to those who have experienced physical symptoms arising from the awakening of kundalini in the course of their spiritual journey … Most spiritual disciplines world-wide insist on some kind of serious discipline before techniques of awakening kundalini are communicated. In Christian tradition … the regular practice of the stages of Christian prayer … contemplation are the essential disciplines…"  (Kundalini Energy (Serpent Power) Same as Contemplative Silence, lighthousetrailsresearch)
Psychical researcher J.D. Pearce-Higgins, vice chairman of the Churches Fellowship for Psychical and Spiritual Studies (Great Britain) writes of the hazards of Ouija board (11) use and automatic writing:
"These apparently simple methods of attempting contact…are extremely dangerous. (People will become) obsessed or possessed by some…damaging spirit who has got control of them and won't let go.  They are compelled to go on with automatic writing—at all hours of day and night (and) may begin to hear…voices telling them to do stupid and filthy things; they are no longer master in the house of their own minds and souls."  (ibid, pp. 129-130)
From England to Australia and New Zealand, from South America to E. Europe, Canada and the United States, occult  spirituality is quickly becoming the West's dominant orthodoxy, leading America's mainstream media to report:
"Neopaganism Growing Quickly: Numbers Roughly Double Every 18 Months in United States, Canada, and Europe." (Denver Post, June 26, 2008; How Evil Works, David Kupelian, p. 115)
"Sorcery Sells, and the Young are Buying" Atlanta Journal-Constitution, June 10, 2007 (ibid)
"Wicca is Believed to be One of the Fastest-Growing Religions Among High School and College Students" National Public Radio, May 13, 2004 (ibid)
In his book, "America's Schools: The Battleground for Freedom," Allen Quist warns:
"New Age religion is now aggressively being taught in our nation's public schools." A model curriculum has been developed that "is clearly centered on pantheism." "Much of what passes for environmental education and multiculturalism is really indoctrination in pantheistic/New Age theology. The ACLU and other similar organizations have no objections to (pantheistic indoctrination). It is only Christianity that these organizations object to." (p. 51)
Today millions of Westerners are risking everything to seek the occult world and its' alluring power. In "One or Two?" Dr. Peter Jones, Director of truthXchange and Adjunct Professor of New Testament at Westminster Seminary California writes that a wide variety of occult spirituality is now available.
There is something for everyone:
"A Course in Miracles, Alchemy, American Indian Quest, Ancient Mythology, Arkashic Record, Aryuvedic Medicine, Astrology, Bahai'i Unity, Buddhism, Buddhist/Christian Dialogue, Chakras, Channeling, Christian Monastic Mysticism, Crystals, Divination, Dream work, Druidism, Eastern Meditation, Eckankar (soul travel), Ecofeminism, Enneagram, EST, Feng Shui, Gnosticism (ancient and modern), Goddess worship, Hare Krishna, Hermeticism, Higher Self, Hinduism, Holism, Human Potential Movement, Hypnosis, I Ching, Iridology, Jungian Transpersonal Psychology, Kabbalah, Karma, Mandalas, Mantras, Mind-altering drugs, Parapsychology, Past Life Regressions, Reiki, Re-incarnation, Religious syncretism, Rolfing, Sacred Technologies, Santeria, Scientology, Shamanism, Sufism, T'ai Chi, Tantrism, Tarot Cards, Teilhardism, Therapeutic Touch, Tikkun, Transcendental Meditation, Ufology, Urantia Book, Visualization, Wicca, Yoga, Zen."  (pp. 40-41)
It is well documented that perversions, murder, possession and other evils, including human sacrifice, occur in Western witchcraft, Satanism and Eastern mysticism (e.g., tantric yoga) as well as pagan and pantheist occult religion in general.  In his "Occultism, Witchcraft and Cultural Fashions," the noted cultural anthropologist Mircea Eliade of the University of Chicago refers to the interconnections between European witchcraft and Hindu Tantric yoga.  He argues that "even a rapid perusal of the Hindu and Tibetan documents" reveals the connection:
"As a matter of fact, all the features associated with European witches are—with the exception of Satan and the Sabbath—claimed also by Indo-Tibetan yogis and magicians.  They too are supposed to fly through the air, render themselves invisible, kill at a distance, master demons and ghosts, and so on.  Moreover, some of(them) boast that they break all the religious taboos and social rules; that they practice human sacrifice, cannibalism, and all manner of orgies, including incestuous intercourse, and that they eat excrement, nauseating animals, and devour human corpses.  In other words, they proudly claim all the crimes and horrible ceremonies cited ad nauseum in the western European witch trials."  (Psychic Forces, Chapter 22, "The Occult History of Parapsychology," Clifford Wilson and John Weldon, pp. 341-49)
The very popular Tantra Kundalini yoga is based on the occultic chakra system which teaches that a universal evolutionary energy (Kundalini Shakti, the Supreme Power; serpent power) coiled at the base of the spine flows through human beings and through all of creation, uniting everything above and everything below, thus acknowledging divinity in all things and all people. Through strenuous yoga and other occult techniques outlined in ancient and modern texts, Kundalini Shakti uncoils and rises through seven "chakras" or power centers within the human body.  During so-called kundalini arousal, which may last for months or even years, protracted insanity and/or demonization must be endured.  In the words of power yogi Muktananda:
"I was assailed by all sorts of perverse and defiling emotions….my breathing (became) disturbed…my abdomen would swell with air…my mind was sick with fear (my)thoughts became confused, meaningless.   My limbs and body got hotter and hotter….Then I felt a searing pain…I wanted to run away, but my legs were locked tight in the lotus posture…..Then…a moonlike sphere…came floating in (it) struck against my eyes and…passed inside me…I was terrified (but) still locked in the lotus posture(with) my head forced down and glued to the ground….I started to make a sound like a camel, which alternated with the roaring of a tiger (I went) completely insane(and jumped and hopped) like a frog (while) my limbs (shook) violently. (Later) I learned that this was a Hatha Yoga process effected by the Goddess Kundalini in order for Her to move up through the spinal column into the sahasrana (upper psychic center.)"  (Play of Consciousness, Swami Muktananda, pp. 75-81, 84-85, 88-89)
With continued practice, surrender, and preparation, one day the kundalini current will reach full voltage and there will no longer be 'anybody home' but an unholy spirit residing in an empty shell of a body:
"The moment of power transfer had come….Muktananda (adept of Nityananda) was about to make the timeless journey….of the power yogi (the Siddha), but it required the catalytic power of the master guru, Nityananda…who was God to Muktananda, therefore worthy of worship as the supreme Deity.  The voyage of consciousness, prized by the ancients, would split Muktananda into fragments…Sometimes (his) body would writhe and twist like a snake's while a hissing sound would come from inside (him)."   Finally it happened—explosion, the point of no return where Muktananda "as an individual would be obliterated.  Superconscious states would take control of him, and his consciousness would be kicked out to more and more remote levels."   "In place of the former person was the walking void, the Unself, the hollow shell filled with the soul of the universe…"   (Riders of the Cosmic Circuit, Tal Brooke, pp. 36-45)
Like "new" contemplative prayer and other occultisms, yoga does not liberate; it enslaves and binds.  It does not enlighten but brings confusion and insanity.  It makes people immune to redemption through Christ,
"Yoga does not open the door for the Holy Spirit, but for spiritist spirits."  (Occult ABC: Exposing Occult Practices and Ideologies, Kurt E. Koch, p. 259)
Occult (Demonic) Bondage
According to Dr. Kurt Koch (1913-1987), a noted German theologian and minister with extensive personal experience in counseling and delivering thousands of people held in occult bondage, modern theologians who follow current scientific trends would be shocked by how many of the so-called scientists and intellectuals they slavishly follow have turned to occultism and spiritism (sorcery) and become demonized as a result.  Be they scientist or otherwise, all who trespass into Satan's domain by committing sins of sorcery will be harassed by the powers of darkness, irrespective of whether they take the step consciously or unconsciously.   Every sin of sorcery (occultism) cuts a person off from the Holy God and opens the door to demonic bondage.  Any person who serves the devil (occult), will receive the devil's wages (Exod. 7:11-12; Lev. 19: 26, 32; Zech. 12:2; Mal. 3:5; Acts 8:16; Acts 16:16; 1 Sam. 28; 2 Chron. 10:13-14; Isaiah 2:6; 8:19; Jer. 27:9, 10; Gal. 5:20; 2 Tim. 3:8; Rev. 21:8; Rev. 22:15).   Thus when a person abandons the Holy Triune God through sins of sorcery, he abandons his inner person (mind, will, conscience) at the same time as seen in relation to psychological disturbances having the following predominant characteristics:
(1) Warped, distorted character: hard-edged egoism; uncongenial, dark nature.
(2) Extreme passions: hard-edged egoism, abnormal sexuality (sodomy, lesbianism, sadomasochism, bestiality, pedophilia, pederasty, zoophiles); violent temper, belligerence; tendencies to addiction; meanness and kleptomania; compulsive lying.
(3) Emotional disturbances; compulsive thoughts of murder and suicide, anxiety states.
(4) Possession with destructive urges, fits of mania; tendency to violent acts and crime
(5) Insanity.
(6) Bigoted attitude against Christ and God; conscious atheism; simulated piety; indifference to God's word and to prayer; blasphemous thoughts; religious delusions.
The ultimate goal of fallen angels and evil spirits is degradation and desecration of mans' inner person, the spiritual part of him created in the image of the Holy God. So what are systematically defaced and desecrated are the mind, will, conscience and sense of good and evil.
Demonic Darkness: America's Invisible Wave of Evil
Carl A. Raschke is Professor of Religious Studies at the University of Denver specializing in Continental philosophy and the philosophy and theory of religion.  He is also America's leading authority on subcultures of demonic darkness.  In his fully-documented work, "Painted Black" he puts together a terrifying puzzle to reveal the chilling facts and cases behind an invisible wave of evil working through the minds of children and adults and subsequently sweeping over and across our nation outwardly manifest in an alarming epidemic of violence and madness that Western therapeutic science explains away as hallucinations, genetic influences and chemical disturbances.   Such a posture, said Raschke, hinges on the most incredible delusion that the "symbol of the Devil does not at all mean what the symbol of the Devil has always meant…" (Painted Black, p.404).
According to Rashcke, demonic bondage does not always manifest itself in a will to do evil:
"Many of today's young satanists (are characterized) by a metaphysics of exhaustion and despair.  A culture of despair becomes ever easier pickings for the…child pornographers (and the) professional (satanic) terrorists themselves.  Satanism has already yielded a climate of fear in middle-class quarters where fear had never flourished before." (p. 406)
A culture of "exhaustion and despair" also welcomes demonized perverse 'sex-educators' (14) and professional satanic terrorists like the 9/11 murderers and ISIS.
Where occult bondage manifests itself in a will to do evil it is seen in the recent Dark Knight movie murders (15) and in the following chilling account:
"In a chilling 911 call, Texas teen Jake Evans spent 20 minutes calmly recounting how he shot and killed his mother and sister, calling himself "evil." (Texas Teen Tells 911 It Was Weird to Kill His Mother and Sister, abcnews, Oct. 5, 2012)
"It's weird," an even-voiced Evans told the 911 dispatcher. "I wasn't even really angry with them. It just kind of happened. I've been kind of planning on killing for a while now."  "I'll never forget this. My sister, she came down the stairs and she was screaming and I was telling her that I'm sorry but to just hold still–that, you know, I was just going to make it go away," he said. "But she just kept on freaking out, but finally she fell down, and I got her in the head about, probably, three times." "Just to let you know, I hate the feeling of killing someone. I'm going to be messed up," he told the operator." "I'm really worried about nightmares and stuff like that. Are there any type of medications for that and stuff?"
America's secularized culture is a spiritual vacuum into which innumerable dark psychic forces have flooded.  Most of the present destructive generation is sick, lawless, narcissistic, and undisciplined.   America, the dying leader of the world, bleeds from thousands of self-inflicted wounds as she marches toward her own destruction to the beat of unseen drummers.
The clearest answer to the evil conditions of our times is found in the Bible.   We are living in the Last Days.  The final pages of history are now being read.  Our time,
"…can only be understood aright in the light of the prophetic word.  Satan is mobilizing all his forces for an all-out attack.  The demonic world has entered the final lap….To fail, therefore, to take our stand at the foot of the cross, to fail to build our house upon the Rock, is to be swept away by the turmoil of the End-Times.  We are living in days of a demonic nature!"  (Demonology Past and Present, Kurt E. Koch, p. 37)
The Difference of Man and the Difference It Makes, Adler, p. 294
The New Age. What is it? Marcia Montenegro, Christian Answers for the New Age
SPIRIT CONTACT: WHO IS ON THE OTHER SIDE? ibid
OUT OF YOUR MIND: MEDITATION AND VISUALIZATION, ibid
Centering Prayer, Matt Slick, CARM; The Danger of Centering Prayer, Rev. John D. Dreher, Catholic Education Resource Center; Contemplating Contemplative Prayer: Is It Really Prayer? Montenegro
The enneagram gps: gnostic path to self, Montenegro;  National Pastor's Convention Using Occultic Enneagram, lighthousetrailsresearch.com, Dec. 12, 2006
THE LABYRINTH: A WALK BY FAITH? Montenegro
Christian yoga: an oxymoron? Marcia Montenegro
WITCHCRAFT, WICCA AND NEOPAGANISM, ibid
Transformational Festivals, The Freedom Report
THE VAMPYRE UNDERGROUND, Montenegro
THE OUIJA BOARD — JUST A GAME???, ibid
Poltergeists—An Evaluation of a Demonic Phenomenon, inplainsite.org
The Little Black Book http://www.article8.net/downloads/LittleBlackBook.pdf
James Holmes Charged With 24 Counts of Murder in Dark Knight Rises Massacre, usmagazine.com
Eleven years ago I wrote a column for the print edition of Chronicles under this title. Tom Piatak's grim reminder of the continued destructive presence of this cabal in what passes for the commentariat in today's America has prompted me to dig into my old files and recap for our readers the historical and ideological roots of neoconservatism. The 2004 diagnosis, reproduced here in an abbreviated form, still stands.
The neoconservatives are often depicted as former Trotskyites who have morphed into a new, closely related life form. It is pointed out that many early neocons—including The Public Interest founder Irving Kristol and coeditor Nathan Glazer, Sidney Hook, and Albert Wohlstetter—belonged to the anti-Stalinist far left in the late 1930s and early 1940s, and that their successors, including Joshua Muravchik and Carl Gershman, came to neoconservatism through the Socialist Party at a time when it was Trotskyite in outlook and politics. As early as 1963 Richard Hofstadter commented on the progression of many ex-Communists from the paranoid left to the paranoid right, clinging all the while to the fundamentally Manichean psychology that underlies both. [Half a century] later the dominant strain of neoconservatism is declared to be a mixture of geopolitical militarism and "inverted socialist internationalism."
Blanket depictions of neoconservatives as redesigned Trotskyites need to be corrected in favor of a more nuanced analysis. In several important respects the neoconservative world outlook has diverged from the Trotskyite one and acquired some striking similarities with Stalinism and German National Socialism. Today's neoconservatives share with Stalin and Hitler an ideology of nationalist socialism and internationalist imperialism. The similarities deserve closer scrutiny and may contribute to a better understanding of the most influential group in the U.S. foreign policy-making community.
Certain important differences remain, notably the neoconservatives' hostility not only to Nazi race-theory but even to the most benign understanding of national or ethnic coherence. On the surface, there are also glaring differences in economics. However, the neoconservative glorification of the free market is mere rhetoric, designed to placate the businessmen who fund them, than reality. In fact, the neoconservatives favor not free enterprise but a kind of state capitalism—within the context of the global apparatus of the World Bank and the IMF—that Hitler would have appreciated.
Some form of gradual but irreversible and desirable withering away of the state is a key tenet of the Trotskyite theoretical outlook. The neoconservatives, by contrast, are statists par excellence. Their core belief—that society can be managed by the state in both its political and economic life—is equally at odds with the traditional conservative outlook and with the non-Stalinist Left. In this important respect the neoconservatives are much closer to Stalinism and National Socialism.
They do not want to abolish the state; they want to control it—especially if the state they control is capable of controlling all others. They are not "patriotic" in any conventional sense of the term and do not identify themselves with the real and historic America but see the United States merely as the host organism for the exercise of their Will to Power. Whereas the American political tradition has been fixated on the dangers of centralized state power, on the desirability of limited government and non-intervention in foreign affairs, the neoconservatives exalt and worship state power, and want America to become a hyper-state in order to be an effective global hegemon. Even when they support local government it is on the grounds that it is more efficient and responsive to the demands of the Empire, not on constitutional grounds.
The neoconservative view of America as a hybrid, "imagined" nation had an ardent supporter eight decades ago: in Mein Kampf Adolf Hitler argued for a new, tightly centralized Germany by invoking the example of the United States and the triumph of the Union over states' rights. He concluded that "National Socialism, as a matter of principle, must lay claim to the right to force its principles on the whole German nation without consideration of previous federated state boundaries."
Hitler was going to make a new Germany the way he imagined it, or else destroy it. In the same vein the Weekly Standard writers are "patriots" only insofar as the America they imagine is a pliable tool of their global design. Their relentless pursuit of an American Empire overseas is coupled by their deliberate domestic transformation of the United States' federal government into a Leviathan unbound by constitutional restraints. The lines they inserted into President Bush's State of the Union address [in January 2004] aptly summarized their Messianic obsessions: the call of history has come to the right country, we exercise power without conquest, and sacrifice for the liberty of strangers, we know that freedom is the right of every person and the future of every nation: "The liberty we prize is not America's gift to the world, it is God's gift to humanity."
Such megalomania is light years away from a patriotic appreciation of one's nation. A psychotic quest for power and dominance is the driving force, and the "nationalist" discourse its justification. The reality is visible in ultimate distress: Towards the end of the Second World War Josef Goebbels welcomed the Allied bombing for its destruction of the old bourgeois cuckoo-clock and marzipan Germany of the feudal principalities. Driven by the same impulse, Bill Kristol's "national greatness" psychosis seeks to sweep away the old localized, decentralized America of bingo parlors and little league games.
Most heirs of the Trotskyite Left are internationalists and one-world globalists, whereas all neoconservatives are unabashed imperialists. The former advocate "multilateralism," in the form of an emerging "international community" controlled by the United Nations or through a gradual transfer of sovereign prerogatives to regional groupings exemplified by the European Union. By contrast the neoconservative urge for uninhibited physical control of other lands and peoples bears resemblance to the New European Order of [the early 1940's], or to the "Socialist Community" that succeeded it in Eastern Europe. Even when they demand wars to export democracy, the term "democracy" is used as an ideological concept. It does not signify broad participation of informed citizens in the business of governance, but it denotes the desirable social and political content of ostensibly popular decisions . . .
Whereas the Trotskyite Left is predominantly anti-militarist, the neoconservatives are enthusiastically militarist in a manner reminiscent of German and Soviet totalitarianism. Their strategic doctrine, promulgated into official policy [in September 2002], calls for an indefinite and massive military build-up unconnected to any identifiable military threat to the United States. Their scribes demand 'citizen involvement,' in effect, militarization of the populace, but the traditional 'citizen soldier' concept is reversed . . .
The neoconservative mindset is apocalyptic (which is a Nazi and Stalinist trait), rather than utopian (which characterizes the Trotskyite Left). The replacement of the Soviet threat with the more amorphous "terrorism" reflects the doomsday revolutionary mentality that can never rest. New missions and new wars will have to be engineered, and pretexts manufactured, with the same subtlety that characterized the "attack" on the German radio station at Gleiwitz on August 31, 1939. Even the tools for the enforcement of domestic acquiescence are not dissimilar: the Patriot Act followed 9-11 as smoothly as the suspension of the Weimar constitution followed the Reichstag fire. Echoing the revolutionary dynamism and the historicist Messianism equally common to fascists and communists, Michael Ledeen wrote that "creative destruction" is America's eternal mission, both at home and abroad, and the reason America's "enemies" hate it: "They cannot feel secure so long as we are there, for our very existence—our existence, not our politics—threatens their legitimacy. They must attack us in order to survive, just as we must destroy them to advance our historic mission."
The neoconservatives' mendacity apparent in the misrepresentation of the Iraqi crisis to the American people recalls the Goebbelsian "hypodermic needle approach" to communication, in which the communicator's objective was to "inject" his ideas into the minds of the target population . . . [which] is echoed in our time by the Straussian dictum that perpetual deception of the citizens by those in power is necessary because they need to be led, and they need to be told what is good for them. On this, at least, Trotsky, Stalin, and Hitler would all agree. (As Hitler had said, "The receptive powers of the masses are very restricted, and their understanding is feeble.") In the Straussian-neoconservative mindset, those who are fit to rule are those who realize there is no morality and that there is only one natural right, the right of the superior to rule over the inferior.
That mindset is America's enemy. It is the greatest threat to the constitutional order, identity, and way of life of the United States, in existence today. Its adherents have only modified the paradigm of dialectical materialism in order to continue pursuing the same eschatological dream, the End of History devoid of God. They are in pursuit of Power for its own sake—thus sinning against God and man—and the end of that insane quest will be the same as the end of the Soviet empire and of the Thousand-Year Reich.
April 25 will mark 100 years since the Allies – the UK, Australia, New Zealand, and France – made their ill-fated landing on Turkey's Gallipoli peninsula during WW1. Having barely gotten off the beaches after months of fighting, the Allies withdrew in defeat leaving over 44,000 dead and 97,000 wounded.
As in recent years, thousands will flock from the Allied countries and elsewhere to Gallipoli for the Turkish-led April 24-25 commemorations. Numerous world dignitaries, including Australia's and New Zealand's prime ministers and Prince Charles, will also attend.
In April, the UK, Australia, and NZ hold Gallipoli remembrances on their own soil and elsewhere. And throughout the year, their citizens visit Gallipoli to pay tribute to the UK's 21 thousand, Australia and NZ's 11 thousand, and France's 10 thousand dead.   This is proper and honorable.
However, thronging to April's sham commemoration staged in and by Turkey, a notorious human rights violator? Which had mistreated Allied POWs? Which today abuses its remaining Christians, as well as Alevis, Kurds, and Jews? Which also committed genocide and pillage against millions of indigenous Christian Armenian, Assyrian, and Greek civilians during the Gallipoli battle and for years afterward? And which arrogantly denies having done so?
The UK, Australia, and NZ themselves have made the Gallipoli ceremonies in Turkey something less than solemn.  Smiling lottery winners receive tickets to the event. Youngsters vie to become Gallipoli "youth ambassadors" and win all-expense paid trips. Is Gallipoli the resting place of valorous Allied troops – or Disneyworld Turkey?
Turkey's Gallipoli Charade
Westerners often do not understand Turkey. The Turkish government does not mourn the Allied dead any more than it cares about the victims of its genocides and the deliberately unmarked, mass graves in which they lie.
Turkey enjoys the spectacle of defeated foreigners trudging to Gallipoli. Indeed, Turkey holds a huge Gallipoli celebration the month before. This year, it displayed avictory banner 1915 meters long. Meanwhile, Turkey's Defense Ministry has reportedly removed the names of non-Muslims from the list of its soldiers who died at Gallipoli.
2015's Gallipoli attendees can anticipate a lecture by Turkey's egomaniacal President Recep Tayyip Erdoğan. He just built himself a gaudy 1100-room palace for a reported $615 million.  In 2013, Erdoğan killed demonstrators in Gezi Square who were protesting his authoritarian rule, and regularly sues and jails journalists.
Genocide and Denial
The Armenian, Assyrian, and Greek genocides in Turkey were reported extensively at the time in Allied countries' newspapers. France, Great Britain, and Russia issued Turkey this famous warning in May 1915: "The Allied governments … will hold personally responsible … all members of the Ottoman [Turkish] government and those of their agents who are implicated in such massacres." Australian and New Zealand (Anzac) POWs, such as Captain Thomas Walter White, witnessed and later wrote about the genocides.
Winston Churchill termed them a "holocaust." "Race extermination," declared U.S. Ambassador to Turkey Henry Morgenthau in 1915. It was that extermination whichfirst motivated Raphael Lemkin, the Polish Jewish lawyer who later coined the word "genocide."
The parliaments of the European Union, Canada, France, Lebanon, Russia, Sweden, Switzerland, Uruguay, and many others, as well as a U.N. sub-commission, the Vatican, and the International Association of Genocide Scholars (IAGS), have recognized the Armenian genocide. IAGS has also recognized the Assyrian and Greek genocides. In 1951, the U.S. referred to the Armenian "genocide" in a filing with the International Court of Justice (World Court).
But the governments of the UK (except for Scotland and Wales), Australia (except for New South Wales and South Australia), and NZ refuse to acknowledge these genocides. They fear Turkey's reaction. Contrast their gutlessness with the courage of Allied soldiers at Gallipoli.
By ignoring the Armenian genocide, New Zealand and Australia are "tacitly complicit in" genocide denial, says NZ writer and businessman Stephen Keys. "Is [Turkey] the sort of government we as New Zealanders are proud to stand alongside on April 25, 2015?" Officially, 2015 is "The Year of Turkey in Australia."  A more apt name: "The Year of Turkish and Australian Genocide Denials."
France, on the other hand, has acknowledged the Armenian genocide despite Turkish threats. A large French delegation headed by President Hollande will be in Armenia on April 24 for the Genocide Centenary. On that day in 1915, Turkey arrested and murdered hundreds of Armenian intellectuals, doctors, priests, writers, and other community leaders as part of the genocide.
Turkish Bullies
Turkey enjoys bullying others over Gallipoli. Five years ago, it initially refused to issue visas to Australian and New Zealand archeologists who were to map Gallipoli's battlefields. Turkey was angry that Bonnyrigg, a Sydney suburb, had allowed construction of a monument commemorating the Christian Assyrian genocide.
Two years back, Turkey threatened to ban New South Wales MPs from Gallipoli because NSW had recognized the Armenian genocide.
Afraid of further incurring Turkey's wrath, earlier this year NSW installed – surreptitiously – a plaque in Sydney's Hyde Park honoring the Turkish hero of Gallipoli, and later president, Kemal Atatürk. The plaque's fine words, allegedly penned by him, are undoubtedly insincere and perhaps inauthentic. Moreover, this "hero" continued the evil deeds of his predecessors.
Ataturk, Genocide, and Hitler
Atatürk welcomed veteran genocidists, such as Abdülhalik Renda and Şükrü Kaya, into his new government. From 1919 to 1923, Atatürk's forces murdered and expelled Christians who had survived the genocides.
In 1937, Atatürk directed the slaughter, sometimes using poison gas, of thousands of Alevi Kurdish civilians, including women and children, in the Dersim region. Among the victims were Armenians who had found shelter there.
Hitler admired Atatürk's brutality. Atatürk was "the greatest man of the century," the Führer told Turkey's Milliyet newspaper in 1933, and "Turkey was our role model." Indeed, in WW1, some German officers took part in the Armenian genocide.
Visitors to Gallipoli will bow before Atatürk's statue unaware of his appalling record.
The Dead Speak
The Allies fought WW1 gallantly.  Armenians from many countries were among them.  Armenians even formed a special French Foreign Legion unit that fought with particular distinction. Hundreds of thousands of Armenians also served in Allied armies in WW2, while Turkey remained neutral and cozied up to Nazi Germany.
Beneath Gallipoli's shores and hills, the courageous Allied dead surely whisper, 'Please, honor our memories by going elsewhere in April, and shun Turkey's victory dance on our graves and those of millions of Christian innocents.'
In last month's Anti-Empire Report I brought you the latest adventure of US State Department Spokesperson Jen Psaki trying to defend the indefensible. She said then: "As a matter of longstanding policy, the United States does not support political transitions by non-constitutional means," which prompted me to inform my readers: "If you know how to contact Ms. Psaki, tell her to have a look at my list of more than 50 governments the United States has attempted to overthrow since the end of the Second World War."
On March 13 her regular attack on all things Russian included this exchange with Associated Presswriter Matthew Lee:
Lee: On this issue, did you get any more about this request to the Vietnamese on Cam Ranh Bay and not allowing the Russians to – and not wanting them to allow – you not wanting them to refuel Russian planes there?

Psaki: Well, just to be clear – and maybe I wasn't as clear yesterday, so let me try to do this again – it's – our concern is about activities they might conduct in the region, and the question is: Why are they in the region? It's not about specifically refueling or telling the Vietnamese not to allow them to refuel. [emphasis added]

Lee: So there hasn't been a request to stop refueling them, or there has?

Psaki: It's more about concerns. It's not as much about Vietnam as much as it – as it is about concerns about what activities they would be in the region for.

Lee: Okay. Well, you – I mean, there are U.S. planes flying over there all the time.

Psaki: Sure, there are.

Lee: So you don't want Russian planes flying there, but it's okay for U.S. planes to fly there? I mean, I just – it gets to the point where you – the suggestion is that everything the Russians are doing all the time everywhere is somehow nefarious and designed to provoke. But you can't – but you don't seem to be able to understand or accept that American planes flying all over the place, including in that area, is annoying to the Chinese, for one, but also for the Russians. But the suggestion is always that the American flights are good and beneficial and don't cause tension, and that other people's flights do cause tension. So can you explain what the basis is for your concern that the Russian flights there in the Southeast Asia area are – raise tensions?

Psaki: There just aren't more details I can go into.
Cold War 2.0, part II
On Saturday, the Obama administration released a series of satellite images that it said showed the Russian army had joined the rebels in a full-scale assault to surround troops in the area around the city. Russia has denied that it is a party to the conflict, and it was impossible to verify the three grainy black-and-white satellite images posted to Twitter by the U.S. ambassador to Ukraine, Geoffrey Pyatt.
According to the United States, the images, commissioned from the private Digital Globe satellite company, showed artillery systems and multiple-rocket launchers Thursday in the area near Debaltseve.
"We are confident these are Russian military, not separatist, systems," Pyatt tweeted. (Washington Post, February 15, 2015)
When the time comes to list the ways in which the United States gradually sunk into the quicksand, slowly metamorphosing into a Third-World state, Washington's campaign of 2014-15 to convince the world that Russia had repeatedly invaded Ukraine will deserve to be near the top of the list. Numerous examples like the above can be given. If I were still the jingoistic nationalist I was raised to be I think I would feel somewhat embarrassed now by the blatant obviousness of it all.
For a short visual history of the decline and fall of the American Empire, see the video "Imperial Decay" by Class War Films (8:50 minutes).
During Cold War 1.0 the American media loved to poke fun at the Soviet media for failing to match the glorious standards of the Western press. One of the most common putdowns was about the two main Russian newspapers – Pravda (meaning "truth" in Russian) and Izvestia (meaning "news"). We were told, endlessly, that there was "no truth in Pravda and no news in Izvestia."
As cynical as I've been for years about the American mainstream media's treatment of ODE (Officially Designated Enemies), current news coverage of Russia exceeds my worst expectations. I'm astonished every day at the obvious disregard of any kind of objectivity or fairness concerning Russia. Perhaps the most important example of this bias is the failure to remind their audience that the US and NATO have surrounded Russia – with Washington's coup in Ukraine as the latest example – and that Moscow, for some odd reason, feels threatened by this. (Look for the map online of NATO bases and Russia, with a caption like: "Why did you place your country in the middle of our bases?")
Cold War 2.0, part III
Following the murder of Russian opposition leader, and former Deputy Prime Minister, Boris Nemtsov in Moscow on February 27, the West had a field day. Ranging from strong innuendo to outright accusation of murder, the Western media and politicians did not miss an opportunity to treat Vladimir Putin as a football practice dummy.
The European Parliament adopted a resolution urging an international investigation into Nemtsov's death and suggested that the Organization for Security and Cooperation in Europe, the European Council, and the United Nations could play a role in the probe.
US Senators John McCain and Lindsey Graham introduced a Senate Resolution condemning the Nemtsov murder. The Resolution also called on President Obama and the international community to pursue an independent investigation into the murder and redouble efforts to advance free speech, human rights, and the rule of law in Russia. In addition, it urged Obama to continue to sanction human rights violators in the Russian Federation and to increase US support to human rights activists in Russia.
So it went … all over the West.
Meanwhile, in the same time period in Ukraine, outside of the pro-Russian area in the southeast, the following was reported:
January 29: Former Chairman of the local government of the Kharkov region, Alexey Kolesnik, hanged himself.
February 24: Stanislav Melnik, a member of the opposition party (Partia Regionov), shot himself.
February 25: The Mayor of Melitopol, Sergey Valter, hanged himself a few hours before his trial.
February 26: Alexander Bordiuga, deputy director of the Melitopol police, was found dead in his garage.
February 26: Alexander Peklushenko, former member of the Ukrainian parliament, and former mayor of Zaporizhi, was found shot to death.
February 28: Mikhail Chechetov, former member of parliament, member of the opposition party (Partia Regionov), "fell" from the window of his 17th floor apartment in Kiev.
March 14: The 32-year-old prosecutor in Odessa, Sergey Melnichuk, "fell" to his death from the 9th floor.
The Partia Regionov directly accused the Ukrainian government in the deaths of their party members and appealed to the West to react to these events. "We appeal to the European Union, PACE [Parliamentary Assembly of the Council of Europe], and European and international human rights organizations to immediately react to the situation in Ukraine, and give a legal assessment of the criminal actions of the Ukrainian government, which cynically murders its political opponents."
We cannot conclude from the above that the Ukrainian government was responsible for all, or even any, of these deaths. But neither can we conclude that the Russian government was responsible for the death of Boris Nemtsov, the American media and politicians notwithstanding. A search of the mammoth Nexus news database found no mention of any of the Ukrainian deceased except for the last one above, Sergey Melnichuk, but this clearly is not the same person. It thus appears that none of the deaths on the above list was ascribed to the Western-allied Ukrainian government.
Where are the demands for international investigations of any of the deaths? In the United States or in Europe? Where is Senator McCain?
Torture via sanctions
Discussions on constraining Iran's nuclear program have been going on for well over a year between Iran and the P5+1 (the five nuclear powers of the United Nations Security Council plus Germany), led by the United States. Throughout this period a significant stumbling block to reaching an agreement has been the pronouncements of Yukiya Amano, director general of the International Atomic Energy Agency (IAEA). The IAEA is the United Nations' nuclear watchdog, and its inspections are considered a key safeguard against countries using civilian nuclear energy technology to produce weapons. Amano has consistently accused Iran of failing to reply fully and substantially to queries about "possible military dimensions" of present and past nuclear activities, or failing to provide sufficient access to nuclear facilities.
Failure by Iran to comply fully with IAEA demands undermine Tehran's efforts to win the lifting of crippling UN, US and other sanctions, which currently prohibit foreign companies from doing business with Iran and deny access to the global financial system. Media coverage of the negotiations regularly emphasize Amano's claims of Iran's insufficient responses to IAEA's demands. It is thus worth inquiring just who is this man Amano.
In 2009 Japanese diplomat Yukiya Amano became the head of the IAEA. What the Western media routinely fail to remind its audience is that a US embassy cable of October 2009 (released by Wikileaks in 2010) said Amano "took pains to emphasize his support for U.S. strategic objectives for the Agency. Amano reminded the [American] ambassador on several occasions that … he was solidly in the U.S. court on every key strategic decision, from high-level personnel appointments to the handling of Iran's alleged nuclear weapons program."
Even if Iran makes a superior effort to satisfy IAEA and Washington's demands on all issues, it would remain questionable to what extent and how rapidly the sanctions would be removed, particularly under a Republican-controlled Congress. Iran specialist and author Gareth Porter recently wrote that "the United States and its allies have made no effort to hide the fact that they intend to maintain the 'sanctions architecture' in place for many years after the implementation of the agreement has begun. Last November, administration officials explained that US sanctions would only be removed after the International Atomic Energy Agency had verified that 'Tehran is abiding by the terms of a deal over an extended period of time' in order to 'maintain leverage on Iran to honour the accord'."
To appreciate the extraordinary degree of pressure and extortion the United States can impose upon another country we should consider the case of Libya in the decade-plus following the destruction of PanAm Flight 103 in 1988 over Scotland. To force Libya to "accept responsibility" for the crime, Washington imposed heavy sanctions on the Gaddafi regime, including a ban on international flights to Libya and payment of billions of dollars to the families of the victims. Libya eventually did "accept responsibility" for the crime, although it was innocent. As difficult as this may be to believe, it's true. Read my account of it here.
Even after Libya accepted responsibility it still took years for the US to wipe out the sanctions, and it's not clear that at the time of Gaddafi's death in 2011 all of them had been removed. Once a nation becomes an Officially Designated Enemy of the empire the methods of torture can be exquisite and endless. Cuba is presently negotiating the end of US sanctions against Havana. They will need to be extremely careful.
"Like others of his ilk – such as David Horowitz and Christopher Hitchens – he learned too much in college and too little since." Sam Smith
I've never been too impressed by what college a person went to, or even if they attended college at all. Gore Vidal did not attend any college; neither did H. L. Mencken; nor did Edward Snowden, who has demonstrated a highly articulate and educated mind. Among the many other notables who skipped a college education are George Bernard Shaw, Ernest Hemingway, and Johann Wolfgang von Goethe.
Then we have graduates from Ivy League colleges like George W. Bush, Barack Obama, and Tom Cotton. I don't have to present the case for Bush's less-than educated mind; we're all only too familiar with its beauty. But Obama has matched Georgie Boy for stupidity and inanity time and time again. My favorite, which he's used on at least five occasions, is his reply to questions about why his administration has not prosecuted Bush, Cheney, et al for torture and other war crimes: "I prefer to look forward rather than backwards". Picture a defendant before a judge asking to be found innocent on such grounds. It simply makes laws, law enforcement, crime, justice, and facts irrelevant. Picture Chelsea Manning and other whistle blowers using this argument. Picture the reaction to this by Barack Obama, who has become the leading persecutor of whistleblowers in American history.
Is there anyone left who still thinks that Barack Obama is some kind of improvement intellectually over George W. Bush? Probably two types still think so: (1) Those to whom color matters a lot; (2) Those who are very impressed by the ability to put together grammatically correct sentences.
And now we have Mr. Cotton, Senator from Arkansas and graduate of Harvard undergraduate and law schools. He'll be entertaining us for years to come with gems like his remark on "Face the Nation" (March 15): "Moreover, we have to stand up to Iran's attempts to drive for regional dominance. They already control Tehran and, increasingly, they control Damascus and Beirut and Baghdad. And now, Sana'a as well."
Heavens, Iran controls Tehran! Who knew? Next thing we'll hear is that Russia controls Moscow! Sarah Palin, move over. Our boy Cotton is ready for Saturday Night Live.
Notes
Washington Post, February 15, 2015, "Amid doubts, truce in Ukraine appears to take hold"
RT, March 12, 2015, "EU lawmakers demand international investigation into Nemtsov's death"
John McCain website, Press Release, "Senators John Mccain And Lindsey Graham Introduce Resolution Condemning Murder Of Russian Opposition Leader Boris Nemtsov"
Research for this section was done by a person who was raised in the Soviet Union and now lives in the United States.
Middle East Eye, March 27, 2015, "Sanctions and the fate of the nuclear talks"
Sadly, Orientalism has not yet run its course. On the contrary, it has assumed different forms and has gained momentum in recent years.
No doubt, this love child of Imperialism which has helped create an inconceivable chasm between the East and the West has naturally done away with any possibly constructive interfaith and intercultural interaction in the world.
In fact, the emergence of extremist groups such as Daesh or ISIL in the name of Islam is a byproduct of this systematic effort by the West. By way of cementing its misrepresentation of the East in general and Islam in particular, Imperialism proceeds with its long-pursued agenda of creating stereotypes in the world and portraying the easterners as 'despotic and clannish' when they are placed in positions of power and conniving and sycophantic when in subservient positions. No wonder, extremism is generously funded and promoted by the West.
Lending an absurd quality of strangeness to the easterners, Imperialism generally depicts women as the beleaguered class and the dissidents as victims of the most monstrous forms of human rights violations while it itself masquerades as champion of truth and freedom.
As Edward Said encapsulates this notion in his seminal work Orientalism (1978), this attitude reflects a political vision of reality whose structure promotes the difference between the familiar (Europe, West, us) and the strange (the Orient, the East, "them").
Thus, demonizing and otherizing the easterners serve as effective tools in the hands of Imperialism. After all, the ulterior motive behind Orientalism is the intellectual colonization of public opinion on the one hand and on the other, a ravenous desire to seek a safety-valve to the colonization of the natural resources of a certain country.
To Demonize or not to Demonize; that is the Question
Demonizing operates on two levels: they demonize you because they simply wish to colonize you; 2. they demonize you because they dread your increasing power, i.e. they are afraid of your emerging power which they fear to confront or/and which they find impossible to subjugate.
As part of this pernicious practice, Islamophobia can be defined as any concerted effort to demonize the glorious faith as monolithically bad, to consequently fabricate a fear of it and all that is considered Islamic and to ultimately dispel the mounting spread of the faith in the world.
In a similar vein, Iranophobia can be viewed as an extension of the demonization process by the West and as a new form of neo-Orientalism.
The new harbingers of neo-Orientalism sometimes infiltrate the Muslim communities under the guise of scholars, philosophers and intellectuals. Some of them are either well paid by Imperialism or they may be following their own fiendish agenda which may spring from their inveterate fear of or loathing to the Muslims or the easterners.
In modern times, these self-styled intellectuals infiltrate the eastern communities through modern means such as seminars, conferences and symposiums in order to avail themselves of a double pleasure, that is, to visit the country and subsequently deliver a 'believably' twisted account of their observations in the first place and to quench their voyeuristic quest for adventurism for the Orient which has long been on their wish list in the second.
Something Wicked this Way Comes
In November 2014, Harvard scholar Stephen Greenblatt readily accepted an offer to serve as the keynote speaker to the First International Shakespeare Conference in Iran at the University of Tehran without asking for any honorarium or travel costs as is the wont especially for someone of his fame and in view of his "busy schedule".
"In April 2014 I received a letter from the University of Tehran, inviting me to deliver the keynote address to the first Iranian Shakespeare Congress."
This came rather as a big surprise to one of the organizers who initially broke the matter to him as a shot in the dark, for his earlier efforts to invite other celebrated scholars to lecture at the Shakespeare Conference had failed like water off a duck's back due to the lack of financial support.
So, Greenblatt was more than available and he was a well-known scholar in the field to boot. Besides, he had made some name in New Historicism School which made him even a far better candidate for the job. Given that, the organizers took the bait and decided to go on with necessary arrangements without thinking even for a moment that the Harvard scholar might be pursuing other than anything academic. Parenthetically, the professor had in his first email expressed his insatiable passion to visit the land of his dreams and how he was fascinated as a child by the photos he had seen of Isfahan and Persepolis.
That was how he had shrewdly obliterated any room for mistrust. Of course, once by way of dismissing any gaping suspicion, he had briefly asked who would pay for him or if any of his costs would be covered by the conference only after all arrangements had been made. And he secretly gloated over his easy triumph in outsmarting the organizers.
Eventually the promised day arrived and he deplaned at one in the morning at Imam Khomeini International Airport while the first organizer against whom he later spewed out his spiteful diatribe in an unmanly essay received him warmly at the airport.
"And there, waiting for me when I deplaned at 1:00 AM, was none other than the author of the articles denouncing the secret Zionist investors who controlled the world. He was smiling, gregarious, urbane."
Eventually, the next morning, Greenblatt delivered a rather incoherent keynote speech at the conference as though he had not even spent a reasonable amount of time in preparing himself to deliver a decent lecture and later paid a two-day luxury visit to Isfahan and Shiraz to fulfill his dreams which inflicted an exorbitant cost on the University of Tehran.
Once back home, Greenblatt declined to convey even a word of gratitude to the first organizer who had spent two sleepless nights because of him through email or through any means of communication hitherto invented by human beings. That was extremely odd especially for a man who made a display of etiquette and gentlemanly manners to be so precociously unappreciative.
Et tu, Brute?
A few weeks later, the professor wrote an essay titled 'Shakespeare in Tehran' in the New York Review of Books and made a relentless attack on the first organizer and censured him to extremity, exhausting all his linguistic competence to this end. Unlike the established code of conduct by critics, Greenblatt numerously quoted him out of context from the different articles he had written in condemnation of Israeli atrocities. In the attitude of traditional Orientalists, he had cherry-picked some anti-Zionist rhetoric which seemed to have enormously pained the professor.
To everyone's chagrin, Greenblatt implicitly voiced his support for Israel and Zionism.
"Did my prospective host—someone who had presumably grappled with the humane complexity of Shakespeare's tragedies—actually believe these fantasies reminiscent of The Protocols of the Elders of Zion? A simple check online showed me that one of the scholars who signed my letter of invitation had written, in addition to essays on "The Contradictory Nature of the Ghost in Hamlet" and "The Aesthetic Response: The Reader in Macbeth," many articles about the "gory diabolical adventurism" of international Zionism. "The tentacles of Zionist imperialism," he wrote, "are by slow gradation spread over [the world]." "A precocious smile of satisfaction breaks upon the ugly face of Zionism." "The Zionist labyrinthine corridors are so numerous that their footprints and their agents are scattered everywhere."
Of course, that was the beginning of Greenblatt's invasion on the organizer's personality which can be interpreted as an egregious instance of character assassination.
There was a time when I transiently presumed that the age of stereotyping and otherizing is over but unfortunately, Greenblatt's essay proves that the Orientalist viewpoint still prevails, that there is a cosmic gap between the West and the East and that this trend of stereotyping is painfully promoted by some western scholars.
One May Smile, and Smile, and be a Villain
Now it tragically transpired to everyone that the scholar who seemed so politically naïve, never expressed a political word and persistently presented himself as an agreeably smiling man with intellectual resources suddenly proved to a be a covert pro-Zionist who may even garner a medal of honor from Mr. Netanyahu.
Unfortunately, his superficial account did not end here.
Apparently overwhelmed by paranoid fear and 'New Historical' conspiracy theories, he saw himself surrounded by spies and intelligence agents at the faculty site.
"I also noticed among the men a few who stood apart and did not seem to be either students or faculty. It was not difficult to imagine who these might be."
At the dinner table, when I asked him about Shakespeare's anti-Semiticism (without consciously trying to hurt his delicacy as he was a Jew; besides, Greenblatt seemed affable and somehow likeable), he felt extremely agitated, saying that "Shakespeare was just curious about the Jews." It was then when I came to understand the multilayered meanings of curiosity which was until then to me a naked word.
However, another instance of Greenblatt's brazenly distorted representation of Iran is about Bagh-e Fin in Kashan:
"I wanted to see the late-sixteenth-century Baghe Fin, one of the walled enclosures that in old Persian were called "paradises." (Other English borrowings from Persian include the words peach, lemon, and orange, along with cummerbund, kaftan, and pajama.)"
Here, the professor ridicules this paradise which was to him "a relatively small, dusty, square garden with very old cedar trees lined up in rows along very straight paths. A twinge of disappointment is built into the fulfillment of any desire that has been deferred for too long, so it is not surprising that my experience of paradise, in the form of the Bagh-e Fin, was a slight letdown."
To deliver Greenblatt from his cocoon of ignorance as to the wonders of Iran, it should be noted that Bagh-e Fin is a garden in the midst of the desert. Iranians are noted and praised for their exceptional talent in building paradisal gardens in the heart of the desert such as Bagh-e Fin in Kashan and Bagh-e Shazd-e in Kerman.
But how can a man evidently endowed with critical intelligence fail to understand this simple fact?
What, Can the Devil Speak True?
In his depiction of Iran, Greenblatt is judgmentally biased and even before coming to the country, he had carried with him his baggage of pride and prejudice but what he observed in Iran fiercely challenged his entrenched expectations and dealt a heavy blow to his hidebound beliefs as well as to the hatred he had so keenly harbored in his heart in years about the Islamic Republic of Iran.
To his bewilderment just before him stood women and men who spoke courageously, intelligently, and boldly.  Before his very eyes, he beheld women and men whom he had surreptitiously denigrated.
"… and there began a question period, a flood of inquiries and challenges stretching out for the better part of another hour. Most of the questions were from students, the majority of them women, whose boldness, critical intelligence, and articulateness startled me."
But now his eyes reeled and his head swam when he found himself incapacitated to imbibe all that grandeur of a great nation where he had come with an agenda pushed under his arm by the Zionists before coming to Iran. In fact, the illusion of 'American Exceptionalism' which was clearly discernible in his condescending attitude towards the Iranian scholars and students as well as the conference organizers was shattered to smithereens.
That is how the scholar's neo-Orientalist mission failed altogether. There are serious responses to his illogical and biased essay in Iran and abroad. Even Iranian runaway malcontents like Hamid Dabashi have blasted him for his essay.
The similitude of Greenblatt is as the similitude of a non-practicing scholar whom the Persian poet Sa'di compares to "a bee without honey. Tell that harsh and ungenerous hornet/As thou yield no honey, wound not with thy sting."
The Rest Is Silence
In Literary Theory Course for PhD program which I am teaching this semester, my students vehemently refused to cover any of Greenblatt's theories, insisting that I skip him as a critic in our course which I welcomed as I perceived their wounded pride and their monumental mistrust of New Historical theories and other lies represented by Greenblatt.
This commendable display of resilience and patriotism on the part of Iranian students evinced an unbreakable bond between them and their country as well as an overpowering repugnance to the enemies of Iran and those who wish to tarnish the image of the nation.
I can't say for sure if I for one regard any respect for Stephen Greenblatt as a scholar not because he has made craven efforts to assassinate my character in his cabalistically dictated essay but because he has unforgivably insulted my nation. As William Shakespeare rightly put it, "To be honest, as this world goes, is to be one man picked out of ten thousand."
The misplaced reverence to the ill formulated U.S Constitution and hidden subjugation back to the City of London is one aspect of history that is not taught in government schools or discussed in institutes of higher education. This subject is probably new to most observers of the legacy from the Founding Father's biggest mistake. Regular readers of BREAKING ALL THE RULES are familiar with the arguments made in the essays, In the beginning: Let there be the Articles of Confederation and Articles of Confederation was Preferable. Now the case for the betrayal of the purpose of the American Revolution needs to be explored.
Cited on the US Constitution Gave Legal Ownership and Control of the United States to London site is an assessment by Michael Edward.
"Neither the American people nor the Queen of Britain own America. The Crown Temple owns America through the deception of those who have worn their allegiance by oath to the Middle Templar Bar. The Crown Bankers and their Middle Templar Attorneys rule America through unlawful contracts, unlawful taxes, and, contract documents of false equity through debt deceit, all strictly enforced by their completely unlawful, but 'legal,' Orders, Rules and Codes of the Crown Temple Courts Our so-called 'judiciary' in America. This is because the Crown Temple holds the land titles and estate deeds to all of North America."
An examination of The Templars of the Crown provides elaboration on this appraisal. For an even more in-depth analysis, review the material that probes AMERICAN LAND OWNERSHIP, A TRUE OXYMORON, which deals with the work of James Montgomery.
"Many of you are aware that the laws of this nation and it's states, were made to be in compliance and submission to the laws of England, only modified by state and federal law. You will see in this last Chapter state statutes from just a few of the original colonies, that this is the case. Are these what are called ancient statutes? Yes. However, since the king's Corporation is alive and well as are his heirs, so is his Trust and the law used to create and govern it. The law that governs his Trust can only be amended, no law could be enacted contrary to the king's will and cestui que trust, the main corporate sole where office is always found, the Crown. The king's practice of granting lands in this country to those loyal to him continues, along with their land grants being protected by state ancient statutes which are still on the books. We are governed by the king's nobles just as in times of old England, self proclaimed nobles, and corporate trusts. They rule this country and the world. The huge corporations have been granted power and liberty not known by the common man. The nobles, real and the created, occupy their possessions as fiduciaries and trustees of the king's grants; only if they remain loyal to the system, their privilege and life style are their reward."
Invest the time in discovering all the historic accounts, legal rulings and linkages that go back to the Crown, AKA, the City of London.
If you are unfamiliar with The (British) Crown Empire and the City of London Corporation take a quick refresher course on the actual nature of the financial foundation and codified sanction that purports to be lawful. Jurisprudence may be legal by the definition and formulations of the judicious barrister class, but it certainly is not founded on the basic principles of natural law.
Julian Websdale concludes: "The whole Earth is governed by The Crown, through Crown Colonies which belong to The City – The Crown Empire. It governs Africa and still governs China and India. The colonies of the Earth are really just Crown Colonies – The United States of America are states of The Crown."
Now this interpretation may seem bizarre to most and the plot thickens in the The construe Powers – Behind the Global Empire piecing together a long account of legalized equity mandates.
"The signed treaties and charters between Britain and the United States reveals that King James the 1st was not only famous for translating the Bible, but for signing the first charter of Virginia in 1606. That charter granted America's British forefathers a license to settle and colonize America and guaranteed future kings and queens of England to have sovereign authority over citizens and colonized land in America. The treaty of 1783 identifies the king of England as the prince of the United States. King George the 3rd gave up most of his claims over American colonies, but he kept his right to continue receiving payment for his business venture of colonizing America."
The next element to consider has The Top of the Pyramid: The Rothschilds, the British Crown and the Vatican Rule the World. Read this account and trace back the historic lineage of  some of the Englishmen who founded America.
"To have the Declaration of Independence recognized internationally, Middle Templar King George III agreed in the Treaty of Paris of 1783 to establish the legal Crown entity of the incorporated United States, referred to internally as the Crown Temple States (Colonies). States spelled with a capital letter 'S,' denotes a legal entity of the Crown.
At least five Templar Bar Attorneys under solemn oath to the Crown, signed the American Declaration of Independence. This means that both parties were agents of the Crown."
As time proceeds, the sell out of the "shot heard around the world" revolution deepens.Two Constitutions in the United States. 1st was illegally suspended in favor of a Vatican "Crown" corporation in 1871. This approving assessment of the Federal Constitution views a Shadow Government in place since 1871.
"Since 1871 the United States president and the United States Congress has been playing politics under a different set of rules and policies.  The American people do not know that there are two Constitutions in the United States.  The first penned by the leaders of the newly independent states of the United States in 1776.  On July 4, 1776, the people claimed their independence from the Crown (temporal authority of the Roman Catholic Pope) and Democracy was born.  And for 95 years the United States people were free and independent.  That freedom ended in 1871 when the original "Constitution for the United States for America" was changed to the "THE CONSTITUTION OF THE UNITED STATES OF AMERICA".
The Congress realized that the country was in dire financial straits, so they made  a financial deal with the devil –  the Crown (a.k.a. City of London Corporation – est. by the Catholic Church on Jan 1, 1855 ) thereby incurring a DEBT to the Pope.  The conniving Pope and his bankers were not about to lend the floundering nation any money without some serious stipulations. So, they devised a way of taking back control of the United States and thus, the Act of 1871 was passed.  With no constitutional authority to do so, Congress created a separate form of government for the District of Columbia.
With the passage of  "the Act of 1871" a city state (a state within a state) called the District of Columbia located on 10 sq miles of land in the heart of Washington was formed with its own flag and its own independent constitution – the United States' secret second constitution."
Lastly, Three Corporations run the world: City of London, Washington DC and Vatican City list the City of London houses as including:
Rothschild controlled 'Bank of England'
Lloyds of London
The London Stock Exchange
All British Banks
The Branch offices of 384 Foreign Banks
70 USA Banks
Fleet Streets Newspaper and Publishing Monopolies
Headquarters for Worldwide Freemasonry
Headquarters for the worldwide money cartel known as 'THE CROWN'
Conclusion: "City of London directly and indirectly controls all mayors, councils, regional councils, multi-national and trans-national banks, corporations, judicial systems (through Old Bailey, Temple Bar and the Royal Courts of Justice in London), the IMF, World Bank, Vatican Bank (through N. M. Rothschild & Sons London Italian subsidiary Torlonia), European Central Bank, United States Federal Reserve (which is privately owned and secretly controlled by eight British-controlled shareholding banks), the Bank for International Settlements in Switzerland (which is also British-controlled and oversees all of the Reserve Banks around the world including our own) and the European Union and the United Nations Organization."
This introduction to the actual influence and pompous legal authority that underpins the financial hierarchy is based upon a historic explanation that is foreign to most Americans. The implications are staggering and for this reason alone, most are not willing to do their own research. Do not get caught up in the uncanny departure from the usual rendering of reality. Remember that the City of London's coat-of-arms reads in Latin – Domine Dirige Nos – which translates, Lord, direct us. The true question, asks just which deity do the soldiers of the Crown adore?
"In order to survive and preserve its leading role on the international stage, the US desperately needs to plunge Eurasia into chaos, (and) to cut economic ties between Europe and Asia-Pacific Region … Russia is the only (country) within this potential zone of instability that is capable of resistance. It is the only state that is ready to confront the Americans. Undermining Russia's political will for resistance… is a vitally important task for America."

-Nikolai Starikov, Western Financial System Is Driving It to War, Russia Insider

"Our first objective is to prevent the re-emergence of a new rival, either on the territory of the former Soviet Union or elsewhere, that poses a threat on the order of that posed formerly by the Soviet Union. This is a dominant consideration underlying the new regional defense strategy and requires that we endeavor to prevent any hostile power from dominating a region whose resources would, under consolidated control, be sufficient to generate global power."

-The Wolfowitz Doctrine, the original version of the Defense Planning Guidance, authored by Under Secretary of Defense Paul Wolfowitz, leaked to the New York Times on March 7, 1992
The United States does not want a war with Russia, it simply feels that it has no choice. If the State Department hadn't initiated a coup in Ukraine to topple the elected president, Viktor Yanukovych, then the US could not have inserted itself between Russia and the EU, thus, disrupting vital trade routes which were strengthening nations on both continents. The economic integration of Asia and Europe–including plans for high-speed rail from China ("The New Silk Road") to the EU–poses a clear and present danger for the US whose share of global GDP continues to shrink and whose significance in the world economy continues to decline. For the United States to ignore this new rival (EU-Russia) would be the equivalent of throwing in the towel and accepting a future in which the US would face a gradual but persistent erosion of its power and influence in world affairs. No one in Washington is prepared to let that happen, which is why the US launched its proxy-war in Ukraine.
The US wants to separate the continents, "prevent the emergence of a new rival", install a tollbooth between Europe and Asia, and establish itself as the guarantor of regional security. To that end, the US is rebuilding the Iron Curtain along a thousand mile stretch from the Baltic Sea to the Black Sea. Tanks, armored vehicles and artillery are being sent to the region to reinforce a buffer zone around Europe in order to isolate Russia and to create a staging ground for future US aggression. Reports of heavy equipment and weapons deployment appear in the media on nearly a daily basis although the news is typically omitted in the US press. A quick review of some of the recent headlines will help readers to grasp the scale of the conflict that is cropping up below the radar:
"US, Bulgaria to hold Balkans military drills", "NATO Begins Exercises In Black Sea", "Army to send even more troops, tanks to Europe", "Poland requests greater US military presence", "U.S. Army sending armored convoy 1,100 miles through Europe", "Over 120 US tanks, armored vehicles arrive in Latvia", "US, Poland to Conduct Missile Exercise in March – Pentagon"
Get the picture? There's a war going on, a war between the United States and Russia.
Notice how most of the headlines emphasize US involvement, not NATO. In other words, the provocations against Russia originate from Washington not Europe. This is an important point. The EU has supported US-led economic sanctions, but it's not nearly as supportive of the military build up along the perimeter. That's Washington's idea and the cost is borne by the US alone. Naturally, moving tanks, armored vehicles and artillery around the world is an expensive project, but the US is more than willing to make the sacrifice if it helps to achieve its objectives.
And what are Washington's objectives?
Interestingly, even political analysts on the far right seem to agree about that point. For example, check out this quote from STRATFOR CEO George Friedman who summed it up in a recent presentation he delivered at The Chicago Council on Foreign Affairs. He said:
"The primordial interest of the United States, over which for centuries we have fought wars–the First, the Second and Cold Wars–has been the relationship between Germany and Russia, because united there, they're the only force that could threaten us. And to make sure that that doesn't happen." … George Friedman at The Chicago Council on Foreign Affairs, Time 1:40 to 1:57)
Bingo. Ukraine has nothing to do with sovereignty, democracy or (alleged) Russian aggression. That's all propaganda. It's about power. It's about imperial expansion. It's about spheres of influence. It's about staving off irreversible economic decline. It's all part of the smash-mouth, scorched earth, take-no-prisoners geopolitical world in which we live, not the fake Disneyworld created by the western media. The US State Department and CIA toppled the elected-government in Ukraine and ordered the new junta regime to launch a desperate war of annihilation against its own people in the East, because, well, because they felt they had no other option. Had Putin's ambitious plan to create a free trade zone between Lisbon to Vladivostok gone forward, then where would that leave the United States? Out in the cold, that's where. The US would become an isolated island of dwindling significance whose massive account deficits and ballooning national debt would pave the way for years of brutal restructuring, declining standards of living, runaway inflation and burgeoning social unrest. Does anyone really believe that Washington would let that to happen when it has a "brand-spanking" trillion dollar war machine at its disposal?
Heck, no. Besides, Washington believes it has a historic right to rule the world, which is what one would expect when the sense of entitlement and hubris reach their terminal phase. Now check out this clip from an article by economist Jack Rasmus at CounterPunch:
"Behind the sanctions is the USA objective of driving Russia out of the European economy. Europe was becoming too integrated and dependent on Russia. Not only its gas and raw materials, but trade relations and money capital flows were deepening on many fronts between Russia and Europe in general prior to the Ukraine crisis that has provided the cover for the introduction of the sanctions. Russia's growing economic integration with Europe threatened the long term economic interests of US capitalists. Strategically, the US precipitated coup in the Ukraine can be viewed, therefore as a means by which to provoke Russian military intervention, i.e. a necessary event in order to deepen and expand economic sanctions that would ultimately sever the growing economic ties between Europe and Russia long term. That severance in turn would not only ensure US economic interests remain dominant in Europe, but would also open up new opportunities for profit making for US interests in Europe and Ukraine as well…

When the rules of the competition game between capitalists break down altogether, the result is war—i.e. the ultimate form of inter-capitalist competition." (The Global Currency Wars, Jack Rasmus, CounterPunch)
See? Analysts on the right and left agree. Ukraine has nothing to do with sovereignty, democracy or Russian aggression. It's plain-old cutthroat geopolitics, where the last man left standing, wins.
The United States cannot allow Russia reap the benefits of its own vast resources. Oh, no. It has to be chastised, it has to be bullied, it has to be sanctioned, isolated, threatened and intimidated. That's how the system really works. The free market stuff is just horsecrap for the sheeple.
Russia is going to have to deal with chaotic, fratricidal wars on its borders and color-coded regime change turbulence in its capital. It will have to withstand reprisals from its trading partners, attacks on its currency and plots to eviscerate its (oil) revenues. The US will do everything in its power to poison the well, to demonize Putin, to turn Brussels against Moscow, and to sabotage the Russian economy.
Divide and conquer, that's the ticket. Keep them at each others throats at all times. Sunni vs Shia, one ethnic Ukrainian vs the other, Russians vs Europeans. That's Washington's plan, and it's a plan that never fails.
US powerbrokers are convinced that America's economic slide can only be arrested by staking a claim in Central Asia, dismembering Russia, encircling China, and quashing all plans for an economically-integrated EU-Asia. Washington is determined to prevail in this existential conflict, to assert its hegemonic control over the two continents, and to preserve its position as the world's only superpower.
Only Russia can stop the United States and we believe it will.
Even a seasoned cynic sometimes gasps in disbelief. "President Putin misinterprets much of what the U.S. is doing or trying to do," U.S. Secretary of State John Kerry told a press conference in Geneva on March 2. "We are not involved in 'numerous color revolutions' as he asserts. In the case of Ukraine, such assumptions are also wrong. The United States support international law with respect to the sovereignty and integrity of other people."
This is akin to Count Dracula asserting his strict adherence to a vegan diet and his principled respect for the integrity of blood banks worldwide.
Various quasi-NGOs funded by American taxpayers and funneled through organizations such as the National Endowment for Democracy, Freedom House and the National Democratic Institute, not to mention George Soros's Open Society Foundations (partly funded by U.S. and other Western governments), have been actively engaged in dozens of "regime-change" operations for a decade and a half. Their work is conducted in disregard of international law and in violation of the sovereignty and integrity of the people whose governments are thus targeted.
The overthrow of Slobodan Milosevic in Belgrade (October 2000) provided the blueprint, in strict accordance with Gene Sharp's manual. Widespread popular discontent was manipulated by the U.S./Soros funded and trained Otpor! network to bring to power a government subservient to Western political and economic interests. The moderately patriotic yet hapless new president, constitutional lawyer Vojislav Kostunica, was used as a battering ram to bring Milosevic down. Once that goal was achieved, Kostunica was promptly marginalized by Prime Minister Zoran Djindjic and his successors – Serbia's two-term president Boris Tadic in particular – who turned the country into a pliant tool of foreign interests. Wholesale robbery of Serbia's state and public assets promptly followed the 2000 coup, resulting in the Balkan country's comprehensive de-industrialization. Official Belgrade was forced to accept Kosovo's de facto "independence" in the name of the elusive goal of joining the European Union.
Georgia's 2003 "Rose Revolution" was carried out by the Kmara ("Enough") network, a carbon copy of Serbia's "Otpor," including the clenched fist logo. Its activists were trained and advised by the U.S.-affiliated Liberty Institute and funded by the Open Society Institute. It brought to power Mikhel Saakashvili, a corrupt "pro-Western" politician currently wanted by Georgia's government on multiple criminal charges. The coup was largely financed by Soros's network, which spent $42 million in the three months before the coup preparing the overthrow of the government of Eduard Shevardnadze. The most important geopolitical result was Georgia's NATO candidacy, supported by Washington, which is currently stalled but which has the potential to be as perniciously destabilizing as the crisis in Ukraine.
Speaking in Tblisi in June 2005, Soros said: "I am very pleased and proud of the work of the Foundation in preparing Georgian society for what became a Rose Revolution, but the role of the Foundation and me personally has been greatly exaggerated." The new government, as it happens, included Alexander Lomaia, former Secretary of the Georgian Security Council and minister of education and science, who at the time of the coup was Executive Director of the Open Society Georgia Foundation. David Darchiashvili, ex-chairman of the Committee for European Integration in the Georgian parliament, was also an executive director of the Foundation. As former Georgian foreign minister Salomé Zourabichvili wrote in 2008, "all the NGO's which gravitate around the Soros Foundation undeniably carried the revolution… [A]fterwards, the Soros Foundation and the NGOs were integrated into power." Interestingly, the U.S. Ambassador in Georgia at the time of the 2003 regime-change operation, Richard Miles, was the Ambassador in Belgrade at the time of Milosevic's downfall three years earlier.
The march of history continued with the 2004 "Orange Revolution" in Ukraine – that grand rehearsal for the Maidan coup a decade later – and the 2005 "Cedar Revolution" in Lebanon, which was given its name by then-U.S. Under Secretary of State for Global Affairs Paula J. Dobriansky. Also in 2005 the "Tulip Revolution" in Kyrgyzstan had as its chief foreign advisor Givi Targamadze, an official of Georgia's aforementioned Liberty Institute, who at the time chaired Saakashvili's parliamentary committee on defense and security.
In 2006 Congress passed the Iran Freedom and Support Act which provided taxpayer funding for groups opposed to the Iranian government, and then-Under Secretary of State for Political Affairs R. Nicholas Burns said the administration was "taking a page from the playbook" on Ukraine and Georgia. A year later the George W. Bush administration authorized a $400 million covert operation budget to foment unrest in Iran. In 2012 Seymor M. Hersh wrote that the U.S. has provided funding and training to the People's Mojahedin Organization of Iran, a militant group which had been listed by the U.S. State Department as a terrorist organization,
In 2012 President Obama authorized U.S. government agencies to support violent regime change in Syria. By early 2013 the Administration was helping the "moderate" rebels – i.e. jihadists with no overt links to al-Qaeda – to the tune of $250 million, and that figure has been at least doubled since. The result has been disastrous for the Syrian people (Christians in particular), and hugely detrimental to U.S. security interests in the region. The insurgency against Bashar al-Assad has directly contributed to the rise of ISIS, with no end to the latest war in sight.
Last month Venezuelan President Nicolas Maduro gave a televised speech in which he alleged systematic U.S. involvement in destabilization attempts against his government. The U.S. Department of State called his claims "baseless" and "false."  "The United States does not support political transitions by non-constitutional means," read the statement from Department spokesperson, Jen Psaki. Indeed. One of the leaders of the failed anti-Chavez coup d'etat in 2002, Rear Admiral Carlos Molina, has stated that he was acting with US support. Ditto the CIA-supported regime-change operation in Nicaragua in 2009.
As for the Maidan Revolution, crowned by "political transition by non-constitutional means" par excellence, Victoria Nuland readily admitted that its preparation cost the U.S. taxpayers some $5 billion over the preceding decade. The result is the most dangerous geopolitical crisis of the post-Cold War era, systematically engineered and conducted by the regime-changing exceptionalists in Washington D.C. who believe that they are exempt from historical forces and legal restraints that apply to merely mortal countries.
Former U.S. Ambassador in Moscow Michael McFaul boasted to The New York Times a week after taking duty in January 2012 that he would make his "pro-democracy" mark in Moscow "in a very, very aggressive way." Some months earlier, McFaul declared that "even while working closely with Putin on matters of mutual interest, Western leaders must recommit to the objective of creating the conditions for a democratic leader to emerge in the long term." This was a regime-change agenda expressed with brutal bluntness: we need to "de-Putinize" Russia, he declared. It would be interesting to see the U.S. reaction if a similar statement ("We need to to de-Obamanize America!") were to be made by an incoming Russian ambassador in Washington.
In Russia the regime-change program did not work, however. First and foremost, there was no popular support: hundreds of "activists" demonstrating against Putin in 2012 could be turned into "thousands" in Western post-election media reports, but that was still far below the tens, let alone hundreds, of thousands needed to kick-start a regime-change op. Infuriatingly for the planners, Russia simultaneously enacted a law regulating foreign "NGO" activities which was patterned directly on the American Foreign Agents Registration Act (FARA), which regulates activities of the agents of foreign governments in the United States. Enacted in the 1930's to require disclosure of Americans working on behalf of Nazi Germany, and used to control Soviet agents thereafter, FARA requires full public disclosure of those same activities that the U.S. government had tried to fund in Russia. The Federal Election Campaign Act flatly prohibits foreign involvement in American elections – yet it was touted as legitimate when conducted in Russia by Washington's protégés under the guise of promoting democracy.
The regime-change mania will go on and on. It is inseparable from the psychotic belief in one's indispensability and exceptionalism. It is a form of self-defeating grandomania that can only stop with America's long-overdue abandonment of the global hegemony experiment.
And yes, John Kerry is a liar.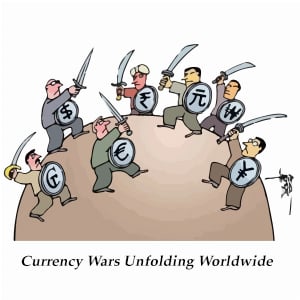 The first two months of 2015 have seen turmoil in the currency markets extend from Russia and Ukraine to the heart of Europe.
"Central Banks Now Open 24/7 Fighting Currency Wars and Deflation," blared a February 12th Bloomberg headline. Against this backdrop, precious metals have been on the rise in terms of all currencies except the Swiss franc and the U.S dollar.
In January, the Swiss National Bank shocked markets by announcing that it would de-link its currency from the euro. The move came one week ahead of the European Central Bank's $1.1 trillion Quantitative Easing announcement. Swiss officials decided it would be too costly to keep accumulating depreciating euros in order to maintain the currency peg. The Swiss franc surged by the most ever in a single day.
With the exception of Switzerland, all other countries in Europe (and many others around the world) are trying to depreciate their currencies.
Since January 1, the following central banks have announced interest rate cuts or other monetary easing measures: European Central Bank, Reserve Bank of Australia, Reserve Bank of New Zealand, Monetary Authority of Singapore, and the central banks of India, Canada, Denmark, and Sweden.
On February 12th, the Swedish Riksbank announced a surprise rate cut from 0% to below 0%. "To ensure that inflation rises towards the target, the Riksbank is prepared to quickly make monetary policy more expansionary, even between the ordinary monetary policy meetings," the world's oldest central bank said in a statement.
Sweden joins the European Central Bank and the central banks of a handful of other countries in pushing benchmark interest rates into negative territory. These central bankers are all aiming to revive inflation. "Investors" who are buying bonds yielding less than nothing (a negative rate) are apparently convinced that central bankers won't succeed in depreciating their currencies.
Insanity! Investors Now Paying for the "Privilege" of Lending to Broke Governments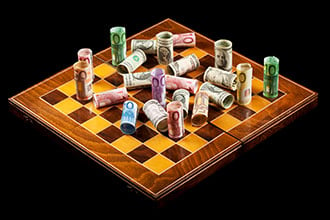 This could go down as one of the oddest, most irrational asset bubbles in history. Trillions of dollars are now tied up in debt instruments that promise to return less than the invested principal. According to a report issued by J.P. Morgan, $3.6 trillion in government bonds around the world now carry negative yields.
It raises the obvious question; why would so many people be willing to accept a negative rate of return?
You'd think that institutional investors would start getting wise to holding gold as a hard-currency alternative to cash instruments that yield less than zero. The fact that gold has no interest rate is actually an advantage in an environment where competing rates are negative! Plus, unlike most of the bonds issued in this upside-down interest rate market, gold has significant appreciation potential.
If inflation rises even modestly to the 2% target of European and U.S. central bankers, then bonds issued at rates of below 2% will all be losers. The two-year Treasury note yields only 0.63%. Even the recent 10-year yield of 1.98% fails to match the Federal Reserve's inflation ambitions.
The fact that gold has no interest rate is actually an advantage in an environment where competing rates are negative!
In this environment of ultra-low nominal yields or even negative real yields, precious metals as a reserve asset look very attractive. Many central bankers around the world agree and are busily accumulating gold. According to a report issued by the World Gold Council in February, governments around the world added 477.2 metric tons of gold to their reserves in 2014. That haul was the second biggest in 50 years.
When inflation fears return to the market, as they eventually will, precious metals will become one of the premier asset classes to hold. Even now, they are performing better than virtually all other world currencies.
The end game of these ongoing currency wars is that all fiat currencies will be debased. And a true flight to quality will accelerate – with assets fleeing depreciating currencies (and debt instruments denominated in them) and piling into gold and silver.
Will the Fed Chicken Out on Rate Hikes?
Of course, right now it's deflation fears that are dominating headlines. But the inflationary policy responses from the European Central Bank and others that have followed the ECB's lead have lifted gold and silver prices markedly in terms of euros and other currencies.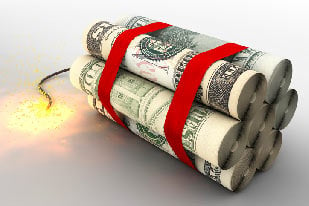 As confidence in European currencies plunges, there's only so much corresponding dollar strength the Federal Reserve is willing to tolerate. There's been much talk of rate hikes coming later this year, and that widespread expectation has been priced into the market. Any rhetorical or policy disappointments from the Fed in the months ahead could cause traders to sell the dollar.
Whether later this year or further down the road, it's only a matter of time before currency turmoil spreads to the United States.
The U.S. has a higher debt-to-GDP ratio than some troubled European countries. It has higher levels of unfunded liabilities (estimated to be in excess of $100 trillion) than any other country. The dollar's status as world reserve currency has allowed the U.S. to become financially overextended. But that vaunted status is slowly deteriorating as Russia, China, and other countries form economic alliances that bypass the dollar.
When these chickens come home to roost, you don't want to be wholly dependent on the U.S. government's promises or its currency. Sizeable holdings in physical precious metals will help make you financially resilient in the face of the spreading global currency crisis.
NATO Lies and Provocations…
"The war has been provoked to destroy the Russian World, to draw Europe into it, and to surround Russia with hostile countries. Unleashing this world war, America is trying to deal with its own internal problems."

– Sergei Glazyev, Advisor to Russian President Vladimir Putin
The fabrications of NATO's top commander in Europe, General Philip Breedlove, have driven a wedge between Germany and the United States that could lead to a collapse of the Atlantic Alliance. According to the German news magazine, Der Spiegel, Breedlove has repeatedly sabotaged Chancellor Angela Merkel's attempts to find a diplomatic solution to the war in Ukraine by spreading "dangerous propaganda" that is misleading the public about Russian "troop advances on the border, (and) the amassing of munitions and alleged columns of Russian tanks." But while the unusually critical article singles out Breedlove for his hyperbolic exaggerations of so-called Russian aggression, the real purpose of the Spiegel piece is to warn Washington that EU leaders will not support a policy of military confrontation with Moscow.
Before we explain what's going on, we need to look at an excerpt from the article. According to Spiegel:
"…for months now, many in the Chancellery simply shake their heads each time NATO, under Breedlove's leadership, goes public with striking announcements about Russian troop or tank movements … it is the tone of Breedlove's announcements that makes Berlin uneasy. False claims and exaggerated accounts, warned a top German official during a recent meeting on Ukraine, have put NATO — and by extension, the entire West — in danger of losing its credibility.

There are plenty of examples….At the beginning of the crisis, General Breedlove announced that the Russians had assembled 40,000 troops on the Ukrainian border and warned that an invasion could take place at any moment. The situation, he said, was "incredibly concerning." But intelligence officials from NATO member states had already excluded the possibility of a Russian invasion. They believed that neither the composition nor the equipment of the troops was consistent with an imminent invasion.

The experts contradicted Breedlove's view in almost every respect. There weren't 40,000 soldiers on the border, they believed, rather there were much less than 30,000 and perhaps even fewer than 20,000. Furthermore, most of the military equipment had not been brought to the border for a possible invasion, but had already been there prior to the beginning of the conflict. Furthermore, there was no evidence of logistical preparation for an invasion, such as a field headquarters.
Breedlove, though, repeatedly made inexact, contradictory or even flat-out inaccurate statements."…

On Nov. 12, during a visit to Sofia, Bulgaria, Breedlove reported that "we have seen columns of Russian equipment — primarily Russian tanks, Russian artillery, Russian air defense systems and Russian combat troops — entering into Ukraine." It was, he noted, "the same thing that OSCE is reporting." But the OSCE had only observed military convoys within eastern Ukraine. OSCE observers had said nothing about troops marching in from Russia.

Breedlove sees no reason to revise his approach. "I stand by all the public statements I have made during the Ukraine crisis," he wrote to SPIEGEL in response to a request for a statement accompanied by a list of his controversial claims."
(Breedlove's Bellicosity: Berlin Alarmed by Aggressive NATO Stance on Ukraine, Der Spiegel)
While it's easy to get swept up in the Spiegel's narrative of a rabid militarist dragging Europe closer to World War 3, the storyline is intentionally misleading. As anyone who's been following the Ukraine fiasco for the last year knows, there's nothing particularly unusual about Breedlove's distortions. Secretary of State John Kerry has made similar claims numerous times as have many others in the major media. The lies about "Russian aggression" are the rule, not the exception. So why has the Spiegel decided to selectively target Breedlove who is no more deceitful than anyone else? What's really going on here?
Clearly, the Spiegel is doing Merkel's work, that is, undermining the credibility of Washington's chief commander in Europe in order to discourage further escalation of the conflict in Ukraine. But while Merkel wants to humiliate Breedlove to show that Germany will not sit on its hands while Washington plunges the region into the abyss; she has also shown considerable restraint in limiting her attack to the General while sparing Kerry and Obama any embarrassment. This is quite an accomplishment given that –as we said earlier–virtually everyone in the political establishment and the media have been lying nonstop about every aspect of the conflict. Merkel doesn't want to discredit these others just yet, although the Spiegel piece infers that she has the power to do so if the "bad behavior" persists.
The Spiegel article is part of a one-two punch designed to force Washington to change its confrontational approach. The second jab appeared late Sunday afternoon when EU Commission President Jean-Claude Juncker announced that Europe needed to field its own army. Here's the story from Reuters:
"The European Union needs its own army to face up to Russia and other threats as well as restore the bloc's foreign policy standing around the world, EU Commission President Jean-Claude Juncker told a German newspaper on Sunday…

"With its own army, Europe could react more credibly to the threat to peace in a member state or in a neighboring state.

"One wouldn't have a European army to deploy it immediately. But a common European army would convey a clear message to Russia that we are serious about defending our European values." (Juncker calls for EU army, says would deter Russia, Reuters)
Can you see what's going on? On the one hand, the Spiegel delivers a hammer-blow to the credibility of NATO's top officer and on the other, the President of the EU Commission blindsides US powerbrokers by announcing a plan to create an independent EU fighting force that will render NATO redundant. These are big developments that have undoubtedly left the Obama troupe reeling. This is a full-blown assault on NATO's role as the primary guarantor of EU regional security. Maybe the European people are gullible enough to accept Junker's absurd claim that an EU army will "send an important message to the world", but you can be damn sure that no one at 1600 Pennsylvania Avenue believes that nonsense. The move is clearly designed to send a message to Washington that Europe is fed up with NATO and wants a change. That means it's "shape up or ship out time" for Breedlove and his ilk.
Ironically, these developments align Merkel with Putin's view of things as stated in his famous Munich speech in 2007 when he said:
"I am convinced that we have reached that decisive moment when we must seriously think about the architecture of global security. And we must proceed by searching for a reasonable balance between the interests of all participants in the international dialogue … The United States, has overstepped its national borders in every way … And of course this is extremely dangerous. It results in the fact that no one feels safe. I want to emphasize this — no one feels safe." (Russian President Vladimir Putin, 43rd Munich Security Conference, 2007)
How can the US possibly cast itself as "steward of the global security system", when its interventions have left a trail of decimated failed states from the southernmost border of Somalia to the northern tip of Ukraine, a chaotic swathe of smoldering ruin and agonizing human suffering that rivals the depredations of the Third Reich.
Europe's security requirements cannot be met by a belligerent, warmongering US-controlled entity that acts solely in Washington's interests. At present, NATO gets 75% of its funding from the US, which is why the alliance is less interested in peacemaking and security than it is in internationalizing its imperial war of aggression across the planet. Prior to the crisis in Ukraine, European leaders didn't see the danger of this idiotic arrangement (even though interventions in Serbia, Libya and Afghanistan should have brought them to their senses) But now that NATO's recklessness could vaporize Europe in a nuclear firestorm, leaders like Merkel and Hollande are starting to change their tune. Keep in mind, the ideal scenario for the US would be a limited war that levels large parts of the European and Asian continents, thus restoring the US to its post WW2 heyday when the "rubblized" world was Washington's oyster. That would be just fine for genocidal maniacs and armchair warriors who rule the globe from the safety of their well-stocked DC bunkers. But for Europe, this is definitely not a winning strategy. Europe doesn't want a war, and it certainly doesn't want to be used as cannon fodder for the greater glory of the dystopian NWO.
Putin advisor, Sergei Glazyev, figured out what Washington was up to long before Kiev launched its wretched "anti terrorism" campaign against federalist rebels in the East. Here's how he summed it up:
"The main task the American puppet masters have set for the (Kiev) junta is to draw Russia into a full-scale war with Ukraine. It is for this purpose that all of these heinous crimes are committed – to force Russia to send troops to Ukraine to protect the civilian population…

The bankruptcy of the US financial system, which is unable to service its foreign debt, the lack of investments to finance a breakthrough to a new technological order and to maintain America's competitiveness, and the potential defeat in the geopolitical competition with China. To resolve these problems, Americans need a new world war." (Sergei Glazyev)
Bingo. The steadily-declining empire, whose share of global GDP continues to shrivel with every passing year, has wanted a war from the get go. That's the only way that the US can reverse its precipitous economic slide and preserve its lofty spot as the world's only superpower. Fortunately, EU leaders are beginning to pull their heads out of the sand long enough to grasp what's going on and change their behavior accordingly.
It's worth noting, that no one in the Merkel administration or anyone else for that matter, has publicly challenged the allegations in the Spiegel article. Why is that, do you think?
Doesn't their silence suggest that they knew all along that all the anti-Putin propaganda hullabaloo was pure bunkum; that "evil" Putin didn't send tanks and soldiers across the border into Ukraine, that Putin didn't shoot down Malaysian Airline 17, that Putin didn't have a political opponent gunned down gangland style just a few hundred yards from the Kremlin? Isn't that what their silence really says?
Of course, it does. The reason no one in power has spoken out is because –as the Spiegel cynically admits–"A mixture of political argumentation and military propaganda is necessary."
"Propaganda is necessary"?
Whoa. Now there's an admission you're not going to see in the media too often. But it's the truth, isn't it? The Euro-leaders have been going along with the lies to keep the public in line. In other words, it's a healthy dose of perception management for the sheeple, but the unvarnished truth for our revered overlords. Sounds about right. Only now these ame elites have decided to share the facts with the lumpen masses. But, why? Why this sudden willingness to share the truth?
It's because they no longer support Washington's policy, that's why. No one in Europe wants the US to arm and train the Ukrainian army. No one wants them to deploy 600 paratroopers to Kiev and increase US logistical support. No one wants further escalation, because no one wants a war with Russia. It's that simple.
For the first time, EU leaders, particularly Merkel, understand that the United States' strategic objectives (the pivot to Asia) do not align with those of the EU, in fact, Washington's geopolitical ambitions pose a serious threat to Europe's security. Regrettably, it's not enough for Merkel to simply understand what is going on. She needs to huddle with her EU colleagues and take positive steps to derail Washington's plan now, otherwise the US will continue its incitements and false flags until Putin is forced to respond. Once that happens, a broader and, perhaps, catastrophic conflagration will be unavoidable.
It was a solution right up there with "Let them eat cake." Addressing the issue of Jews fleeing Europe due to increasing Islamic terrorism and Prime Minister Benjamin Netanyahu's call for them to seek safety in Israel, Bill Nye "the Science Guy" had an interesting solution: "Get to know your neighbors." The comment, made on Bill Maher's show Real Time Feb. 20, was then followed by Nye's interrogative, "What, does it take a century, something like that?"
This prompted some commentators, such as Fox News' Greg Gutfeld, to say that Nye was blaming Jews for the Muslim threat. Get to know your neighbors? Yes, to pick up on a point Gutfeld made and run with it, perhaps a few dinner parties and other assorted soirees would inspire epiphanies such as, "You know, I was going to chop your head off, but you make a killer matzo ball soup." The problem here, as Gutfeld said in so many words, is not Jews shooting up halal grocery stores. Nor are Muslims being taunted and spat upon while walking Paris streets as the Jewish man in this video was. But perhaps Nye is like those school administrators who punish a victimized child who tried physically defending himself just as harshly as his attacker in the thinking, "Hey, he was repeatedly punching the kid on top of him in the fist with his face, right?"
This commentary by Nye — who has invoked Holocaust terminology in branding climate-change realists "deniers" — caused Gutfeld to label him, "Bill Nye 'the Denial Guy.'" It may be a more fitting moniker than one relating to science, too, as a real scientist is actually out there, you know, inventing stuff. Instead, Nye took his B.S. in mechanical engineering, cut his entertainment teeth on a Seattle sketch-comedy TV show, and then parlayed his credentials into his well-known children's science program. Now he's supposedly qualified to dismiss climate-change realism and pontificate as an Expert in the Area of Everything. But Nye has always been a left-wing guy; take Barney the dinosaur, put a bowtie around his neck, a beaker in his hand, starve him for two months and make him a quasi-Marxist — and you have Bill Nye.
In fairness to the Denial Guy, perhaps he would say that he'd counsel both Jews and Muslims, and everyone else, to get to know each other better. And maybe he meant that what takes a century is assimilation. Regardless, his commentary betrays a fundamental misunderstanding about man's nature.
Nye reflects a common belief today: Just get people to know each other, and silly prejudices are dissolved by the solvent of reality. It's easy for Americans to believe this not only because of Kumbaya-multiculturalism conditioning, but also because of the common impression that this has been our experience. After all, anti-Irish bigotry was once rife, but how much exists now?
And assimilation had worked to a great degree in America, but our relatively short, 239-year history is a mere snapshot of man's story. In places such as Ruanda and the Balkans, there have been genocide and ethnic cleansing. Countless times in history peoples have been subsumed, as has largely happened to the Ainus in the Japanese islands. And in ancient Greece, the Spartans got to know their neighbors quite well — well enough to turn them into helots, a captive slave class. So, yes, sometimes it takes a century for assimilation.
And sometimes it takes a century to effect conquest.
There's a funny joke that illustrates a common difficulty living up to the injunction "Love thy neighbor." It goes: "You know, I basically love everyone in the whole world — everyone. I just have a problem with the 16 or 17 people who happen to be around me." Sure, Abraham Lincoln once said, "I don't like that man. I must get to know him better," but another saying to ponder is "Familiarity breeds contempt." To know people is to love them? Sometimes it's to hate them.
Of course, some interaction-induced irritation is inevitable. Being around people oftentimes means "bumping into them," with their occupying the bathroom when you want it or slowing you down on the road; this is where tolerance, properly defined as abiding something you perceive as a negative, actually is a virtue. But then there's the fact that getting to know people does dispel illusions — and that this includes illusions of goodness.
A family close to me once acquired a DVD of vintage cartoons, the kind they don't show on TV anymore because, as the politically correct disclaimer stated at the disc's opening (I'm paraphrasing), "WARNING: These cartoons contain stereotypes that may be offensive to some viewers." They were referring to things such as depictions of turban-bedecked Arabs in traditional garb and Japanese speaking stereotypical pidgin English. They were the kinds of cartoons I watched Saturday mornings as a boy — and the politically correct critics have it all wrong. Far from inducing in me and my friends negative attitudes toward the groups in question, they instead were intriguing portrayals that might have piqued our interest in learning more about their cultures. What tends to happen, however, when a person from an "intriguing culture" moves in next door? Then you often find that in many ways he's "just like us."
"It's the differences that kill you, though," as least in certain cases, to quote Colonel Ralph Peters. It's as when a man and woman marry and really get to know each other. While you usually have that normal bumping into each other, their deepening knowledge of one another can enrich their love. Then again, sometimes there are what many call irreconcilable differences. The husband may learn that his wife harbors a deep-seated hatred of men that sabotages their relationship, or the woman may find out that the man is a lecherous lout. And then there's that occasional person who was unfailingly charming during courtship, and maintains a sterling public persona, but has a collection of shrunken heads in the attic.
A romantic may now say that love conquers all — and it does have transformative power — but sometimes being too softly loving can lead to being conquered. And, as someone I once knew put it, some people have to be loved from afar.
Speaking of which, why do liberals such as Nye judge situations and people (e.g., Muslim terrorism vis-à-vis the Jews) so wrongly? It's because they deny the existence of Truth — the only thing that can reveal your emotions as wrong — and thus have deified their emotions, making them the ultimate arbiters of reality. And anyone governed by emotion, that irrational judge, will always fall sway to prejudice.
It takes a century? Sometimes the melting pot boileth over. For not everything melts. Some things just burn.
It was supposed to be a phone call for Obama administration ears only. But hear it the radio host did, she says. And what she heard should make your blood run cold — and perhaps your rage hot. Obama's amnesty plan is to use illegal aliens as "seedlings," said the federal officials. They will "navigate, not assimilate," as they "take over the host," create a "country within a country" and start "pushing the citizens into the shadows."
Welcome to the "fundamental transformation" of America.
The above was alleged by WCBM radio co-host Sue Payne in an interview with talk giant Mark Levin last Thursday. Payne says that while at an immigration rally, she became privy to three conference calls in which 16 Obama administration officials — including Cecilia Muñoz, director of Obama's White House Domestic Policy Council — discussed plans for what could only be called the final destruction of traditional America and the cementing of leftist hegemony. Muñoz, by the way, is perfectly suited to this task; she was once a senior vice president for the anti-American Hispanic lobbying organization the National Council of La Raza.
Oh, la raza means "the race" (I guess the whole "'Hispanic' is an ethnicity" thing doesn't cut much ice with them).
Payne opened the interview by explaining that what Obama actually did on November 21 — the day he signed his supposed executive amnesty — was create the "Task Force on New Americans" (TFNA) for the purposes of implementing his legalization scheme. And it won't be applied to just 5 million illegals, but "13 to 15 million to give protection [to] and move…on to citizenship," reports Payne.
Payne then said that the illegals, labeled "seedlings," would eventually "take over the host." She continued, "And the immigrants will come out of the shadows, and what I got from the meetings was that they would be pushing the citizens into the shadows. They would be taking over the country; in fact, one of the members of the task force actually said that we would be developing a country within a country."
To this nefarious end, the goal of the TFNA is to create a "welcoming feeling" in illegal-seeded localities, which would be redesignated "receiving communities." They'd subsequently be transformed (fundamentally, I suppose) into what are labeled "emerging immigrant communities" — or as some would say, México Norte.
The officials also said, reports Payne, that for the seedlings to "grow" they needed "fertile soil" (a.k.a. your tax money). The officials stated that the legalized aliens needed to be redesignated as "refugees" and be given cash, medical care, credit cards for purchasing documents and — since many illegals will be older — Social Security so they can "age successfully within their country within a country," to quote Payne. As she then put it, it's "as if we were funding our own destruction here."
Some may point out that Payne has no smoking gun (that we know of) in the form of, let's say, a recording of the calls. But Levin vetted her and found her credible, calling the scheme "stunning" and reflective of "Mao's China." I believe her as well, but it doesn't even matter. She simply confirms what I've been warning of for years and years over and over again: The Left is importing their voters, engaging indemographic warfare and authoring the death of the republic.
Mind you, legal immigration itself is a sufficient vehicle for this. Ever since the Immigration Reform and Nationality Act of 1965, 85 percent of our immigrants have hailed from the Third World and Asia, thus growing leftist constituencies that vote for socialistic Democrats by approximately a four-to-one margin; in contrast and as Pat Buchanan pointed out, "[N]early 90 percent of all Republican votes in presidential elections are provided by Americans of European descent." This, along with hatred and bigotry, is a major reason why Obama and his ilk want to destroy white America.
But liberals crave immediate gratification, and amnesty greatly accelerates this process. Legalize 15 million socialist voters clamoring for handouts, have them bring in relatives via chain migration — give them Social Security numbers which they can use to vote (as is Obama's plan) — and tomorrow's leftist dystopia is today. I predicted this in 2008, by the way, writing:
The coup de grace Obama will use against rightist opposition is mostly embodied in one word: amnesty. This, along with some other measures, will both grow the Hispanic voting block and ingratiate Obama to it. This will enable him to create a powerful coalition of blacks, young voters and Hispanics that, along with the older whites he will be able to retain, will constitute an insurmountable electoral force. And this is why amnesty has long been a dream of the Democrats. Even easier than brainwashing new voters (which the media and academia specialize in) is importing them.
Admittedly, I can be criticized since the above article is titled "How Obama Will Ensure His Victory in 2012." But titles are hooks as much as anything else. And since I don't have a crystal ball, just a not yet crystallized brain, I'd never claim to be able to perfectly predict timing. It also turned out that Obama and the 2009 to 2011Democrat House and Senate were preoccupied with instituting ObamaCare, and that the liberal legislators were perhaps too cowardly to face re-election having passed amnesty. Regardless, I have another prediction, one I hope you'll take seriously:
The chances are slim to nil that Obama's amnesty will be stopped legislatively.
Obama against John Boehner is the Beltway Brawler vs. the Beltway Bawler. Moreover, I suspect establishment Republicans — who just refused to defund Obama's scheme — want executive amnesty. Why? Because the issue has been an albatross around their necks. And while they don't have the guts or desire to really stand against Invasion USA, they also know voting for amnesty would mean electoral disaster. So, let Obama act unilaterally, huff and puff a bit with a wink and a nod while doing nothing of substance, and "Voila!" The issue is off the table with plausible deniability of complicity.
And the courts? They may uphold the recent injunction against Obamnesty, but there's no saying Obama won't ignore the courts (he assuredly understands that judicial review is a jurist invention). And, anyway, amnesty was always only a matter of time with today's cultural trajectory. Yet this cloud does have a silver lining.
The Left was very successful boiling the frog slowly with the legal importation of socialist voters and the gradual transformation of our culture via entertainment, the media and academia. But liberals' childish haste may have led to a tactical error. By going all in on executive orders and amnesty — by transitioning from evolutionary to revolutionary change and turning the burner up high — the Left risks rousing that frog from his pan. And how should it jump?
Obama said after the November Republican victory that it was his "profound preference and interest to see Congress act on a comprehensive immigration reform bill" (emphasis added), but otherwise he'll work via executive orders. He also offered the GOP a deal: "You send me a bill that I can sign, and those executive actions go away."
Translation: My preference is to follow the Constitution.
But my will be done — one way or the other.
How to respond? Question: what do you do when someone says "My preference is to follow the game's rules, but if I can't win that way, I'll have to cheat"? You can:
Continue losing; be a Charlie Brown sucker who keeps thinking that this time Lucy won't pull the football away.
Cheat right back (hard to do without judges in your pocket).
Stop playing the game.
Now, conservatives, consummate ladies and gentlemen that they are, consistently choose option one. Far be it from them to violate the "law" even when it's unconstitutional and therefore lawless. But I prefer option three.
This means nullification. Note that the Constitution is the contract Americans have with each other. And what happens when one party subject to a contract continually violates it in order to advantage itself, aided and abetted by corrupt judges?
The contract is rendered null and void.
Remember, cheaters don't stop cheating until forced to. Governors and their legislatures need to man-up and tell the feds, "You like acting unilaterally and unconstitutionally? Two can play that game." And this means not just ignoring Obama's amnesty dictates, but nullifying a multitude of other things as well.
The other option is demographic and cultural genocide and the politics attending that. The Left knows this, too. Obama noted that growing "diversity hinders conservative priorities," wrote the DC last month. Congressman Kurt Schrader (D-OR) said recently that amnesty "will decide who is in charge of this country for the next 20 or 30 years." And an ex-advisor to former Prime Minister Tony Blair confessed in 2009 that the goal of the British Labour Party's massive culture-rending immigration was to "rub the Right's nose in diversity and render their arguments out of date."
Do you get it yet?
Defy and Nullify.
The alternative is to walk legally and quietly into that good night, going out not with a bang but a whimper, muttering something about 2016, the Supreme Court and pixie dust.
Gee, I hate to keep pointing this stuff out all the time because a whole lot of people get really ticked off at me every time that I do — but the truth is the truth.  ISIS, Netanyahu and Hitler really do have a whole lot in common.  But as true as this statement may be, still almost nobody these days wants to hear that their favorite emperor isn't wearing any clothes.  Why?  Perhaps because it makes people feel bad that they have been so completely suckered, had, duped and used.
However, like it or not, the three emperor-wannabes listed above are still not wearing any clothes.  So to speak.
And here's my checklist to prove it:
1.  Received a lot of their financial support from the weapons industry:  http://www.globalresearch.ca/u-s-helicopter-delivering-weapons-to-the-islamic-state-isis-shot-down-by-iraqi-popular-forces/5434230
Hitler:  Check
Netanyahu:  Check
ISIS:  Check
2.  Founded their empires (reichs, caliphates, promised lands, whatever) on invasions, blitzkriegs, preemptive wars, guys-just-wanna-have-fun, terrorism, whatever — with the goal of eventually taking over all geopolitical territory within thousands of miles of their empire's original borders:
Hitler:  Check
Netanyahu:  Check
ISIS:  Check
3.   Committed mass genocide based solely on religion, race, land or resource ownership, language usage and/or nationality:
Hitler:  Check
Netanyahu:  Check
ISIS:  Check
4.  Used illegal weapons, including chemical weapons such as napalm, white phosphorus and noxious gases, and/or landmines, cluster bombs, biological weapons, etc. on civilians:
Hitler:  Check
Netanyahu:  Check
ISIS:  Not really sure.  Are broadswords considered illegal weapons if used to behead journalists?  Probably.  Okay, check.
5.  Bomb the freak out of civilian targets:
Hitler:  Check
Netanyahu:  Check
ISIS:  Do RPGs and car-bombs count?  Yes?  Then "check"
6.  Routinely terrorized civilian populations to the point of said populations thinking they were living inside a horror movie, a police state or 'Stalag 17″https://www.youtube.com/watch?v=ZKc2GJk2OLQ:
Hitler:  Check
Netanyahu:  Check
ISIS:  Check
7.   Used lies, snappy slogans, false-flag operations http://yournewswire.com/mikhail-gorbachev-assassination-of-boris-nemstov-is-a-false-flag/#sthash.5isb7TEp.dpuf and "1984" types of propaganda, threats and the deliberate generation of irrational fears to get their own populations to back their criminal activities:
Hitler:  Check
Netanyahu:  Check
ISIS:  Check
8.  Wore snappy uniforms designed to intimidate and impress:
Hitler:  Check
Netanyahu:  Check
ISIS:  Check
9.  Supported by rich industrialists, corporatists, recipients of corporate welfare and opulent dictatorships in the Middle East:
Hitler:  Check
Netanyahu:  Check
ISIS:  Check
10.  Had a huge destabilizing effect on Europe, the Middle East and America that ended in tragedy, economic chaos and the further spread of warhttp://cityworldnews.com/native-american-amnesty/:
Hitler:  Check
Netanyahu:  Check
ISIS:  Check
11.  Pretends to be of a certain religion but never practices their religion's goals, ideals or concepts:
Hitler:  Check
Netanyahu:  Check
ISIS:  Check
12.  Steals resources and valuables from the countries and territories that have been illegally seized:  http://www.truthdig.com/report/item/the_great_game_in_the_holy_land_20150227
Hitler:  Check
Netanyahu:  Check
ISIS:  Check
13.  Has absolutely no tinges of conscience whatsoever after having caused thousands of families, scores of ethnic groups, an unknown number of combat veterans and even whole countries to suffer from shell shock, battle fatigue and PTSD http://www.unrwa.org/newsroom/press-releases/serious-upsurge-post-conflict-trauma-gaza-says-un:
Hitler:  Check
Netanyahu:  Check
ISIS:  Check
14.  Is invited to speak before Congress:
Hitler:  No way.
ISIS:  Not a chance.
Netanyahu:  Roll out the red carpet!
"The collapse of the Soviet Union removed the only constraint on Washington's power to act unilaterally abroad…. Suddenly the United States found itself to be the Uni-power, the 'world's only superpower.'  Neoconservatives proclaimed 'the end of history.'"
—  Paul Craig Roberts,  former Assistant Secretary of the US Treasury
"Don't blame the mirror if your face is crooked."
— Russian proverb
Vladimir Putin delivered a speech at the 43rd Munich Security Conference that created a rift between Washington and Moscow that has only deepened over time.  The Russian President's blistering hour-long critique of US foreign policy provided a rational, point-by-point indictment of US interventions around the world and their devastating effect on global security.   Putin probably didn't realize the impact his candid observations would have on the assembly in Munich or the reaction of  powerbrokers in the US who saw the presentation as a turning point in US-Russian relations. But, the fact is, Washington's hostility towards Russia can be traced back to this particular incident, a speech in which Putin publicly committed himself to a multipolar global system, thus, repudiating the NWO pretensions of US elites. Here's what he said:
"I am convinced that we have reached that decisive moment when we must seriously think about the architecture of global security. And we must proceed by searching for a reasonable balance between the interests of all participants in the international dialogue."
With that one formulation, Putin rejected the United States assumed role as the world's only superpower and steward of global security, a privileged position which Washington feels it earned by prevailing in the Cold War and which entitles the US to unilaterally intervene whenever it sees fit. Putin's announcement ended years of bickering and deliberation among think tank analysts as to whether Russia could be integrated into the US-led system or not.  Now they knew that Putin would never dance to Washington's tune.
In the early years of his presidency, it was believed that Putin would learn to comply with western demands and accept a subordinate role in the Washington-centric system. But it hasn't worked out that way. The speech in Munich merely underscored what many US hawks and Cold Warriors had been saying from the beginning, that Putin would not relinquish Russian sovereignty without a fight.  The declaration challenging US aspirations to rule the world, left no doubt that  Putin was going to be a problem that had to be dealt with by any means necessary including harsh economic sanctions, a State Department-led coup in neighboring Ukraine, a conspiracy to crash oil prices, a speculative attack of the ruble, a proxy war in the Donbass using neo-Nazis as the empire's shock troops, and myriad false flag operations used to discredit Putin personally while driving a wedge between Moscow and its primary business partners in Europe. Now the Pentagon is planning to send 600 paratroopers to Ukraine ostensibly to "train the Ukrainian National Guard", a serious escalation that violates the spirit of Minsk 2 and which calls for a proportionate response from the Kremlin. Bottom line: The US is using all the weapons in its arsenal to prosecute its war on Putin.
Last week's gangland-style murder of Russian opposition leader, Boris Nemtsov, has to be considered in terms of the larger geopolitical game that is currently underway. While we may never know who perpetrated the crime, we can say with certainly that the lack of evidence hasn't deterred the media or US politicians from using the tragedy to advance an anti-Putin agenda aimed at destabilizing the government and triggering regime change in Moscow.  Putin himself suggested that the killing may have been a set-up designed to put more pressure on the Kremlin. The World Socialist Web Site summed up the political implications like this:
"The assassination of Russian opposition politician Boris Nemtsov is a significant political event that arises out of the US-Russia confrontation and the intense struggle that is now underway within the highest levels of the Russian state. The Obama administration and the CIA are playing a major role in the escalation of this conflict, with the aim of producing an outcome that serves the global geo-political and financial interests of US imperialism….
It is all but obvious that the Obama administration is hoping a faction will emerge within the Russian elite, backed by elements in the military and secret police, capable of staging a "palace coup" and getting rid of Putin….
The United States is not seeking to trigger a widespread popular revolt. (But) are directed entirely at convincing a section of the oligarchy and emerging capitalist class that their business interests and personal wealth depend upon US support. That is why the Obama administration has used economic sanctions targeting individuals as a means of exerting pressure on the oligarchs as well as broader sections of the entrepreneurial elite….
It is in the context of this international power struggle that one must evaluate Nemtsov's murder. Of course, it is possible that his death was the outcome of his private dealings. But it is more likely that he was killed for political reasons. Certainly, the timing of the killing—on the eve of the opposition's anti-Putin demonstration in Moscow—strongly indicates that the killing was a political assassination, not a private settling of accounts."  ("Murder in Moscow: Why was Boris Nemtsov assassinated?", David North, World Socialist Web Site)
Just hours after Nemtsov was gunned down in Moscow, the western media swung into action releasing a barrage of articles suggesting Kremlin involvement without a shred of  evidence to support their claims. The campaign of innuendo has steadily gained momentum as more Russia "experts" and politicians offer their opinions about who might be responsible. Naturally, none of the interviewees veer from the official storyline that someone in Putin's charge must have carried out the attack.  An article in the Washington Post is a good example of the tactics used in the latest PR campaign to discredit Putin.  According to Vladimir Gel'man, Political Scientists European University at St. Petersburg and the University of Helsinki:
"Boris Nemtsov, one of the leaders of political opposition, was shot dead nearby the Kremlin. In my opinion, it has all the hallmarks of a political assassination provoked by an aggressive Kremlin-induced campaign against the "fifth column of national traitors", who opposed the annexation of Crimea, war with the West over Ukraine, and further decline of political and civil freedoms in the country. We may never know whether the Kremlin ordered this killing, but given the fact that Nemtsov was one of the most consistent critics not only of the Russian regime as such but also of Putin in person, his dissenting voice will never upset Putin and his inner circle anymore."  ("What does Boris Nemtsov's murder mean for Russia?", Washington Post)
The article in the Washington Post is fairly typical of others published in the MSM. The coverage is invariably long on finger-pointing and insinuation and short on facts. Traditional journalistic standards of objectivity and fact-gathering have been jettisoned to advance a political agenda that reflects the objectives of ownership. The Nemtsov assassination is just the latest illustration of the abysmal state of western media.
The idea that Putin's agents would "whack" an opposition candidate just a stone's throw from the Kremlin is far fetched to say the least.  As one commenter at the Moon of Alabama blog noted:
"Isn't the image of a dead political opponent lying on a bridge overlooked by the Kremlin a bit rich? I mean, short of a dagger lodged between his shoulder blades with the inscription "if found, please return to Mr Putin", I can't think of a more over-egged attempt at trying to implicate the Government. And on the night before an opposition rally Nemtsov hoped to lead. I mean, come on."
While there's no denying that Moscow could be involved, it seems unlikely. The more probable explanation is that the incident is part of a larger regime change scheme to ignite social unrest and destabilize the government. The US has used these tactics so many times before in various color-coded revolutions, that we won't reiterate the details here. Even so, it's worth noting that the US has no red lines when it comes to achieving its strategic goals.  It will do whatever it feels is necessary to prevail in its clash with Putin.
The question is why? Why is Washington so determined to remove Putin?
Putin answered this question himself recently at a celebration of Russia's diplomatic workers' day. He said Russia would pursue an independent foreign policy despite pressure in what he called "today's challenging international environment."
"No matter how much pressure is put on us, the Russian Federation will continue to pursue an independent foreign policy, to support the fundamental interests of our people and in line with global security and stability." (Reuters)
This is Putin's unforgivable crime, the same crime as Venezuela, Cuba, Iran, Syria and countless other nations that refuse to march in lockstep to Washington's directives.
Putin has also resisted NATO encirclement and attempts by the US to loot Russia's vast natural resources. And while Putin has made every effort to avoid a direct confrontation with the US, he has not backed down on issues that are vital to Russia's national security, in fact, he  has pointed out numerous times not only the threat that encroaching NATO poses to Moscow, but also the lies that preceded its eastward expansion. Here's Putin at Munich again:
"I would like to quote the speech of NATO General Secretary Mr. Woerner in Brussels on 17 May 1990. He said at the time that: "the fact that we are ready not to place a NATO army outside of German territory gives the Soviet Union a firm security guarantee….

Where are these guarantees?"
Where, indeed. Apparently, they were all lies.  As political analyst Pat Buchanan said in his article "Doesn't Putin Have a Point?":
"Though the Red Army had picked up and gone home from Eastern Europe voluntarily, and Moscow felt it had an understanding we would not move NATO eastward, we exploited our moment. Not only did we bring Poland into NATO, we brought in Latvia, Lithuania, and Estonia, and virtually the whole Warsaw Pact, planting NATO right on Mother Russia's front porch. Now, there is a scheme afoot to bring in Ukraine and Georgia in the Caucasus, the birthplace of Stalin….

… though Putin gave us a green light to use bases in the old Soviet republics for the liberation of Afghanistan, we now seem hell-bent on making those bases in Central Asia permanent.

… through the National Endowment for Democracy, its GOP and Democratic auxiliaries, and tax-exempt think tanks, foundations, and "human rights" institutes such as Freedom House,… we have been fomenting regime change in Eastern Europe, the former Soviet republics, and Russia herself….

These are Putin's grievances. Does he not have a small point?" "(Doesn't Putin Have a Point?", Pat Buchanan, antiwar.com)
Now the US wants to deploy its missile defense system to Eastern Europe, a system which–according to Putin "will work automatically with and be an integral part of the US nuclear capability. For the first time in history, and I want to emphasize this, there are elements of the US nuclear capability on the European continent. It simply changes the whole configuration of international security…..Of course, we have to respond to that."
How can Putin allow this to happen?  How can he allow the US to situate nuclear weapons in a location that would increase its first-strike capability and undermine the balance of deterrents allowing the US to force Russia to follow its orders or face certain annihilation. Putin has no choice but to resist this outcome, just as has no choice but to oppose the principle upon which US expansion is based, the notion that the Cold War was won by the US, therefore the US has the right to reshape the world in a way that best suits its own economic and geopolitical interests. Here's Putin again:
"What is a unipolar world? However one might embellish this term,  it refers to a type of situation where there is one center of authority, one center of force, one center of decision-making.   It is world in which there is one master, one sovereign. At the end of the day, this is pernicious not only for all those within this system, but also for the sovereign itself because it destroys itself from within…..

I consider that the unipolar model is not only unacceptable but also impossible in today's world…. the model itself is flawed because at its basis there is and can be no moral foundations for modern civilization…." (Munich, 2007)
What sort of man talks like this? What sort of man talks about "the moral foundations for modern civilization" or invokes FDR in his address?
Putin:  "'Security for one is security for all'. As Franklin D. Roosevelt said during the first few days that the Second World War was breaking out: 'When peace has been broken anywhere, the peace of all countries everywhere is in danger.' These words remain topical today."
I urge everyone to watch at least the first 10 minutes of Putin's speech and decide for themselves whether they think the characterization (and demonization) of Putin in the media is fair or not. And pay special attention to Minute 6 where Putin says this:
"We are seeing a greater and greater disdain for the basic principles of international law. And independent legal norms are, as a matter of fact, coming increasingly closer to one state's legal system. One state and, of course, first and foremost the United States, has overstepped its national borders in every way. This is visible in the economic, political, cultural and educational policies it imposes on other nations. Well, who likes this? Who is happy about this?" ("Vladimir Putin's legendary speech at Munich Security Conference")
While Putin is making this statement, the camera pans to John McCain and Joe Lieberman who are sitting stone-faced in the front row seething at every word uttered by the Russian president. If you look close enough, you can see the steam emerging from McCain's ears.
This is why Washington wants regime change in Moscow. It's because Putin refuses to be pushed around by the United States. It's because he wants a world that is governed by international laws that are impartially administered by the United Nations. It's because he rejects a "unipolar" world order where one nation dictates policy to everyone else and where military confrontation becomes the preferred way for the powerful to impose their will on the weak.
Putin:  "Today we are witnessing an almost uncontained hyper use of force that is plunging the world into an abyss of permanent conflicts…The United States, has overstepped its national borders in every way….And of course this is extremely dangerous. It results in the fact that no one feels safe. I want to emphasize this — no one feels safe."  Vladimir Putin, Munich 2007
Putin isn't a perfect man. He has his shortcomings and flaws like everyone else. But he appears to be a decent person who has made great strides in restoring Russia's economy after it was looted by agents of the US following the dissolution of the Soviet Union. He has lifted living standards,  increased pensions,  reduced poverty, and improved education and health care which is why his public approval ratings are currently hovering at an eye-watering 86 percent.  Even so, Putin is most admired for standing up to the United States and blocking its strategy to pivot to Asia. The proxy war in Ukraine is actually a struggle to thwart Washington's plan to break up the Russian Federation, encircle China, control the flow of resources from Asia to Europe,  and rule the world.   Vladimir Putin is at the forefront of that conflagration which is why he has gained the respect and admiration of people around the world.
As for "democracy", Putin said it best himself:
"Am I a 'pure democrat'? (laughs) Of course I am. Absolutely. The problem is that I'm all alone, the only one of my kind in the whole world. Just look at what's happening in    America, it's terrible—torture, homeless people, Guantanamo, people detained without trial or investigation.     And look at  Europe—harsh treatment of demonstrators, rubber bullets and tear gas used in one capital after another, demonstrators killed on the streets….. I have no one to talk to since Gandhi died."
Well said, Vladimir.
Varoufakis vs. The Troika…
"Will the United States, Germany, the rest of the European Union, the European Central Bank, and the International Monetary Fund – collectively constituting the International Mafia – allow the new Greek leaders of the Syriza party to dictate the conditions of Greece's rescue and salvation? The answer at the moment is a decided "No".

— William Blum, The Greek Tragedy, Veracity Voice

"The Greek economy is finished…. There is no power, no force within the Greek economy, within Greek society that can avert – it's like – imagine if we were in Ohio in 1931 and we were to ask: What can Ohio politicians do to get Ohio out of the Great Depression? The answer is nothing."

— Yanis Varoufakis, Greek Finance Minister
A disagreement over the terms of a deal to provide a bailout extension for Greece, has set the stage for a final clash between the Eurogroup and members of the Greek ruling party, Syriza.  Although the agreement was approved on Tuesday when a list of reforms were submitted by Greek finance minister Yanis Varoufakis to the Eurogroup, Varoufakis believes that changes to the original program give him greater flexibility to implement policies that will end austerity, reduce the ailing country's primary budget surplus, and ease the humanitarian crisis that has persisted for 6 years.  Regrettably,  no one at the ECB, the European Commission or the IMF shares Varoufakis's views on the subject. The so called "troika" thinks that Greece has signed on to essentially the same program that was in place before the negotiations, give or take a few cosmetic changes in the language. And because the program is the same, they think Varoufakis should stick with the same policies as his predecessor and ignore mounting public opposition to austerity. Given the irreconcilable differences between the two parties, there's bound to be a violent confrontation in the near future that will lead to heated recriminations and, eventually, a Grexit.
To illustrate the widening chasm between Varoufakis and the members of the Eurogroup, consider the fact that, going into the negotiations, Varoufakis was determined to end the bailouts and secure a "bridge" loan that would shield Greece from default for a six month period of adjustment after which basic changes to the current austerity regime would be re-negotiated. While the Eurogroup agreed to change the term "program" to "agreement" and "troika" to "institutions", in the minds of the EU finance minsters, the substance of the original deal, which was laid out in the hated Memorandum of Understanding, remained the same. Take a look at this excerpt from a letter from ECB president Mario Draghi and Eurogroup president Jeroen Dijsselbloem and you'll see how this is playing out:
"I assume that it is clear, that the basis of concluding the current review, and also any future arrangements, will be the existing commitments in the current Memorandum of Understanding and The Memorandum of Economic and Financial Policies  (MEFP). In this context we note that the commitments outlined by the authorities differ from existing programme commitments in a number of areas. In such cases, we will have to assess during the review whether measures which are not accepted by the authorities are replaced with measures of equal or better quality in terms of achieving the objectives of the programme." (Naked Capitalism)
What Draghi is saying is that Varoufakis's changes will be put under a microscope to see if they conform with the memorandum which Varoufakis believes no longer applies. The way this will work on a practical basis, is that additional money will only be meted out incrementally depending on compliance with, you guessed it, the old agreement. In other words, Varoufakis will not have a 4 month grace period to experiment with his pro-growth, anti-austerity economic policies. He'll be expected to toe the line from Day 1.
Varoufakis either doesn't understand what he signed or thinks he can implement his own plan without too much interference from the Eurogroup. Either way, there's probably going to be a confrontation given the vast disparity in the way the agreement is being interpreted. In a Tuesday interview with CNBC, Varoufakis said that the new deal is fundamentally different than the previous agreement. He said:
"Some people have been insisting that the program that we've been under must surely be the program that we shall remain under simply refuse to understand that this has changed. So they keep insisting that that program is still on-going. Let me give you a very simple number. The program that we challenged compelled to the Greek government to extract 4.5% of the primary surplus every year in a depressed economy. We've changed that. Now surely that is not dismissed as simply a non-event and it's business as usual, so it's not business as usual we have a fresh start and now what matters is to use the opportunity of that fresh start in order to build something good on top of it. And we will endeavor to do this." ("CNBC Exclusive Interview: Greek Finance Minister, Yanis Varoufakis", CNBC)
See? He sincerely believes that the old deal is history. But the troika, the Eurogroup, and the majority of people who have analyzed the new arrangement, disagree. They think everything is the same (which explains why critics on the right and left have repudiated the deal as a "climb-down, a capitulation and a sellout.)
In an interview with Nikos Hatzinikolaou on REAL FM, Greece, Varoufakis rejected the Memorandum while claiming that the new agreement represents "a huge success' in ending the "recessionary measures" that are needlessly prolonging Greece's Great Depression. Here's what he said:
Varoufakis: "The current  government (Syriza) wants to say things with their name. I will explain it to you in very simple terms, Mr. Hatzinikolaou. As long as our debt is what it is, as long as Greece was bounded within this iron cage of primary surpluses that were impossible to achieve without killing whatever is left in the private sector, and as long we have a negative sign in investments (essentially, real investments), it was impossible to achieve this exit.
What we are trying to do – and have succeeded in doing so; it was a huge success, I'd say – is to create a four-month bridge during which we achieve the following:

First, the cancelation of the recessionary measures and the implementation of a transitional program we ourselves have made, one the Greek society will be able to withstand. This will help us negotiate during this four-month period a new contract between us and our partners with the goal of solving this system of three equations with three unknowns.

Hatzinikolaou: Thus, we are talking about a new Memorandum? ….

Varoufakis: OK. Let us be careful with the words. What does the Memorandum mean? … Let me remind you of what it comprises. It comprises the logic of continuous domestic [or internal] devaluation, of  huge primary surpluses in an economy that does not have a real credit system, where investments are negative, and at the same time where we have a series of measures that empower this recession.  This is the MoU. It is the automation, the a-politicization, and the subjection to the crisis." ("The juicy interview of Greek Finance Minister, Yanis Varoufakis", Greek Analyst)
Varoufakis  appears to be saying that, in his view, the new agreement constitutes a rejection of the memorandum and, thus, is a de facto repudiation of austerity.  The question is whether Varoufakis is stretching the facts to give himself greater latitude to relieve Greece's humanitarian crisis and to put Greece back on a sound path to growth.  While those are worthy goals, they are not likely to win the Eurogroup's support. Check out this excerpt from a letter from the IMF to Dijsselbloem concerning the vagueness of Varoufakis's reform package:
"In quite a few areas, however, including perhaps the most important ones, the letter is not conveying clear assurances that the Government intends to undertake the reforms envisaged in the Memorandum on Economic and Financial Policies. We note in particular that there are neither clear commitments to design the envisaged comprehensive pension and VAT policy reforms, nor unequivocal undertakings to continue already-agreed policies for opening up closed sectors, for administrative reforms, for privatization, and for labor market reforms. As you know, we consider such commitments and undertakings to be critical for Greece's ability to meet the basic objectives of its Fund-supported program, which is why these are the areas subject to most of the structural benchmarks agreed with the Fund." (Excerpt IMF letter posted at Naked capitalism)
Repeat: "We consider such commitments and undertakings to be critical for Greece's ability to meet the basic objectives of its Fund-supported program."  In other words, Greece should not expect to get its loan extension unless it follows the troika's explicit orders on pensions, VAT (sales taxes), government cutbacks, privatization and labor market reforms.
So, what is Varoufakis's approach to these benchmarks?
Let's take a look at pension reform. In an interview with CNBC's Julia Chatterley on Tuesday, Chatterley asked Varoufakis point blank, "So you're ruling out pension cuts?"
Varoufakis: "Of course over the next four months there will be no such thing." (CNBC)
How about raising the VAT tax?
Same thing. And in the interview on REAL FM Varoufakis covered the other policies that the troika sees as "critical". Listen to this exchange:
Hatzinikolaou: My fundamental question about the e-mail is whether or not it entails layoffs in the public sector …, if it entails pension reductions … if it entails wage reductions?

Varoufakis: I will answer to all these questions, since these are very specific questions, and it is best that we speak forthrightly. My answer to all of these questions is NO, in NO WAY."
Let's summarize: No pension cuts, no higher VAT taxes, no lower wages for public workers, and no layoffs. While I admire what Varoufakis is suggesting, I can't figure out how he's going to convince the troika to give him more money.  Apparently, he thinks that streamlining the government and aggressively pursuing tax cheats will do the trick. Or maybe he has something else up his sleeve, like ignoring the terms of the agreement long enough to generate growth in the economy, lower unemployment, and create an improved environment for foreign investment. He might think that that will force the troika to acknowledge that austerity has failed and that pro-growth Keynesian strategies actually produce positive results. Of course, that's just a guess on my part. It's impossible to know for sure.
Here's more of the interview with CNBC:
Varoufakis:   "The reason why we have this 4 month period is to re-establish bonds of trust between us and our European partners as well as the IMF in order to build a new, we call it, contract between us and our partners so as to put an end to this spiral, the debt inflationary spiral; reform Greece; and make sure that CNBC doesn't care about Greece anymore, because we don't want to be in the headlines for all the wrong reasons." ("CNBC Exclusive Interview: Greek Finance Minister, Yanis Varoufakis", CNBC)
The "bonds of trust" are going to  put to the test if Varoufakis doesn't comply with the troika's diktats, that's for sure.
Varoufakis assumes that the troika doesn't understand the impact of its belt-tightening policies. He seems to think that the punishment that's being inflicted on Greece is just the unfortunate byproduct of debt reduction policy and not a deliberate attempt to crush the unions, roll back progressive reforms, decimate the welfare state, and reduce the country to a condition of "permanent colonial dependency."    But that viewpoint is shockingly naïve, after all, the IMF has been in the looting biz for a long time and has a pretty good grasp of the effects its toxic policies.  They know what they're doing, just like know that austerity is just a refinement of the "shock doctrine" which is the traditional way the elites exploit crises by imposing harsh, economy-demolishing reforms that only benefit themselves and their class. The men who conjure up these thieving schemes aren't likely to be hoodwinked by Varoufakis's vague reforms. They're going to force Varoufakis to jump through all their respective hoops before he gets one dime of their precious money. Here's Varoufakis again:
"There is going to be a great deal of toing and froing between us and the institutions and our partners but what we have established through stubborn refusal to succumb to the notion that elections change nothing over the past couple of months or weeks I should say is the notion that this government deserves to have a degree of room for policy-making that allows us to reform Greece and to carry the great multitude out there with us. This is the government for the first time in Greece that has the people behind it and it would be a terrible waste not just for us but for our partners to allow this wave of support to dissipate through non-action." (CNBC)
Does Varoufakis really think he can pull this off?  Does he really think he can out-fox the slimy, authoritarian brigands and leg-breakers who run these extortionist institutions and who will use every means possible to extract the last drop of blood from their victim be he an aspiring, but penniless student at the university or a destitute pensioner huddling homeless and frozen in an abandoned doorway in downtown Athens?
This isn't going to end well. Varoufakis had one card to play–the threat of leaving the Euro–and he failed to play it. Now his leverage is gone and the roof is about to cave in. Just wait and see.
The troika isn't going to convene another dreary round of negotiations to rehash the same old nonsense. Those days are over.  They're simply going to withhold the money, curtail liquidity assistance, and torpedo the Greek banking system. Kaboom! That's the way this thing is going to go down. The mood among the EZ finance ministers has soured considerably since the last meeting. They want to put this whole thing behind them. They're sick of it.  They want closure. They're not going to quibble over issues they've already gone over and clarified a million times.  Varoufakis will either have to get with the program or face the consequences. That's the way it works in Mafia-land; you either pay the piper or you find yourself in the East River in cement booties.
Who knows: maybe this is what Varoufakis wanted from the beginning, a ferocious clash ending in banishment, a Grexit.  Well, he won't have to wait long now.