"In order to survive and preserve its leading role on the international stage, the US desperately needs to plunge Eurasia into chaos, (and) to cut economic ties between Europe and Asia-Pacific Region … Russia is the only (country) within this potential zone of instability that is capable of resistance. It is the only state that is ready to confront the Americans. Undermining Russia's political will for resistance… is a vitally important task for America."

-Nikolai Starikov, Western Financial System Is Driving It to War, Russia Insider

"Our first objective is to prevent the re-emergence of a new rival, either on the territory of the former Soviet Union or elsewhere, that poses a threat on the order of that posed formerly by the Soviet Union. This is a dominant consideration underlying the new regional defense strategy and requires that we endeavor to prevent any hostile power from dominating a region whose resources would, under consolidated control, be sufficient to generate global power."

-The Wolfowitz Doctrine, the original version of the Defense Planning Guidance, authored by Under Secretary of Defense Paul Wolfowitz, leaked to the New York Times on March 7, 1992
The United States does not want a war with Russia, it simply feels that it has no choice. If the State Department hadn't initiated a coup in Ukraine to topple the elected president, Viktor Yanukovych, then the US could not have inserted itself between Russia and the EU, thus, disrupting vital trade routes which were strengthening nations on both continents. The economic integration of Asia and Europe–including plans for high-speed rail from China ("The New Silk Road") to the EU–poses a clear and present danger for the US whose share of global GDP continues to shrink and whose significance in the world economy continues to decline. For the United States to ignore this new rival (EU-Russia) would be the equivalent of throwing in the towel and accepting a future in which the US would face a gradual but persistent erosion of its power and influence in world affairs. No one in Washington is prepared to let that happen, which is why the US launched its proxy-war in Ukraine.
The US wants to separate the continents, "prevent the emergence of a new rival", install a tollbooth between Europe and Asia, and establish itself as the guarantor of regional security. To that end, the US is rebuilding the Iron Curtain along a thousand mile stretch from the Baltic Sea to the Black Sea. Tanks, armored vehicles and artillery are being sent to the region to reinforce a buffer zone around Europe in order to isolate Russia and to create a staging ground for future US aggression. Reports of heavy equipment and weapons deployment appear in the media on nearly a daily basis although the news is typically omitted in the US press. A quick review of some of the recent headlines will help readers to grasp the scale of the conflict that is cropping up below the radar:
"US, Bulgaria to hold Balkans military drills", "NATO Begins Exercises In Black Sea", "Army to send even more troops, tanks to Europe", "Poland requests greater US military presence", "U.S. Army sending armored convoy 1,100 miles through Europe", "Over 120 US tanks, armored vehicles arrive in Latvia", "US, Poland to Conduct Missile Exercise in March – Pentagon"
Get the picture? There's a war going on, a war between the United States and Russia.
Notice how most of the headlines emphasize US involvement, not NATO. In other words, the provocations against Russia originate from Washington not Europe. This is an important point. The EU has supported US-led economic sanctions, but it's not nearly as supportive of the military build up along the perimeter. That's Washington's idea and the cost is borne by the US alone. Naturally, moving tanks, armored vehicles and artillery around the world is an expensive project, but the US is more than willing to make the sacrifice if it helps to achieve its objectives.
And what are Washington's objectives?
Interestingly, even political analysts on the far right seem to agree about that point. For example, check out this quote from STRATFOR CEO George Friedman who summed it up in a recent presentation he delivered at The Chicago Council on Foreign Affairs. He said:
"The primordial interest of the United States, over which for centuries we have fought wars–the First, the Second and Cold Wars–has been the relationship between Germany and Russia, because united there, they're the only force that could threaten us. And to make sure that that doesn't happen." … George Friedman at The Chicago Council on Foreign Affairs, Time 1:40 to 1:57)
Bingo. Ukraine has nothing to do with sovereignty, democracy or (alleged) Russian aggression. That's all propaganda. It's about power. It's about imperial expansion. It's about spheres of influence. It's about staving off irreversible economic decline. It's all part of the smash-mouth, scorched earth, take-no-prisoners geopolitical world in which we live, not the fake Disneyworld created by the western media. The US State Department and CIA toppled the elected-government in Ukraine and ordered the new junta regime to launch a desperate war of annihilation against its own people in the East, because, well, because they felt they had no other option. Had Putin's ambitious plan to create a free trade zone between Lisbon to Vladivostok gone forward, then where would that leave the United States? Out in the cold, that's where. The US would become an isolated island of dwindling significance whose massive account deficits and ballooning national debt would pave the way for years of brutal restructuring, declining standards of living, runaway inflation and burgeoning social unrest. Does anyone really believe that Washington would let that to happen when it has a "brand-spanking" trillion dollar war machine at its disposal?
Heck, no. Besides, Washington believes it has a historic right to rule the world, which is what one would expect when the sense of entitlement and hubris reach their terminal phase. Now check out this clip from an article by economist Jack Rasmus at CounterPunch:
"Behind the sanctions is the USA objective of driving Russia out of the European economy. Europe was becoming too integrated and dependent on Russia. Not only its gas and raw materials, but trade relations and money capital flows were deepening on many fronts between Russia and Europe in general prior to the Ukraine crisis that has provided the cover for the introduction of the sanctions. Russia's growing economic integration with Europe threatened the long term economic interests of US capitalists. Strategically, the US precipitated coup in the Ukraine can be viewed, therefore as a means by which to provoke Russian military intervention, i.e. a necessary event in order to deepen and expand economic sanctions that would ultimately sever the growing economic ties between Europe and Russia long term. That severance in turn would not only ensure US economic interests remain dominant in Europe, but would also open up new opportunities for profit making for US interests in Europe and Ukraine as well…

When the rules of the competition game between capitalists break down altogether, the result is war—i.e. the ultimate form of inter-capitalist competition." (The Global Currency Wars, Jack Rasmus, CounterPunch)
See? Analysts on the right and left agree. Ukraine has nothing to do with sovereignty, democracy or Russian aggression. It's plain-old cutthroat geopolitics, where the last man left standing, wins.
The United States cannot allow Russia reap the benefits of its own vast resources. Oh, no. It has to be chastised, it has to be bullied, it has to be sanctioned, isolated, threatened and intimidated. That's how the system really works. The free market stuff is just horsecrap for the sheeple.
Russia is going to have to deal with chaotic, fratricidal wars on its borders and color-coded regime change turbulence in its capital. It will have to withstand reprisals from its trading partners, attacks on its currency and plots to eviscerate its (oil) revenues. The US will do everything in its power to poison the well, to demonize Putin, to turn Brussels against Moscow, and to sabotage the Russian economy.
Divide and conquer, that's the ticket. Keep them at each others throats at all times. Sunni vs Shia, one ethnic Ukrainian vs the other, Russians vs Europeans. That's Washington's plan, and it's a plan that never fails.
US powerbrokers are convinced that America's economic slide can only be arrested by staking a claim in Central Asia, dismembering Russia, encircling China, and quashing all plans for an economically-integrated EU-Asia. Washington is determined to prevail in this existential conflict, to assert its hegemonic control over the two continents, and to preserve its position as the world's only superpower.
Only Russia can stop the United States and we believe it will.
Even a seasoned cynic sometimes gasps in disbelief. "President Putin misinterprets much of what the U.S. is doing or trying to do," U.S. Secretary of State John Kerry told a press conference in Geneva on March 2. "We are not involved in 'numerous color revolutions' as he asserts. In the case of Ukraine, such assumptions are also wrong. The United States support international law with respect to the sovereignty and integrity of other people."
This is akin to Count Dracula asserting his strict adherence to a vegan diet and his principled respect for the integrity of blood banks worldwide.
Various quasi-NGOs funded by American taxpayers and funneled through organizations such as the National Endowment for Democracy, Freedom House and the National Democratic Institute, not to mention George Soros's Open Society Foundations (partly funded by U.S. and other Western governments), have been actively engaged in dozens of "regime-change" operations for a decade and a half. Their work is conducted in disregard of international law and in violation of the sovereignty and integrity of the people whose governments are thus targeted.
The overthrow of Slobodan Milosevic in Belgrade (October 2000) provided the blueprint, in strict accordance with Gene Sharp's manual. Widespread popular discontent was manipulated by the U.S./Soros funded and trained Otpor! network to bring to power a government subservient to Western political and economic interests. The moderately patriotic yet hapless new president, constitutional lawyer Vojislav Kostunica, was used as a battering ram to bring Milosevic down. Once that goal was achieved, Kostunica was promptly marginalized by Prime Minister Zoran Djindjic and his successors – Serbia's two-term president Boris Tadic in particular – who turned the country into a pliant tool of foreign interests. Wholesale robbery of Serbia's state and public assets promptly followed the 2000 coup, resulting in the Balkan country's comprehensive de-industrialization. Official Belgrade was forced to accept Kosovo's de facto "independence" in the name of the elusive goal of joining the European Union.
Georgia's 2003 "Rose Revolution" was carried out by the Kmara ("Enough") network, a carbon copy of Serbia's "Otpor," including the clenched fist logo. Its activists were trained and advised by the U.S.-affiliated Liberty Institute and funded by the Open Society Institute. It brought to power Mikhel Saakashvili, a corrupt "pro-Western" politician currently wanted by Georgia's government on multiple criminal charges. The coup was largely financed by Soros's network, which spent $42 million in the three months before the coup preparing the overthrow of the government of Eduard Shevardnadze. The most important geopolitical result was Georgia's NATO candidacy, supported by Washington, which is currently stalled but which has the potential to be as perniciously destabilizing as the crisis in Ukraine.
Speaking in Tblisi in June 2005, Soros said: "I am very pleased and proud of the work of the Foundation in preparing Georgian society for what became a Rose Revolution, but the role of the Foundation and me personally has been greatly exaggerated." The new government, as it happens, included Alexander Lomaia, former Secretary of the Georgian Security Council and minister of education and science, who at the time of the coup was Executive Director of the Open Society Georgia Foundation. David Darchiashvili, ex-chairman of the Committee for European Integration in the Georgian parliament, was also an executive director of the Foundation. As former Georgian foreign minister Salomé Zourabichvili wrote in 2008, "all the NGO's which gravitate around the Soros Foundation undeniably carried the revolution… [A]fterwards, the Soros Foundation and the NGOs were integrated into power." Interestingly, the U.S. Ambassador in Georgia at the time of the 2003 regime-change operation, Richard Miles, was the Ambassador in Belgrade at the time of Milosevic's downfall three years earlier.
The march of history continued with the 2004 "Orange Revolution" in Ukraine – that grand rehearsal for the Maidan coup a decade later – and the 2005 "Cedar Revolution" in Lebanon, which was given its name by then-U.S. Under Secretary of State for Global Affairs Paula J. Dobriansky. Also in 2005 the "Tulip Revolution" in Kyrgyzstan had as its chief foreign advisor Givi Targamadze, an official of Georgia's aforementioned Liberty Institute, who at the time chaired Saakashvili's parliamentary committee on defense and security.
In 2006 Congress passed the Iran Freedom and Support Act which provided taxpayer funding for groups opposed to the Iranian government, and then-Under Secretary of State for Political Affairs R. Nicholas Burns said the administration was "taking a page from the playbook" on Ukraine and Georgia. A year later the George W. Bush administration authorized a $400 million covert operation budget to foment unrest in Iran. In 2012 Seymor M. Hersh wrote that the U.S. has provided funding and training to the People's Mojahedin Organization of Iran, a militant group which had been listed by the U.S. State Department as a terrorist organization,
In 2012 President Obama authorized U.S. government agencies to support violent regime change in Syria. By early 2013 the Administration was helping the "moderate" rebels – i.e. jihadists with no overt links to al-Qaeda – to the tune of $250 million, and that figure has been at least doubled since. The result has been disastrous for the Syrian people (Christians in particular), and hugely detrimental to U.S. security interests in the region. The insurgency against Bashar al-Assad has directly contributed to the rise of ISIS, with no end to the latest war in sight.
Last month Venezuelan President Nicolas Maduro gave a televised speech in which he alleged systematic U.S. involvement in destabilization attempts against his government. The U.S. Department of State called his claims "baseless" and "false."  "The United States does not support political transitions by non-constitutional means," read the statement from Department spokesperson, Jen Psaki. Indeed. One of the leaders of the failed anti-Chavez coup d'etat in 2002, Rear Admiral Carlos Molina, has stated that he was acting with US support. Ditto the CIA-supported regime-change operation in Nicaragua in 2009.
As for the Maidan Revolution, crowned by "political transition by non-constitutional means" par excellence, Victoria Nuland readily admitted that its preparation cost the U.S. taxpayers some $5 billion over the preceding decade. The result is the most dangerous geopolitical crisis of the post-Cold War era, systematically engineered and conducted by the regime-changing exceptionalists in Washington D.C. who believe that they are exempt from historical forces and legal restraints that apply to merely mortal countries.
Former U.S. Ambassador in Moscow Michael McFaul boasted to The New York Times a week after taking duty in January 2012 that he would make his "pro-democracy" mark in Moscow "in a very, very aggressive way." Some months earlier, McFaul declared that "even while working closely with Putin on matters of mutual interest, Western leaders must recommit to the objective of creating the conditions for a democratic leader to emerge in the long term." This was a regime-change agenda expressed with brutal bluntness: we need to "de-Putinize" Russia, he declared. It would be interesting to see the U.S. reaction if a similar statement ("We need to to de-Obamanize America!") were to be made by an incoming Russian ambassador in Washington.
In Russia the regime-change program did not work, however. First and foremost, there was no popular support: hundreds of "activists" demonstrating against Putin in 2012 could be turned into "thousands" in Western post-election media reports, but that was still far below the tens, let alone hundreds, of thousands needed to kick-start a regime-change op. Infuriatingly for the planners, Russia simultaneously enacted a law regulating foreign "NGO" activities which was patterned directly on the American Foreign Agents Registration Act (FARA), which regulates activities of the agents of foreign governments in the United States. Enacted in the 1930's to require disclosure of Americans working on behalf of Nazi Germany, and used to control Soviet agents thereafter, FARA requires full public disclosure of those same activities that the U.S. government had tried to fund in Russia. The Federal Election Campaign Act flatly prohibits foreign involvement in American elections – yet it was touted as legitimate when conducted in Russia by Washington's protégés under the guise of promoting democracy.
The regime-change mania will go on and on. It is inseparable from the psychotic belief in one's indispensability and exceptionalism. It is a form of self-defeating grandomania that can only stop with America's long-overdue abandonment of the global hegemony experiment.
And yes, John Kerry is a liar.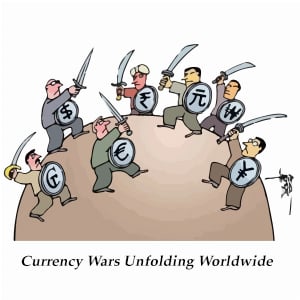 The first two months of 2015 have seen turmoil in the currency markets extend from Russia and Ukraine to the heart of Europe.
"Central Banks Now Open 24/7 Fighting Currency Wars and Deflation," blared a February 12th Bloomberg headline. Against this backdrop, precious metals have been on the rise in terms of all currencies except the Swiss franc and the U.S dollar.
In January, the Swiss National Bank shocked markets by announcing that it would de-link its currency from the euro. The move came one week ahead of the European Central Bank's $1.1 trillion Quantitative Easing announcement. Swiss officials decided it would be too costly to keep accumulating depreciating euros in order to maintain the currency peg. The Swiss franc surged by the most ever in a single day.
With the exception of Switzerland, all other countries in Europe (and many others around the world) are trying to depreciate their currencies.
Since January 1, the following central banks have announced interest rate cuts or other monetary easing measures: European Central Bank, Reserve Bank of Australia, Reserve Bank of New Zealand, Monetary Authority of Singapore, and the central banks of India, Canada, Denmark, and Sweden.
On February 12th, the Swedish Riksbank announced a surprise rate cut from 0% to below 0%. "To ensure that inflation rises towards the target, the Riksbank is prepared to quickly make monetary policy more expansionary, even between the ordinary monetary policy meetings," the world's oldest central bank said in a statement.
Sweden joins the European Central Bank and the central banks of a handful of other countries in pushing benchmark interest rates into negative territory. These central bankers are all aiming to revive inflation. "Investors" who are buying bonds yielding less than nothing (a negative rate) are apparently convinced that central bankers won't succeed in depreciating their currencies.
Insanity! Investors Now Paying for the "Privilege" of Lending to Broke Governments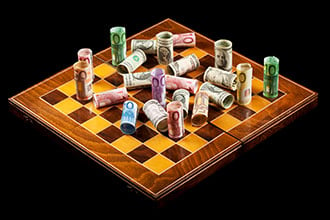 This could go down as one of the oddest, most irrational asset bubbles in history. Trillions of dollars are now tied up in debt instruments that promise to return less than the invested principal. According to a report issued by J.P. Morgan, $3.6 trillion in government bonds around the world now carry negative yields.
It raises the obvious question; why would so many people be willing to accept a negative rate of return?
You'd think that institutional investors would start getting wise to holding gold as a hard-currency alternative to cash instruments that yield less than zero. The fact that gold has no interest rate is actually an advantage in an environment where competing rates are negative! Plus, unlike most of the bonds issued in this upside-down interest rate market, gold has significant appreciation potential.
If inflation rises even modestly to the 2% target of European and U.S. central bankers, then bonds issued at rates of below 2% will all be losers. The two-year Treasury note yields only 0.63%. Even the recent 10-year yield of 1.98% fails to match the Federal Reserve's inflation ambitions.
The fact that gold has no interest rate is actually an advantage in an environment where competing rates are negative!
In this environment of ultra-low nominal yields or even negative real yields, precious metals as a reserve asset look very attractive. Many central bankers around the world agree and are busily accumulating gold. According to a report issued by the World Gold Council in February, governments around the world added 477.2 metric tons of gold to their reserves in 2014. That haul was the second biggest in 50 years.
When inflation fears return to the market, as they eventually will, precious metals will become one of the premier asset classes to hold. Even now, they are performing better than virtually all other world currencies.
The end game of these ongoing currency wars is that all fiat currencies will be debased. And a true flight to quality will accelerate – with assets fleeing depreciating currencies (and debt instruments denominated in them) and piling into gold and silver.
Will the Fed Chicken Out on Rate Hikes?
Of course, right now it's deflation fears that are dominating headlines. But the inflationary policy responses from the European Central Bank and others that have followed the ECB's lead have lifted gold and silver prices markedly in terms of euros and other currencies.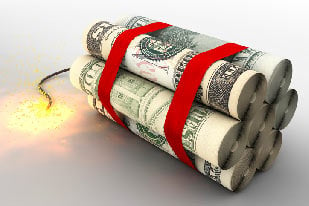 As confidence in European currencies plunges, there's only so much corresponding dollar strength the Federal Reserve is willing to tolerate. There's been much talk of rate hikes coming later this year, and that widespread expectation has been priced into the market. Any rhetorical or policy disappointments from the Fed in the months ahead could cause traders to sell the dollar.
Whether later this year or further down the road, it's only a matter of time before currency turmoil spreads to the United States.
The U.S. has a higher debt-to-GDP ratio than some troubled European countries. It has higher levels of unfunded liabilities (estimated to be in excess of $100 trillion) than any other country. The dollar's status as world reserve currency has allowed the U.S. to become financially overextended. But that vaunted status is slowly deteriorating as Russia, China, and other countries form economic alliances that bypass the dollar.
When these chickens come home to roost, you don't want to be wholly dependent on the U.S. government's promises or its currency. Sizeable holdings in physical precious metals will help make you financially resilient in the face of the spreading global currency crisis.
NATO Lies and Provocations…
"The war has been provoked to destroy the Russian World, to draw Europe into it, and to surround Russia with hostile countries. Unleashing this world war, America is trying to deal with its own internal problems."

– Sergei Glazyev, Advisor to Russian President Vladimir Putin
The fabrications of NATO's top commander in Europe, General Philip Breedlove, have driven a wedge between Germany and the United States that could lead to a collapse of the Atlantic Alliance. According to the German news magazine, Der Spiegel, Breedlove has repeatedly sabotaged Chancellor Angela Merkel's attempts to find a diplomatic solution to the war in Ukraine by spreading "dangerous propaganda" that is misleading the public about Russian "troop advances on the border, (and) the amassing of munitions and alleged columns of Russian tanks." But while the unusually critical article singles out Breedlove for his hyperbolic exaggerations of so-called Russian aggression, the real purpose of the Spiegel piece is to warn Washington that EU leaders will not support a policy of military confrontation with Moscow.
Before we explain what's going on, we need to look at an excerpt from the article. According to Spiegel:
"…for months now, many in the Chancellery simply shake their heads each time NATO, under Breedlove's leadership, goes public with striking announcements about Russian troop or tank movements … it is the tone of Breedlove's announcements that makes Berlin uneasy. False claims and exaggerated accounts, warned a top German official during a recent meeting on Ukraine, have put NATO — and by extension, the entire West — in danger of losing its credibility.

There are plenty of examples….At the beginning of the crisis, General Breedlove announced that the Russians had assembled 40,000 troops on the Ukrainian border and warned that an invasion could take place at any moment. The situation, he said, was "incredibly concerning." But intelligence officials from NATO member states had already excluded the possibility of a Russian invasion. They believed that neither the composition nor the equipment of the troops was consistent with an imminent invasion.

The experts contradicted Breedlove's view in almost every respect. There weren't 40,000 soldiers on the border, they believed, rather there were much less than 30,000 and perhaps even fewer than 20,000. Furthermore, most of the military equipment had not been brought to the border for a possible invasion, but had already been there prior to the beginning of the conflict. Furthermore, there was no evidence of logistical preparation for an invasion, such as a field headquarters.
Breedlove, though, repeatedly made inexact, contradictory or even flat-out inaccurate statements."…

On Nov. 12, during a visit to Sofia, Bulgaria, Breedlove reported that "we have seen columns of Russian equipment — primarily Russian tanks, Russian artillery, Russian air defense systems and Russian combat troops — entering into Ukraine." It was, he noted, "the same thing that OSCE is reporting." But the OSCE had only observed military convoys within eastern Ukraine. OSCE observers had said nothing about troops marching in from Russia.

Breedlove sees no reason to revise his approach. "I stand by all the public statements I have made during the Ukraine crisis," he wrote to SPIEGEL in response to a request for a statement accompanied by a list of his controversial claims."
(Breedlove's Bellicosity: Berlin Alarmed by Aggressive NATO Stance on Ukraine, Der Spiegel)
While it's easy to get swept up in the Spiegel's narrative of a rabid militarist dragging Europe closer to World War 3, the storyline is intentionally misleading. As anyone who's been following the Ukraine fiasco for the last year knows, there's nothing particularly unusual about Breedlove's distortions. Secretary of State John Kerry has made similar claims numerous times as have many others in the major media. The lies about "Russian aggression" are the rule, not the exception. So why has the Spiegel decided to selectively target Breedlove who is no more deceitful than anyone else? What's really going on here?
Clearly, the Spiegel is doing Merkel's work, that is, undermining the credibility of Washington's chief commander in Europe in order to discourage further escalation of the conflict in Ukraine. But while Merkel wants to humiliate Breedlove to show that Germany will not sit on its hands while Washington plunges the region into the abyss; she has also shown considerable restraint in limiting her attack to the General while sparing Kerry and Obama any embarrassment. This is quite an accomplishment given that –as we said earlier–virtually everyone in the political establishment and the media have been lying nonstop about every aspect of the conflict. Merkel doesn't want to discredit these others just yet, although the Spiegel piece infers that she has the power to do so if the "bad behavior" persists.
The Spiegel article is part of a one-two punch designed to force Washington to change its confrontational approach. The second jab appeared late Sunday afternoon when EU Commission President Jean-Claude Juncker announced that Europe needed to field its own army. Here's the story from Reuters:
"The European Union needs its own army to face up to Russia and other threats as well as restore the bloc's foreign policy standing around the world, EU Commission President Jean-Claude Juncker told a German newspaper on Sunday…

"With its own army, Europe could react more credibly to the threat to peace in a member state or in a neighboring state.

"One wouldn't have a European army to deploy it immediately. But a common European army would convey a clear message to Russia that we are serious about defending our European values." (Juncker calls for EU army, says would deter Russia, Reuters)
Can you see what's going on? On the one hand, the Spiegel delivers a hammer-blow to the credibility of NATO's top officer and on the other, the President of the EU Commission blindsides US powerbrokers by announcing a plan to create an independent EU fighting force that will render NATO redundant. These are big developments that have undoubtedly left the Obama troupe reeling. This is a full-blown assault on NATO's role as the primary guarantor of EU regional security. Maybe the European people are gullible enough to accept Junker's absurd claim that an EU army will "send an important message to the world", but you can be damn sure that no one at 1600 Pennsylvania Avenue believes that nonsense. The move is clearly designed to send a message to Washington that Europe is fed up with NATO and wants a change. That means it's "shape up or ship out time" for Breedlove and his ilk.
Ironically, these developments align Merkel with Putin's view of things as stated in his famous Munich speech in 2007 when he said:
"I am convinced that we have reached that decisive moment when we must seriously think about the architecture of global security. And we must proceed by searching for a reasonable balance between the interests of all participants in the international dialogue … The United States, has overstepped its national borders in every way … And of course this is extremely dangerous. It results in the fact that no one feels safe. I want to emphasize this — no one feels safe." (Russian President Vladimir Putin, 43rd Munich Security Conference, 2007)
How can the US possibly cast itself as "steward of the global security system", when its interventions have left a trail of decimated failed states from the southernmost border of Somalia to the northern tip of Ukraine, a chaotic swathe of smoldering ruin and agonizing human suffering that rivals the depredations of the Third Reich.
Europe's security requirements cannot be met by a belligerent, warmongering US-controlled entity that acts solely in Washington's interests. At present, NATO gets 75% of its funding from the US, which is why the alliance is less interested in peacemaking and security than it is in internationalizing its imperial war of aggression across the planet. Prior to the crisis in Ukraine, European leaders didn't see the danger of this idiotic arrangement (even though interventions in Serbia, Libya and Afghanistan should have brought them to their senses) But now that NATO's recklessness could vaporize Europe in a nuclear firestorm, leaders like Merkel and Hollande are starting to change their tune. Keep in mind, the ideal scenario for the US would be a limited war that levels large parts of the European and Asian continents, thus restoring the US to its post WW2 heyday when the "rubblized" world was Washington's oyster. That would be just fine for genocidal maniacs and armchair warriors who rule the globe from the safety of their well-stocked DC bunkers. But for Europe, this is definitely not a winning strategy. Europe doesn't want a war, and it certainly doesn't want to be used as cannon fodder for the greater glory of the dystopian NWO.
Putin advisor, Sergei Glazyev, figured out what Washington was up to long before Kiev launched its wretched "anti terrorism" campaign against federalist rebels in the East. Here's how he summed it up:
"The main task the American puppet masters have set for the (Kiev) junta is to draw Russia into a full-scale war with Ukraine. It is for this purpose that all of these heinous crimes are committed – to force Russia to send troops to Ukraine to protect the civilian population…

The bankruptcy of the US financial system, which is unable to service its foreign debt, the lack of investments to finance a breakthrough to a new technological order and to maintain America's competitiveness, and the potential defeat in the geopolitical competition with China. To resolve these problems, Americans need a new world war." (Sergei Glazyev)
Bingo. The steadily-declining empire, whose share of global GDP continues to shrivel with every passing year, has wanted a war from the get go. That's the only way that the US can reverse its precipitous economic slide and preserve its lofty spot as the world's only superpower. Fortunately, EU leaders are beginning to pull their heads out of the sand long enough to grasp what's going on and change their behavior accordingly.
It's worth noting, that no one in the Merkel administration or anyone else for that matter, has publicly challenged the allegations in the Spiegel article. Why is that, do you think?
Doesn't their silence suggest that they knew all along that all the anti-Putin propaganda hullabaloo was pure bunkum; that "evil" Putin didn't send tanks and soldiers across the border into Ukraine, that Putin didn't shoot down Malaysian Airline 17, that Putin didn't have a political opponent gunned down gangland style just a few hundred yards from the Kremlin? Isn't that what their silence really says?
Of course, it does. The reason no one in power has spoken out is because –as the Spiegel cynically admits–"A mixture of political argumentation and military propaganda is necessary."
"Propaganda is necessary"?
Whoa. Now there's an admission you're not going to see in the media too often. But it's the truth, isn't it? The Euro-leaders have been going along with the lies to keep the public in line. In other words, it's a healthy dose of perception management for the sheeple, but the unvarnished truth for our revered overlords. Sounds about right. Only now these ame elites have decided to share the facts with the lumpen masses. But, why? Why this sudden willingness to share the truth?
It's because they no longer support Washington's policy, that's why. No one in Europe wants the US to arm and train the Ukrainian army. No one wants them to deploy 600 paratroopers to Kiev and increase US logistical support. No one wants further escalation, because no one wants a war with Russia. It's that simple.
For the first time, EU leaders, particularly Merkel, understand that the United States' strategic objectives (the pivot to Asia) do not align with those of the EU, in fact, Washington's geopolitical ambitions pose a serious threat to Europe's security. Regrettably, it's not enough for Merkel to simply understand what is going on. She needs to huddle with her EU colleagues and take positive steps to derail Washington's plan now, otherwise the US will continue its incitements and false flags until Putin is forced to respond. Once that happens, a broader and, perhaps, catastrophic conflagration will be unavoidable.
It was a solution right up there with "Let them eat cake." Addressing the issue of Jews fleeing Europe due to increasing Islamic terrorism and Prime Minister Benjamin Netanyahu's call for them to seek safety in Israel, Bill Nye "the Science Guy" had an interesting solution: "Get to know your neighbors." The comment, made on Bill Maher's show Real Time Feb. 20, was then followed by Nye's interrogative, "What, does it take a century, something like that?"
This prompted some commentators, such as Fox News' Greg Gutfeld, to say that Nye was blaming Jews for the Muslim threat. Get to know your neighbors? Yes, to pick up on a point Gutfeld made and run with it, perhaps a few dinner parties and other assorted soirees would inspire epiphanies such as, "You know, I was going to chop your head off, but you make a killer matzo ball soup." The problem here, as Gutfeld said in so many words, is not Jews shooting up halal grocery stores. Nor are Muslims being taunted and spat upon while walking Paris streets as the Jewish man in this video was. But perhaps Nye is like those school administrators who punish a victimized child who tried physically defending himself just as harshly as his attacker in the thinking, "Hey, he was repeatedly punching the kid on top of him in the fist with his face, right?"
This commentary by Nye — who has invoked Holocaust terminology in branding climate-change realists "deniers" — caused Gutfeld to label him, "Bill Nye 'the Denial Guy.'" It may be a more fitting moniker than one relating to science, too, as a real scientist is actually out there, you know, inventing stuff. Instead, Nye took his B.S. in mechanical engineering, cut his entertainment teeth on a Seattle sketch-comedy TV show, and then parlayed his credentials into his well-known children's science program. Now he's supposedly qualified to dismiss climate-change realism and pontificate as an Expert in the Area of Everything. But Nye has always been a left-wing guy; take Barney the dinosaur, put a bowtie around his neck, a beaker in his hand, starve him for two months and make him a quasi-Marxist — and you have Bill Nye.
In fairness to the Denial Guy, perhaps he would say that he'd counsel both Jews and Muslims, and everyone else, to get to know each other better. And maybe he meant that what takes a century is assimilation. Regardless, his commentary betrays a fundamental misunderstanding about man's nature.
Nye reflects a common belief today: Just get people to know each other, and silly prejudices are dissolved by the solvent of reality. It's easy for Americans to believe this not only because of Kumbaya-multiculturalism conditioning, but also because of the common impression that this has been our experience. After all, anti-Irish bigotry was once rife, but how much exists now?
And assimilation had worked to a great degree in America, but our relatively short, 239-year history is a mere snapshot of man's story. In places such as Ruanda and the Balkans, there have been genocide and ethnic cleansing. Countless times in history peoples have been subsumed, as has largely happened to the Ainus in the Japanese islands. And in ancient Greece, the Spartans got to know their neighbors quite well — well enough to turn them into helots, a captive slave class. So, yes, sometimes it takes a century for assimilation.
And sometimes it takes a century to effect conquest.
There's a funny joke that illustrates a common difficulty living up to the injunction "Love thy neighbor." It goes: "You know, I basically love everyone in the whole world — everyone. I just have a problem with the 16 or 17 people who happen to be around me." Sure, Abraham Lincoln once said, "I don't like that man. I must get to know him better," but another saying to ponder is "Familiarity breeds contempt." To know people is to love them? Sometimes it's to hate them.
Of course, some interaction-induced irritation is inevitable. Being around people oftentimes means "bumping into them," with their occupying the bathroom when you want it or slowing you down on the road; this is where tolerance, properly defined as abiding something you perceive as a negative, actually is a virtue. But then there's the fact that getting to know people does dispel illusions — and that this includes illusions of goodness.
A family close to me once acquired a DVD of vintage cartoons, the kind they don't show on TV anymore because, as the politically correct disclaimer stated at the disc's opening (I'm paraphrasing), "WARNING: These cartoons contain stereotypes that may be offensive to some viewers." They were referring to things such as depictions of turban-bedecked Arabs in traditional garb and Japanese speaking stereotypical pidgin English. They were the kinds of cartoons I watched Saturday mornings as a boy — and the politically correct critics have it all wrong. Far from inducing in me and my friends negative attitudes toward the groups in question, they instead were intriguing portrayals that might have piqued our interest in learning more about their cultures. What tends to happen, however, when a person from an "intriguing culture" moves in next door? Then you often find that in many ways he's "just like us."
"It's the differences that kill you, though," as least in certain cases, to quote Colonel Ralph Peters. It's as when a man and woman marry and really get to know each other. While you usually have that normal bumping into each other, their deepening knowledge of one another can enrich their love. Then again, sometimes there are what many call irreconcilable differences. The husband may learn that his wife harbors a deep-seated hatred of men that sabotages their relationship, or the woman may find out that the man is a lecherous lout. And then there's that occasional person who was unfailingly charming during courtship, and maintains a sterling public persona, but has a collection of shrunken heads in the attic.
A romantic may now say that love conquers all — and it does have transformative power — but sometimes being too softly loving can lead to being conquered. And, as someone I once knew put it, some people have to be loved from afar.
Speaking of which, why do liberals such as Nye judge situations and people (e.g., Muslim terrorism vis-à-vis the Jews) so wrongly? It's because they deny the existence of Truth — the only thing that can reveal your emotions as wrong — and thus have deified their emotions, making them the ultimate arbiters of reality. And anyone governed by emotion, that irrational judge, will always fall sway to prejudice.
It takes a century? Sometimes the melting pot boileth over. For not everything melts. Some things just burn.
It was supposed to be a phone call for Obama administration ears only. But hear it the radio host did, she says. And what she heard should make your blood run cold — and perhaps your rage hot. Obama's amnesty plan is to use illegal aliens as "seedlings," said the federal officials. They will "navigate, not assimilate," as they "take over the host," create a "country within a country" and start "pushing the citizens into the shadows."
Welcome to the "fundamental transformation" of America.
The above was alleged by WCBM radio co-host Sue Payne in an interview with talk giant Mark Levin last Thursday. Payne says that while at an immigration rally, she became privy to three conference calls in which 16 Obama administration officials — including Cecilia Muñoz, director of Obama's White House Domestic Policy Council — discussed plans for what could only be called the final destruction of traditional America and the cementing of leftist hegemony. Muñoz, by the way, is perfectly suited to this task; she was once a senior vice president for the anti-American Hispanic lobbying organization the National Council of La Raza.
Oh, la raza means "the race" (I guess the whole "'Hispanic' is an ethnicity" thing doesn't cut much ice with them).
Payne opened the interview by explaining that what Obama actually did on November 21 — the day he signed his supposed executive amnesty — was create the "Task Force on New Americans" (TFNA) for the purposes of implementing his legalization scheme. And it won't be applied to just 5 million illegals, but "13 to 15 million to give protection [to] and move…on to citizenship," reports Payne.
Payne then said that the illegals, labeled "seedlings," would eventually "take over the host." She continued, "And the immigrants will come out of the shadows, and what I got from the meetings was that they would be pushing the citizens into the shadows. They would be taking over the country; in fact, one of the members of the task force actually said that we would be developing a country within a country."
To this nefarious end, the goal of the TFNA is to create a "welcoming feeling" in illegal-seeded localities, which would be redesignated "receiving communities." They'd subsequently be transformed (fundamentally, I suppose) into what are labeled "emerging immigrant communities" — or as some would say, México Norte.
The officials also said, reports Payne, that for the seedlings to "grow" they needed "fertile soil" (a.k.a. your tax money). The officials stated that the legalized aliens needed to be redesignated as "refugees" and be given cash, medical care, credit cards for purchasing documents and — since many illegals will be older — Social Security so they can "age successfully within their country within a country," to quote Payne. As she then put it, it's "as if we were funding our own destruction here."
Some may point out that Payne has no smoking gun (that we know of) in the form of, let's say, a recording of the calls. But Levin vetted her and found her credible, calling the scheme "stunning" and reflective of "Mao's China." I believe her as well, but it doesn't even matter. She simply confirms what I've been warning of for years and years over and over again: The Left is importing their voters, engaging indemographic warfare and authoring the death of the republic.
Mind you, legal immigration itself is a sufficient vehicle for this. Ever since the Immigration Reform and Nationality Act of 1965, 85 percent of our immigrants have hailed from the Third World and Asia, thus growing leftist constituencies that vote for socialistic Democrats by approximately a four-to-one margin; in contrast and as Pat Buchanan pointed out, "[N]early 90 percent of all Republican votes in presidential elections are provided by Americans of European descent." This, along with hatred and bigotry, is a major reason why Obama and his ilk want to destroy white America.
But liberals crave immediate gratification, and amnesty greatly accelerates this process. Legalize 15 million socialist voters clamoring for handouts, have them bring in relatives via chain migration — give them Social Security numbers which they can use to vote (as is Obama's plan) — and tomorrow's leftist dystopia is today. I predicted this in 2008, by the way, writing:
The coup de grace Obama will use against rightist opposition is mostly embodied in one word: amnesty. This, along with some other measures, will both grow the Hispanic voting block and ingratiate Obama to it. This will enable him to create a powerful coalition of blacks, young voters and Hispanics that, along with the older whites he will be able to retain, will constitute an insurmountable electoral force. And this is why amnesty has long been a dream of the Democrats. Even easier than brainwashing new voters (which the media and academia specialize in) is importing them.
Admittedly, I can be criticized since the above article is titled "How Obama Will Ensure His Victory in 2012." But titles are hooks as much as anything else. And since I don't have a crystal ball, just a not yet crystallized brain, I'd never claim to be able to perfectly predict timing. It also turned out that Obama and the 2009 to 2011Democrat House and Senate were preoccupied with instituting ObamaCare, and that the liberal legislators were perhaps too cowardly to face re-election having passed amnesty. Regardless, I have another prediction, one I hope you'll take seriously:
The chances are slim to nil that Obama's amnesty will be stopped legislatively.
Obama against John Boehner is the Beltway Brawler vs. the Beltway Bawler. Moreover, I suspect establishment Republicans — who just refused to defund Obama's scheme — want executive amnesty. Why? Because the issue has been an albatross around their necks. And while they don't have the guts or desire to really stand against Invasion USA, they also know voting for amnesty would mean electoral disaster. So, let Obama act unilaterally, huff and puff a bit with a wink and a nod while doing nothing of substance, and "Voila!" The issue is off the table with plausible deniability of complicity.
And the courts? They may uphold the recent injunction against Obamnesty, but there's no saying Obama won't ignore the courts (he assuredly understands that judicial review is a jurist invention). And, anyway, amnesty was always only a matter of time with today's cultural trajectory. Yet this cloud does have a silver lining.
The Left was very successful boiling the frog slowly with the legal importation of socialist voters and the gradual transformation of our culture via entertainment, the media and academia. But liberals' childish haste may have led to a tactical error. By going all in on executive orders and amnesty — by transitioning from evolutionary to revolutionary change and turning the burner up high — the Left risks rousing that frog from his pan. And how should it jump?
Obama said after the November Republican victory that it was his "profound preference and interest to see Congress act on a comprehensive immigration reform bill" (emphasis added), but otherwise he'll work via executive orders. He also offered the GOP a deal: "You send me a bill that I can sign, and those executive actions go away."
Translation: My preference is to follow the Constitution.
But my will be done — one way or the other.
How to respond? Question: what do you do when someone says "My preference is to follow the game's rules, but if I can't win that way, I'll have to cheat"? You can:
Continue losing; be a Charlie Brown sucker who keeps thinking that this time Lucy won't pull the football away.
Cheat right back (hard to do without judges in your pocket).
Stop playing the game.
Now, conservatives, consummate ladies and gentlemen that they are, consistently choose option one. Far be it from them to violate the "law" even when it's unconstitutional and therefore lawless. But I prefer option three.
This means nullification. Note that the Constitution is the contract Americans have with each other. And what happens when one party subject to a contract continually violates it in order to advantage itself, aided and abetted by corrupt judges?
The contract is rendered null and void.
Remember, cheaters don't stop cheating until forced to. Governors and their legislatures need to man-up and tell the feds, "You like acting unilaterally and unconstitutionally? Two can play that game." And this means not just ignoring Obama's amnesty dictates, but nullifying a multitude of other things as well.
The other option is demographic and cultural genocide and the politics attending that. The Left knows this, too. Obama noted that growing "diversity hinders conservative priorities," wrote the DC last month. Congressman Kurt Schrader (D-OR) said recently that amnesty "will decide who is in charge of this country for the next 20 or 30 years." And an ex-advisor to former Prime Minister Tony Blair confessed in 2009 that the goal of the British Labour Party's massive culture-rending immigration was to "rub the Right's nose in diversity and render their arguments out of date."
Do you get it yet?
Defy and Nullify.
The alternative is to walk legally and quietly into that good night, going out not with a bang but a whimper, muttering something about 2016, the Supreme Court and pixie dust.
Gee, I hate to keep pointing this stuff out all the time because a whole lot of people get really ticked off at me every time that I do — but the truth is the truth.  ISIS, Netanyahu and Hitler really do have a whole lot in common.  But as true as this statement may be, still almost nobody these days wants to hear that their favorite emperor isn't wearing any clothes.  Why?  Perhaps because it makes people feel bad that they have been so completely suckered, had, duped and used.
However, like it or not, the three emperor-wannabes listed above are still not wearing any clothes.  So to speak.
And here's my checklist to prove it:
1.  Received a lot of their financial support from the weapons industry:  http://www.globalresearch.ca/u-s-helicopter-delivering-weapons-to-the-islamic-state-isis-shot-down-by-iraqi-popular-forces/5434230
Hitler:  Check
Netanyahu:  Check
ISIS:  Check
2.  Founded their empires (reichs, caliphates, promised lands, whatever) on invasions, blitzkriegs, preemptive wars, guys-just-wanna-have-fun, terrorism, whatever — with the goal of eventually taking over all geopolitical territory within thousands of miles of their empire's original borders:
Hitler:  Check
Netanyahu:  Check
ISIS:  Check
3.   Committed mass genocide based solely on religion, race, land or resource ownership, language usage and/or nationality:
Hitler:  Check
Netanyahu:  Check
ISIS:  Check
4.  Used illegal weapons, including chemical weapons such as napalm, white phosphorus and noxious gases, and/or landmines, cluster bombs, biological weapons, etc. on civilians:
Hitler:  Check
Netanyahu:  Check
ISIS:  Not really sure.  Are broadswords considered illegal weapons if used to behead journalists?  Probably.  Okay, check.
5.  Bomb the freak out of civilian targets:
Hitler:  Check
Netanyahu:  Check
ISIS:  Do RPGs and car-bombs count?  Yes?  Then "check"
6.  Routinely terrorized civilian populations to the point of said populations thinking they were living inside a horror movie, a police state or 'Stalag 17″https://www.youtube.com/watch?v=ZKc2GJk2OLQ:
Hitler:  Check
Netanyahu:  Check
ISIS:  Check
7.   Used lies, snappy slogans, false-flag operations http://yournewswire.com/mikhail-gorbachev-assassination-of-boris-nemstov-is-a-false-flag/#sthash.5isb7TEp.dpuf and "1984" types of propaganda, threats and the deliberate generation of irrational fears to get their own populations to back their criminal activities:
Hitler:  Check
Netanyahu:  Check
ISIS:  Check
8.  Wore snappy uniforms designed to intimidate and impress:
Hitler:  Check
Netanyahu:  Check
ISIS:  Check
9.  Supported by rich industrialists, corporatists, recipients of corporate welfare and opulent dictatorships in the Middle East:
Hitler:  Check
Netanyahu:  Check
ISIS:  Check
10.  Had a huge destabilizing effect on Europe, the Middle East and America that ended in tragedy, economic chaos and the further spread of warhttp://cityworldnews.com/native-american-amnesty/:
Hitler:  Check
Netanyahu:  Check
ISIS:  Check
11.  Pretends to be of a certain religion but never practices their religion's goals, ideals or concepts:
Hitler:  Check
Netanyahu:  Check
ISIS:  Check
12.  Steals resources and valuables from the countries and territories that have been illegally seized:  http://www.truthdig.com/report/item/the_great_game_in_the_holy_land_20150227
Hitler:  Check
Netanyahu:  Check
ISIS:  Check
13.  Has absolutely no tinges of conscience whatsoever after having caused thousands of families, scores of ethnic groups, an unknown number of combat veterans and even whole countries to suffer from shell shock, battle fatigue and PTSD http://www.unrwa.org/newsroom/press-releases/serious-upsurge-post-conflict-trauma-gaza-says-un:
Hitler:  Check
Netanyahu:  Check
ISIS:  Check
14.  Is invited to speak before Congress:
Hitler:  No way.
ISIS:  Not a chance.
Netanyahu:  Roll out the red carpet!
"The collapse of the Soviet Union removed the only constraint on Washington's power to act unilaterally abroad…. Suddenly the United States found itself to be the Uni-power, the 'world's only superpower.'  Neoconservatives proclaimed 'the end of history.'"
—  Paul Craig Roberts,  former Assistant Secretary of the US Treasury
"Don't blame the mirror if your face is crooked."
— Russian proverb
Vladimir Putin delivered a speech at the 43rd Munich Security Conference that created a rift between Washington and Moscow that has only deepened over time.  The Russian President's blistering hour-long critique of US foreign policy provided a rational, point-by-point indictment of US interventions around the world and their devastating effect on global security.   Putin probably didn't realize the impact his candid observations would have on the assembly in Munich or the reaction of  powerbrokers in the US who saw the presentation as a turning point in US-Russian relations. But, the fact is, Washington's hostility towards Russia can be traced back to this particular incident, a speech in which Putin publicly committed himself to a multipolar global system, thus, repudiating the NWO pretensions of US elites. Here's what he said:
"I am convinced that we have reached that decisive moment when we must seriously think about the architecture of global security. And we must proceed by searching for a reasonable balance between the interests of all participants in the international dialogue."
With that one formulation, Putin rejected the United States assumed role as the world's only superpower and steward of global security, a privileged position which Washington feels it earned by prevailing in the Cold War and which entitles the US to unilaterally intervene whenever it sees fit. Putin's announcement ended years of bickering and deliberation among think tank analysts as to whether Russia could be integrated into the US-led system or not.  Now they knew that Putin would never dance to Washington's tune.
In the early years of his presidency, it was believed that Putin would learn to comply with western demands and accept a subordinate role in the Washington-centric system. But it hasn't worked out that way. The speech in Munich merely underscored what many US hawks and Cold Warriors had been saying from the beginning, that Putin would not relinquish Russian sovereignty without a fight.  The declaration challenging US aspirations to rule the world, left no doubt that  Putin was going to be a problem that had to be dealt with by any means necessary including harsh economic sanctions, a State Department-led coup in neighboring Ukraine, a conspiracy to crash oil prices, a speculative attack of the ruble, a proxy war in the Donbass using neo-Nazis as the empire's shock troops, and myriad false flag operations used to discredit Putin personally while driving a wedge between Moscow and its primary business partners in Europe. Now the Pentagon is planning to send 600 paratroopers to Ukraine ostensibly to "train the Ukrainian National Guard", a serious escalation that violates the spirit of Minsk 2 and which calls for a proportionate response from the Kremlin. Bottom line: The US is using all the weapons in its arsenal to prosecute its war on Putin.
Last week's gangland-style murder of Russian opposition leader, Boris Nemtsov, has to be considered in terms of the larger geopolitical game that is currently underway. While we may never know who perpetrated the crime, we can say with certainly that the lack of evidence hasn't deterred the media or US politicians from using the tragedy to advance an anti-Putin agenda aimed at destabilizing the government and triggering regime change in Moscow.  Putin himself suggested that the killing may have been a set-up designed to put more pressure on the Kremlin. The World Socialist Web Site summed up the political implications like this:
"The assassination of Russian opposition politician Boris Nemtsov is a significant political event that arises out of the US-Russia confrontation and the intense struggle that is now underway within the highest levels of the Russian state. The Obama administration and the CIA are playing a major role in the escalation of this conflict, with the aim of producing an outcome that serves the global geo-political and financial interests of US imperialism….
It is all but obvious that the Obama administration is hoping a faction will emerge within the Russian elite, backed by elements in the military and secret police, capable of staging a "palace coup" and getting rid of Putin….
The United States is not seeking to trigger a widespread popular revolt. (But) are directed entirely at convincing a section of the oligarchy and emerging capitalist class that their business interests and personal wealth depend upon US support. That is why the Obama administration has used economic sanctions targeting individuals as a means of exerting pressure on the oligarchs as well as broader sections of the entrepreneurial elite….
It is in the context of this international power struggle that one must evaluate Nemtsov's murder. Of course, it is possible that his death was the outcome of his private dealings. But it is more likely that he was killed for political reasons. Certainly, the timing of the killing—on the eve of the opposition's anti-Putin demonstration in Moscow—strongly indicates that the killing was a political assassination, not a private settling of accounts."  ("Murder in Moscow: Why was Boris Nemtsov assassinated?", David North, World Socialist Web Site)
Just hours after Nemtsov was gunned down in Moscow, the western media swung into action releasing a barrage of articles suggesting Kremlin involvement without a shred of  evidence to support their claims. The campaign of innuendo has steadily gained momentum as more Russia "experts" and politicians offer their opinions about who might be responsible. Naturally, none of the interviewees veer from the official storyline that someone in Putin's charge must have carried out the attack.  An article in the Washington Post is a good example of the tactics used in the latest PR campaign to discredit Putin.  According to Vladimir Gel'man, Political Scientists European University at St. Petersburg and the University of Helsinki:
"Boris Nemtsov, one of the leaders of political opposition, was shot dead nearby the Kremlin. In my opinion, it has all the hallmarks of a political assassination provoked by an aggressive Kremlin-induced campaign against the "fifth column of national traitors", who opposed the annexation of Crimea, war with the West over Ukraine, and further decline of political and civil freedoms in the country. We may never know whether the Kremlin ordered this killing, but given the fact that Nemtsov was one of the most consistent critics not only of the Russian regime as such but also of Putin in person, his dissenting voice will never upset Putin and his inner circle anymore."  ("What does Boris Nemtsov's murder mean for Russia?", Washington Post)
The article in the Washington Post is fairly typical of others published in the MSM. The coverage is invariably long on finger-pointing and insinuation and short on facts. Traditional journalistic standards of objectivity and fact-gathering have been jettisoned to advance a political agenda that reflects the objectives of ownership. The Nemtsov assassination is just the latest illustration of the abysmal state of western media.
The idea that Putin's agents would "whack" an opposition candidate just a stone's throw from the Kremlin is far fetched to say the least.  As one commenter at the Moon of Alabama blog noted:
"Isn't the image of a dead political opponent lying on a bridge overlooked by the Kremlin a bit rich? I mean, short of a dagger lodged between his shoulder blades with the inscription "if found, please return to Mr Putin", I can't think of a more over-egged attempt at trying to implicate the Government. And on the night before an opposition rally Nemtsov hoped to lead. I mean, come on."
While there's no denying that Moscow could be involved, it seems unlikely. The more probable explanation is that the incident is part of a larger regime change scheme to ignite social unrest and destabilize the government. The US has used these tactics so many times before in various color-coded revolutions, that we won't reiterate the details here. Even so, it's worth noting that the US has no red lines when it comes to achieving its strategic goals.  It will do whatever it feels is necessary to prevail in its clash with Putin.
The question is why? Why is Washington so determined to remove Putin?
Putin answered this question himself recently at a celebration of Russia's diplomatic workers' day. He said Russia would pursue an independent foreign policy despite pressure in what he called "today's challenging international environment."
"No matter how much pressure is put on us, the Russian Federation will continue to pursue an independent foreign policy, to support the fundamental interests of our people and in line with global security and stability." (Reuters)
This is Putin's unforgivable crime, the same crime as Venezuela, Cuba, Iran, Syria and countless other nations that refuse to march in lockstep to Washington's directives.
Putin has also resisted NATO encirclement and attempts by the US to loot Russia's vast natural resources. And while Putin has made every effort to avoid a direct confrontation with the US, he has not backed down on issues that are vital to Russia's national security, in fact, he  has pointed out numerous times not only the threat that encroaching NATO poses to Moscow, but also the lies that preceded its eastward expansion. Here's Putin at Munich again:
"I would like to quote the speech of NATO General Secretary Mr. Woerner in Brussels on 17 May 1990. He said at the time that: "the fact that we are ready not to place a NATO army outside of German territory gives the Soviet Union a firm security guarantee….

Where are these guarantees?"
Where, indeed. Apparently, they were all lies.  As political analyst Pat Buchanan said in his article "Doesn't Putin Have a Point?":
"Though the Red Army had picked up and gone home from Eastern Europe voluntarily, and Moscow felt it had an understanding we would not move NATO eastward, we exploited our moment. Not only did we bring Poland into NATO, we brought in Latvia, Lithuania, and Estonia, and virtually the whole Warsaw Pact, planting NATO right on Mother Russia's front porch. Now, there is a scheme afoot to bring in Ukraine and Georgia in the Caucasus, the birthplace of Stalin….

… though Putin gave us a green light to use bases in the old Soviet republics for the liberation of Afghanistan, we now seem hell-bent on making those bases in Central Asia permanent.

… through the National Endowment for Democracy, its GOP and Democratic auxiliaries, and tax-exempt think tanks, foundations, and "human rights" institutes such as Freedom House,… we have been fomenting regime change in Eastern Europe, the former Soviet republics, and Russia herself….

These are Putin's grievances. Does he not have a small point?" "(Doesn't Putin Have a Point?", Pat Buchanan, antiwar.com)
Now the US wants to deploy its missile defense system to Eastern Europe, a system which–according to Putin "will work automatically with and be an integral part of the US nuclear capability. For the first time in history, and I want to emphasize this, there are elements of the US nuclear capability on the European continent. It simply changes the whole configuration of international security…..Of course, we have to respond to that."
How can Putin allow this to happen?  How can he allow the US to situate nuclear weapons in a location that would increase its first-strike capability and undermine the balance of deterrents allowing the US to force Russia to follow its orders or face certain annihilation. Putin has no choice but to resist this outcome, just as has no choice but to oppose the principle upon which US expansion is based, the notion that the Cold War was won by the US, therefore the US has the right to reshape the world in a way that best suits its own economic and geopolitical interests. Here's Putin again:
"What is a unipolar world? However one might embellish this term,  it refers to a type of situation where there is one center of authority, one center of force, one center of decision-making.   It is world in which there is one master, one sovereign. At the end of the day, this is pernicious not only for all those within this system, but also for the sovereign itself because it destroys itself from within…..

I consider that the unipolar model is not only unacceptable but also impossible in today's world…. the model itself is flawed because at its basis there is and can be no moral foundations for modern civilization…." (Munich, 2007)
What sort of man talks like this? What sort of man talks about "the moral foundations for modern civilization" or invokes FDR in his address?
Putin:  "'Security for one is security for all'. As Franklin D. Roosevelt said during the first few days that the Second World War was breaking out: 'When peace has been broken anywhere, the peace of all countries everywhere is in danger.' These words remain topical today."
I urge everyone to watch at least the first 10 minutes of Putin's speech and decide for themselves whether they think the characterization (and demonization) of Putin in the media is fair or not. And pay special attention to Minute 6 where Putin says this:
"We are seeing a greater and greater disdain for the basic principles of international law. And independent legal norms are, as a matter of fact, coming increasingly closer to one state's legal system. One state and, of course, first and foremost the United States, has overstepped its national borders in every way. This is visible in the economic, political, cultural and educational policies it imposes on other nations. Well, who likes this? Who is happy about this?" ("Vladimir Putin's legendary speech at Munich Security Conference")
While Putin is making this statement, the camera pans to John McCain and Joe Lieberman who are sitting stone-faced in the front row seething at every word uttered by the Russian president. If you look close enough, you can see the steam emerging from McCain's ears.
This is why Washington wants regime change in Moscow. It's because Putin refuses to be pushed around by the United States. It's because he wants a world that is governed by international laws that are impartially administered by the United Nations. It's because he rejects a "unipolar" world order where one nation dictates policy to everyone else and where military confrontation becomes the preferred way for the powerful to impose their will on the weak.
Putin:  "Today we are witnessing an almost uncontained hyper use of force that is plunging the world into an abyss of permanent conflicts…The United States, has overstepped its national borders in every way….And of course this is extremely dangerous. It results in the fact that no one feels safe. I want to emphasize this — no one feels safe."  Vladimir Putin, Munich 2007
Putin isn't a perfect man. He has his shortcomings and flaws like everyone else. But he appears to be a decent person who has made great strides in restoring Russia's economy after it was looted by agents of the US following the dissolution of the Soviet Union. He has lifted living standards,  increased pensions,  reduced poverty, and improved education and health care which is why his public approval ratings are currently hovering at an eye-watering 86 percent.  Even so, Putin is most admired for standing up to the United States and blocking its strategy to pivot to Asia. The proxy war in Ukraine is actually a struggle to thwart Washington's plan to break up the Russian Federation, encircle China, control the flow of resources from Asia to Europe,  and rule the world.   Vladimir Putin is at the forefront of that conflagration which is why he has gained the respect and admiration of people around the world.
As for "democracy", Putin said it best himself:
"Am I a 'pure democrat'? (laughs) Of course I am. Absolutely. The problem is that I'm all alone, the only one of my kind in the whole world. Just look at what's happening in    America, it's terrible—torture, homeless people, Guantanamo, people detained without trial or investigation.     And look at  Europe—harsh treatment of demonstrators, rubber bullets and tear gas used in one capital after another, demonstrators killed on the streets….. I have no one to talk to since Gandhi died."
Well said, Vladimir.
Varoufakis vs. The Troika…
"Will the United States, Germany, the rest of the European Union, the European Central Bank, and the International Monetary Fund – collectively constituting the International Mafia – allow the new Greek leaders of the Syriza party to dictate the conditions of Greece's rescue and salvation? The answer at the moment is a decided "No".

— William Blum, The Greek Tragedy, Veracity Voice

"The Greek economy is finished…. There is no power, no force within the Greek economy, within Greek society that can avert – it's like – imagine if we were in Ohio in 1931 and we were to ask: What can Ohio politicians do to get Ohio out of the Great Depression? The answer is nothing."

— Yanis Varoufakis, Greek Finance Minister
A disagreement over the terms of a deal to provide a bailout extension for Greece, has set the stage for a final clash between the Eurogroup and members of the Greek ruling party, Syriza.  Although the agreement was approved on Tuesday when a list of reforms were submitted by Greek finance minister Yanis Varoufakis to the Eurogroup, Varoufakis believes that changes to the original program give him greater flexibility to implement policies that will end austerity, reduce the ailing country's primary budget surplus, and ease the humanitarian crisis that has persisted for 6 years.  Regrettably,  no one at the ECB, the European Commission or the IMF shares Varoufakis's views on the subject. The so called "troika" thinks that Greece has signed on to essentially the same program that was in place before the negotiations, give or take a few cosmetic changes in the language. And because the program is the same, they think Varoufakis should stick with the same policies as his predecessor and ignore mounting public opposition to austerity. Given the irreconcilable differences between the two parties, there's bound to be a violent confrontation in the near future that will lead to heated recriminations and, eventually, a Grexit.
To illustrate the widening chasm between Varoufakis and the members of the Eurogroup, consider the fact that, going into the negotiations, Varoufakis was determined to end the bailouts and secure a "bridge" loan that would shield Greece from default for a six month period of adjustment after which basic changes to the current austerity regime would be re-negotiated. While the Eurogroup agreed to change the term "program" to "agreement" and "troika" to "institutions", in the minds of the EU finance minsters, the substance of the original deal, which was laid out in the hated Memorandum of Understanding, remained the same. Take a look at this excerpt from a letter from ECB president Mario Draghi and Eurogroup president Jeroen Dijsselbloem and you'll see how this is playing out:
"I assume that it is clear, that the basis of concluding the current review, and also any future arrangements, will be the existing commitments in the current Memorandum of Understanding and The Memorandum of Economic and Financial Policies  (MEFP). In this context we note that the commitments outlined by the authorities differ from existing programme commitments in a number of areas. In such cases, we will have to assess during the review whether measures which are not accepted by the authorities are replaced with measures of equal or better quality in terms of achieving the objectives of the programme." (Naked Capitalism)
What Draghi is saying is that Varoufakis's changes will be put under a microscope to see if they conform with the memorandum which Varoufakis believes no longer applies. The way this will work on a practical basis, is that additional money will only be meted out incrementally depending on compliance with, you guessed it, the old agreement. In other words, Varoufakis will not have a 4 month grace period to experiment with his pro-growth, anti-austerity economic policies. He'll be expected to toe the line from Day 1.
Varoufakis either doesn't understand what he signed or thinks he can implement his own plan without too much interference from the Eurogroup. Either way, there's probably going to be a confrontation given the vast disparity in the way the agreement is being interpreted. In a Tuesday interview with CNBC, Varoufakis said that the new deal is fundamentally different than the previous agreement. He said:
"Some people have been insisting that the program that we've been under must surely be the program that we shall remain under simply refuse to understand that this has changed. So they keep insisting that that program is still on-going. Let me give you a very simple number. The program that we challenged compelled to the Greek government to extract 4.5% of the primary surplus every year in a depressed economy. We've changed that. Now surely that is not dismissed as simply a non-event and it's business as usual, so it's not business as usual we have a fresh start and now what matters is to use the opportunity of that fresh start in order to build something good on top of it. And we will endeavor to do this." ("CNBC Exclusive Interview: Greek Finance Minister, Yanis Varoufakis", CNBC)
See? He sincerely believes that the old deal is history. But the troika, the Eurogroup, and the majority of people who have analyzed the new arrangement, disagree. They think everything is the same (which explains why critics on the right and left have repudiated the deal as a "climb-down, a capitulation and a sellout.)
In an interview with Nikos Hatzinikolaou on REAL FM, Greece, Varoufakis rejected the Memorandum while claiming that the new agreement represents "a huge success' in ending the "recessionary measures" that are needlessly prolonging Greece's Great Depression. Here's what he said:
Varoufakis: "The current  government (Syriza) wants to say things with their name. I will explain it to you in very simple terms, Mr. Hatzinikolaou. As long as our debt is what it is, as long as Greece was bounded within this iron cage of primary surpluses that were impossible to achieve without killing whatever is left in the private sector, and as long we have a negative sign in investments (essentially, real investments), it was impossible to achieve this exit.
What we are trying to do – and have succeeded in doing so; it was a huge success, I'd say – is to create a four-month bridge during which we achieve the following:

First, the cancelation of the recessionary measures and the implementation of a transitional program we ourselves have made, one the Greek society will be able to withstand. This will help us negotiate during this four-month period a new contract between us and our partners with the goal of solving this system of three equations with three unknowns.

Hatzinikolaou: Thus, we are talking about a new Memorandum? ….

Varoufakis: OK. Let us be careful with the words. What does the Memorandum mean? … Let me remind you of what it comprises. It comprises the logic of continuous domestic [or internal] devaluation, of  huge primary surpluses in an economy that does not have a real credit system, where investments are negative, and at the same time where we have a series of measures that empower this recession.  This is the MoU. It is the automation, the a-politicization, and the subjection to the crisis." ("The juicy interview of Greek Finance Minister, Yanis Varoufakis", Greek Analyst)
Varoufakis  appears to be saying that, in his view, the new agreement constitutes a rejection of the memorandum and, thus, is a de facto repudiation of austerity.  The question is whether Varoufakis is stretching the facts to give himself greater latitude to relieve Greece's humanitarian crisis and to put Greece back on a sound path to growth.  While those are worthy goals, they are not likely to win the Eurogroup's support. Check out this excerpt from a letter from the IMF to Dijsselbloem concerning the vagueness of Varoufakis's reform package:
"In quite a few areas, however, including perhaps the most important ones, the letter is not conveying clear assurances that the Government intends to undertake the reforms envisaged in the Memorandum on Economic and Financial Policies. We note in particular that there are neither clear commitments to design the envisaged comprehensive pension and VAT policy reforms, nor unequivocal undertakings to continue already-agreed policies for opening up closed sectors, for administrative reforms, for privatization, and for labor market reforms. As you know, we consider such commitments and undertakings to be critical for Greece's ability to meet the basic objectives of its Fund-supported program, which is why these are the areas subject to most of the structural benchmarks agreed with the Fund." (Excerpt IMF letter posted at Naked capitalism)
Repeat: "We consider such commitments and undertakings to be critical for Greece's ability to meet the basic objectives of its Fund-supported program."  In other words, Greece should not expect to get its loan extension unless it follows the troika's explicit orders on pensions, VAT (sales taxes), government cutbacks, privatization and labor market reforms.
So, what is Varoufakis's approach to these benchmarks?
Let's take a look at pension reform. In an interview with CNBC's Julia Chatterley on Tuesday, Chatterley asked Varoufakis point blank, "So you're ruling out pension cuts?"
Varoufakis: "Of course over the next four months there will be no such thing." (CNBC)
How about raising the VAT tax?
Same thing. And in the interview on REAL FM Varoufakis covered the other policies that the troika sees as "critical". Listen to this exchange:
Hatzinikolaou: My fundamental question about the e-mail is whether or not it entails layoffs in the public sector …, if it entails pension reductions … if it entails wage reductions?

Varoufakis: I will answer to all these questions, since these are very specific questions, and it is best that we speak forthrightly. My answer to all of these questions is NO, in NO WAY."
Let's summarize: No pension cuts, no higher VAT taxes, no lower wages for public workers, and no layoffs. While I admire what Varoufakis is suggesting, I can't figure out how he's going to convince the troika to give him more money.  Apparently, he thinks that streamlining the government and aggressively pursuing tax cheats will do the trick. Or maybe he has something else up his sleeve, like ignoring the terms of the agreement long enough to generate growth in the economy, lower unemployment, and create an improved environment for foreign investment. He might think that that will force the troika to acknowledge that austerity has failed and that pro-growth Keynesian strategies actually produce positive results. Of course, that's just a guess on my part. It's impossible to know for sure.
Here's more of the interview with CNBC:
Varoufakis:   "The reason why we have this 4 month period is to re-establish bonds of trust between us and our European partners as well as the IMF in order to build a new, we call it, contract between us and our partners so as to put an end to this spiral, the debt inflationary spiral; reform Greece; and make sure that CNBC doesn't care about Greece anymore, because we don't want to be in the headlines for all the wrong reasons." ("CNBC Exclusive Interview: Greek Finance Minister, Yanis Varoufakis", CNBC)
The "bonds of trust" are going to  put to the test if Varoufakis doesn't comply with the troika's diktats, that's for sure.
Varoufakis assumes that the troika doesn't understand the impact of its belt-tightening policies. He seems to think that the punishment that's being inflicted on Greece is just the unfortunate byproduct of debt reduction policy and not a deliberate attempt to crush the unions, roll back progressive reforms, decimate the welfare state, and reduce the country to a condition of "permanent colonial dependency."    But that viewpoint is shockingly naïve, after all, the IMF has been in the looting biz for a long time and has a pretty good grasp of the effects its toxic policies.  They know what they're doing, just like know that austerity is just a refinement of the "shock doctrine" which is the traditional way the elites exploit crises by imposing harsh, economy-demolishing reforms that only benefit themselves and their class. The men who conjure up these thieving schemes aren't likely to be hoodwinked by Varoufakis's vague reforms. They're going to force Varoufakis to jump through all their respective hoops before he gets one dime of their precious money. Here's Varoufakis again:
"There is going to be a great deal of toing and froing between us and the institutions and our partners but what we have established through stubborn refusal to succumb to the notion that elections change nothing over the past couple of months or weeks I should say is the notion that this government deserves to have a degree of room for policy-making that allows us to reform Greece and to carry the great multitude out there with us. This is the government for the first time in Greece that has the people behind it and it would be a terrible waste not just for us but for our partners to allow this wave of support to dissipate through non-action." (CNBC)
Does Varoufakis really think he can pull this off?  Does he really think he can out-fox the slimy, authoritarian brigands and leg-breakers who run these extortionist institutions and who will use every means possible to extract the last drop of blood from their victim be he an aspiring, but penniless student at the university or a destitute pensioner huddling homeless and frozen in an abandoned doorway in downtown Athens?
This isn't going to end well. Varoufakis had one card to play–the threat of leaving the Euro–and he failed to play it. Now his leverage is gone and the roof is about to cave in. Just wait and see.
The troika isn't going to convene another dreary round of negotiations to rehash the same old nonsense. Those days are over.  They're simply going to withhold the money, curtail liquidity assistance, and torpedo the Greek banking system. Kaboom! That's the way this thing is going to go down. The mood among the EZ finance ministers has soured considerably since the last meeting. They want to put this whole thing behind them. They're sick of it.  They want closure. They're not going to quibble over issues they've already gone over and clarified a million times.  Varoufakis will either have to get with the program or face the consequences. That's the way it works in Mafia-land; you either pay the piper or you find yourself in the East River in cement booties.
Who knows: maybe this is what Varoufakis wanted from the beginning, a ferocious clash ending in banishment, a Grexit.  Well, he won't have to wait long now.
Some things not to forget, which the new Greek leaders have not…
American historian D.F. Fleming, writing of the post-World War II period in his eminent history of the Cold War, stated that "Greece was the first of the liberated states to be openly and forcibly compelled to accept the political system of the occupying Great Power. It was Churchill who acted first and Stalin who followed his example, in Bulgaria and then in Rumania, though with less bloodshed."
The British intervened in Greece while World War II was still raging. His Majesty's Army waged war against ELAS, the left-wing guerrillas who had played a major role in forcing the Nazi occupiers to flee. Shortly after the war ended, the United States joined the Brits in this great anti-communist crusade, intervening in what was now a civil war, taking the side of the neo-fascists against the Greek left. The neo-fascists won and instituted a highly brutal regime, for which the CIA created a suitably repressive internal security agency (KYP in Greek).
In 1964, the liberal George Papandreou came to power, but in April 1967 a military coup took place, just before elections which appeared certain to bring Papandreou back as prime minister. The coup had been a joint effort of the Royal Court, the Greek military, the KYP, the CIA, and the American military stationed in Greece, and was followed immediately by the traditional martial law, censorship, arrests, beatings, and killings, the victims totaling some 8,000 in the first month. This was accompanied by the equally traditional declaration that this was all being done to save the nation from a "communist takeover". Torture, inflicted in the most gruesome of ways, often with equipment supplied by the United States, became routine.
George Papandreou was not any kind of radical. He was a liberal anti-communist type. But his son Andreas, the heir-apparent, while only a little to the left of his father, had not disguised his wish to take Greece out of the Cold War, and had questioned remaining in NATO, or at least as a satellite of the United States.
Andreas Papandreou was arrested at the time of the coup and held in prison for eight months. Shortly after his release, he and his wife Margaret visited the American ambassador, Phillips Talbot, in Athens. Papandreou later related the following:
I asked Talbot whether America could have intervened the night of the coup, to prevent the death of democracy in Greece. He denied that they could have done anything about it. Then Margaret asked a critical question: What if the coup had been a Communist or a Leftist coup? Talbot answered without hesitation. Then, of course, they would have intervened, and they would have crushed the coup.
Another charming chapter in US-Greek relations occurred in 2001, when Goldman Sachs, the Wall Street Goliath Lowlife, secretly helped Greece keep billions of dollars of debt off their balance sheet through the use of complex financial instruments like credit default swaps. This allowed Greece to meet the baseline requirements to enter the Eurozone in the first place. But it also helped create a debt bubble that would later explode and bring about the current economic crisis that's drowning the entire continent. Goldman Sachs, however, using its insider knowledge of its Greek client, protected itself from this debt bubble by betting against Greek bonds, expecting that they would eventually fail.
Will the United States, Germany, the rest of the European Union, the European Central Bank, and the International Monetary Fund – collectively constituting the International Mafia – allow the new Greek leaders of the Syriza party to dictate the conditions of Greece's rescue and salvation? The answer at the moment is a decided "No". The fact that Syriza leaders, for some time, have made no secret of their affinity for Russia is reason enough to seal their fate. They should have known how the Cold War works.
I believe Syriza is sincere, and I'm rooting for them, but they may have overestimated their own strength, while forgetting how the Mafia came to occupy its position; it didn't derive from a lot of compromise with left-wing upstarts. Greece may have no choice, eventually, but to default on its debts and leave the Eurozone. The hunger and unemployment of the Greek people may leave them no alternative.
The Twilight Zone of the US State Department
"You are traveling through another dimension, a dimension not only of sight and sound but of mind. A journey into a wondrous land whose boundaries are that of imagination. Your next stop … the Twilight Zone." (American Television series, 1959-1965)
State Department Daily Press Briefing, February 13, 2015. Department Spokesperson Jen Psaki, questioned by Matthew Lee of The Associated Press.
Lee: President Maduro [of Venezuela] last night went on the air and said that they had arrested multiple people who were allegedly behind a coup that was backed by the United States. What is your response?
Psaki: These latest accusations, like all previous such accusations, are ludicrous. As a matter of longstanding policy, the United States does not support political transitions by non-constitutional means. Political transitions must be democratic, constitutional, peaceful, and legal. We have seen many times that the Venezuelan Government tries to distract from its own actions by blaming the United States or other members of the international community for events inside Venezuela. These efforts reflect a lack of seriousness on the part of the Venezuelan Government to deal with the grave situation it faces.
Lee: Sorry. The US has – whoa, whoa, whoa – the US has a longstanding practice of not promoting – What did you say? How longstanding is that? I would – in particular in South and Latin America, that is not a longstanding practice.
Psaki: Well, my point here, Matt, without getting into history –
Lee: Not in this case.
Psaki: – is that we do not support, we have no involvement with, and these are ludicrous accusations.
Lee: In this specific case.
Psaki: Correct.
Lee: But if you go back not that long ago, during your lifetime, even – (laughter)
Psaki: The last 21 years. (Laughter.)
Lee: Well done. Touché. But I mean, does "longstanding" mean 10 years in this case? I mean, what is –
Psaki: Matt, my intention was to speak to the specific reports.
Lee: I understand, but you said it's a longstanding US practice, and I'm not so sure – it depends on what your definition of "longstanding" is.
Psaki: We will – okay.
Lee: Recently in Kyiv, whatever we say about Ukraine, whatever, the change of government at the beginning of last year was unconstitutional, and you supported it. The constitution was –
Psaki: That is also ludicrous, I would say.
Lee: – not observed.
Psaki: That is not accurate, nor is it with the history of the facts that happened at the time.
Lee: The history of the facts. How was it constitutional?
Psaki: Well, I don't think I need to go through the history here, but since you gave me the opportunity –- as you know, the former leader of Ukraine left of his own accord.
………………
Leaving the Twilight Zone … The former Ukrainian leader ran for his life from those who had staged the coup, including a mob of vicious US-supported neo-Nazis.
If you know how to contact Ms. Psaki, tell her to have a look at my list of more than 50 governments the United States has attempted to overthrow since the end of the Second World War. None of the attempts were democratic, constitutional, peaceful, or legal; well, a few were non-violent.
The ideology of the American media is that it believes that it doesn't have any ideology
So NBC's evening news anchor, Brian Williams, has been caught telling untruths about various events in recent years. What could be worse for a reporter? How about not knowing what's going on in the world? In your own country? At your own employer? As a case in point I give you Williams' rival, Scott Pelley, evening news anchor at CBS.
In August 2002, Iraqi Deputy Prime Minister Tariq Aziz told American newscaster Dan Rather on CBS: "We do not possess any nuclear or biological or chemical weapons."
In December, Aziz stated to Ted Koppel on ABC: "The fact is that we don't have weapons of mass destruction. We don't have chemical, biological, or nuclear weaponry."
Iraqi leader Saddam Hussein himself told CBS's Rather in February 2003: "These missiles have been destroyed. There are no missiles that are contrary to the prescription of the United Nations [as to range] in Iraq. They are no longer there."
Moreover, Gen. Hussein Kamel, former head of Iraq's secret weapons program, and a son-in-law of Saddam Hussein, told the UN in 1995 that Iraq had destroyed its banned missiles and chemical and biological weapons soon after the Persian Gulf War of 1991.
There are yet other examples of Iraqi officials telling the world, before the 2003 American invasion, that the WMD were non-existent.
Enter Scott Pelley. In January 2008, as a CBS reporter, Pelley interviewed FBI agent George Piro, who had interviewed Saddam Hussein before he was executed:
PELLEY: And what did he tell you about how his weapons of mass destruction had been destroyed?
PIRO: He told me that most of the WMD had been destroyed by the U.N. inspectors in the '90s, and those that hadn't been destroyed by the inspectors were unilaterally destroyed by Iraq.
PELLEY: He had ordered them destroyed?
PIRO: Yes.
PELLEY: So why keep the secret? Why put your nation at risk? Why put your own life at risk to maintain this charade?
For a journalist there might actually be something as bad as not knowing what's going on in his area of news coverage, even on his own station. After Brian Williams' fall from grace, his former boss at NBC, Bob Wright, defended Williams by pointing to his favorable coverage of the military, saying: "He has been the strongest supporter of the military of any of the news players. He never comes back with negative stories, he wouldn't question if we're spending too much."
I think it's safe to say that members of the American mainstream media are not embarrassed by such a "compliment".
In his acceptance speech for the 2005 Nobel Prize for Literature, Harold Pinter made the following observation:
Everyone knows what happened in the Soviet Union and throughout Eastern Europe during the post-war period: the systematic brutality, the widespread atrocities, the ruthless suppression of independent thought. All this has been fully documented and verified.
But my contention here is that the US crimes in the same period have only been superficially recorded, let alone documented, let alone acknowledged, let alone recognized as crimes at all.
It never happened. Nothing ever happened. Even while it was happening it wasn't happening. It didn't matter. It was of no interest. The crimes of the United States have been systematic, constant, vicious, remorseless, but very few people have actually talked about them. You have to hand it to America. It has exercised a quite clinical manipulation of power worldwide while masquerading as a force for universal good. It's a brilliant, even witty, highly successful act of hypnosis.
Cuba made simple
"The trade embargo can be fully lifted only through legislation – unless Cuba forms a democracy, in which case the president can lift it."
Aha! So that's the problem, according to a Washington Post columnist – Cuba is not a democracy! That would explain why the United States does not maintain an embargo against Saudi Arabia, Honduras, Guatemala, Egypt and other distinguished pillars of freedom. The mainstream media routinely refer to Cuba as a dictatorship. Why is it not uncommon even for people on the left to do the same? I think that many of the latter do so in the belief that to say otherwise runs the risk of not being taken seriously, largely a vestige of the Cold War when Communists all over the world were ridiculed for blindly following Moscow's party line. But what does Cuba do or lack that makes it a dictatorship?
No "free press"? Apart from the question of how free Western media is, if that's to be the standard, what would happen if Cuba announced that from now on anyone in the country could own any kind of media? How long would it be before CIA money – secret and unlimited CIA money financing all kinds of fronts in Cuba – would own or control almost all the media worth owning or controlling?
Is it "free elections" that Cuba lacks? They regularly have elections at municipal, regional and national levels. (They do not have direct election of the president, but neither do Germany or the United Kingdom and many other countries). Money plays virtually no role in these elections; neither does party politics, including the Communist Party, since candidates run as individuals. Again, what is the standard by which Cuban elections are to be judged? Is it that they don't have the Koch Brothers to pour in a billion dollars? Most Americans, if they gave it any thought, might find it difficult to even imagine what a free and democratic election, without great concentrations of corporate money, would look like, or how it would operate. Would Ralph Nader finally be able to get on all 50 state ballots, take part in national television debates, and be able to match the two monopoly parties in media advertising? If that were the case, I think he'd probably win; which is why it's not the case.
Or perhaps what Cuba lacks is our marvelous "electoral college" system, where the presidential candidate with the most votes is not necessarily the winner. If we really think this system is a good example of democracy why don't we use it for local and state elections as well?
Is Cuba not a democracy because it arrests dissidents? Many thousands of anti-war and other protesters have been arrested in the United States in recent years, as in every period in American history. During the Occupy Movement two years ago more than 7,000 people were arrested, many beaten by police and mistreated while in custody. And remember: The United States is to the Cuban government like al Qaeda is to Washington, only much more powerful and much closer; virtually without exception, Cuban dissidents have been financed by and aided in other ways by the United States.
Would Washington ignore a group of Americans receiving funds from al Qaeda and engaging in repeated meetings with known members of that organization? In recent years the United States has arrested a great many people in the US and abroad solely on the basis of alleged ties to al Qaeda, with a lot less evidence to go by than Cuba has had with its dissidents' ties to the United States. Virtually all of Cuba's "political prisoners" are such dissidents. While others may call Cuba's security policies dictatorship, I call it self-defense.
The Ministry of Propaganda has a new Commissar
Last month Andrew Lack became chief executive of the Broadcasting Board of Governors, which oversees US government-supported international news media such as Voice of America, Radio Free Europe/Radio Liberty, the Middle East Broadcasting Networks and Radio Free Asia. In a New York Times interview, Mr. Lack was moved to allow the following to escape his mouth: "We are facing a number of challenges from entities like Russia Today which is out there pushing a point of view, the Islamic State in the Middle East and groups like Boko Haram."
So … this former president of NBC News conflates Russia Today (RT) with the two most despicable groups of "human beings" on the planet. Do mainstream media executives sometimes wonder why so many of their audience has drifted to alternative media, like, for example, RT?
Those of you who have not yet discovered RT, I suggest you go to RT.com to see whether it's available in your city. And there are no commercials.
It should be noted that the Times interviewer, Ron Nixon, expressed no surprise at Lack's remark.
Notes
William Blum, Killing Hope: U.S. Military and C.I.A. Interventions Since World War II, chapters 3 and 35
"Greek Debt Crisis: How Goldman Sachs Helped Greece to Mask its True Debt", Spiegel Online (Germany), February 8, 2010. Google "Goldman Sachs" Greece for other references.
U.S. Department of State Daily Press Briefing, February 13, 2015
CBS Evening News, August 20, 2002
ABC Nightline, December 4, 2002
"60 Minutes II", February 26, 2003
Washington Post, March 1, 2003
"60 Minutes", January 27, 2008
Democracy Now!, February 12, 2015, Wright statement made February 10
Al Kamen, Washington Post, February 18, 2015
Huffington Post, May 3, 2012
New York Times, January 21, 2015
This month, former Mayor of New York City, Rudy Giuliani said, "I do not believe, and I know this is a horrible thing to say, but I do not believe that that President Obama loves America," said Giuliani at a New York dinner. "He doesn't love you. And he doesn't love me. He wasn't brought up the way you were brought up and I was brought up through love of this country."
As a red-blooded American who loves my country, I second Giuliani's assessment of Barack Hussein Obama. We do not know Obama. We question his origins, his fraudulent Social Security number, his forged-backdated Selective Service number, his hidden college records, his foreign beneficiaries as to money for Columbia and Harvard, his mediocre grades that led to those top colleges accepting him, and his whereabouts during his formative years. He spent millions of dollars to seal his high school records, his college records, his passport and more. No one steps forth to talk about any high school or college classrooms he shared with them. He's a ghost on the American landscape, but he's in charge of leading our country.
We know that he wrote a book, Audacity of Hope, where on page 261, he said, "I will stand with the Muslims should the political winds shift in an ugly direction."
That single statement illustrates his deepest Islamic religious cognitive choices that violate every single aspect of the American Way of Life and our Constitution. His Koran's ultimate prime directive seeks to destroy free thought, freethinking, free choice of religion, free choice of governance and women's rights. In other words, according to his quoted words, he loves the holy call of the music of Islam over the Stars and Stripes, our Pledge of Allegiance and our national anthem.
His father(s), whether it was Barack Hussein Obama, Sr. or Frank Marshal Davis, whom he resembles without question or his stepfather, LoLo Soetoro, all devoted themselves to Islam, proving itself to be the most violent-barbaric religion on the planet.
Lolo Soetoro lawfully adopted and changed Obama's name to Barry Soetoro as an official Indonesian citizen. When Obama applied for scholarships to Columbia University, he used his Indonesian citizenship to gain scholarships. That single fact alone makes Obama ineligible to serve as an American president.
Nobody knows the reality of Obama's childhood because every single legal record remains locked up in sealed records. At some point, history will uncover the mystery of Barack Obama. It won't be pretty.
In the meantime, in six years, he subverted the American worker by not enforcing our immigration laws at the border or internally by arresting employees of illegal aliens. He knowingly assisted and continues to assist illegal aliens jumping our borders and already working within our country in violation of our laws.
He broke our U.S. Constitution numerous times ending lately in overstepping his Constitutional authority by granting a counterfeit amnesty for 20 million illegal aliens.
He continually lied to the American public via the Benghazi cover-up where he personally failed to act, which led to four Americans being killed by Muslims. Ironically, Obama hired eight Muslims in his immediate circle to help him with Islamic prime directives to dismantle America's dominate religious base: Christianity. Obama remains intent on turning our country into an Islamic refugee holding pen—that sooner or later will erupt in major violence, much like in Europe.
In fact, Obama scoffs at Christians when he defends Muslims for their barbaric violence, which manifested in Paris, France in January and this month of a Jordanian pilot being burned to death in a cage with cameras rolling.
And yet, Barack Hussein Obama chastises our country in favor of the violence of Islam: "Lest we get on our high horse and think this is unique to some other place, remember that during the Crusades and the Inquisition, people committed terrible deeds in the name of Christ. In our home country, slavery and Jim Crow all too often was justified in the name of Christ." Fact: Europeans fought the Muslims in the Crusades. Fact: Muslim women remain slaves in their own countries with no rights.
He covered-up, along with his U.S. Attorney General Eric Holder, the "Fast and Furious" gun trafficking at our borders that killed more of our border patrol officers. The cover-up continues as of this date.
While in office, he understood that African-Americans suffer job losses and depressed wages at the hands of endless legal and illegal immigration—yet does nothing to solve the problem. A mind numbing 1 in 4 Black American males cannot secure a job. A stunning 73 percent of African-American "out of wedlock" children face life with a single mother living on welfare, which equates to complete disintegration of Black American families. Instead of taking action favoring our suffering African-American millions living in poverty, Obama plays more golf and takes more vacations than any other president. He follows the Black Caucus in Congress that plays a similar game of doing nothing for Black constituents across America.
While in office, Obama watched food stamp recipients jump from 36 million in 2008 to 48 million in February, 2015. In other words, he hasn't and won't do anything to bring jobs to those Americans, but he will engage illegal acts against our Constitution in favor of 20 million illegal aliens and their employers.
Obama never served in our U.S. military. He doesn't know a platoon from a company. He never worked a job in his life, thus doesn't know what American workers must endure.
Whatever Obama loves, it's not America or Americans. His words, his "Islamic gang sign" that he features prominently in his trips around the world shows that he loathes America and Americans. I for one, as a red-blooded American, would like to see Barack Hussein Obama brought up on charges of failure to defend our country, our way of life and our citizens. I would like to see him tried, convicted and impeached.
"Though it's happening to a stricken country, on the edge of Europe, the choices presented to Greece are being understood throughout Europe… Obey or leave."

— Paul Mason, Channel 4 News Blog
It's not easy to negotiate with a gun to your head.  Nevertheless, that's the situation Greek finance minister Yanis Varoufakis found himself in on Friday preceding a crucial meeting with the Eurogroup. According to one report, the objective of the last-ditch confab  "was to prepare a consensus text that would be the basis for the discussion" with the EU's finance ministers.  That might sound innocent enough, but it doesn't come close to explaining the real purpose of the meeting which was far more sinister.  Check out this blurb from Costas Efimeros at the Press Project:
"According to a Greek official who doesn't want to be named, the Greek delegation were yesterday subject to outright blackmail. Our 'partners' informed us that if Eurogroup doesn't result in an agreement, on Tuesday the Greek government will be forced to implement capital controls. It seemed that they had taken the decision to strangle the Greek economy by cutting off funding to the banks through the ELA system. Furthermore, it seemed that the big Greek banks already knew this. Leaks from the ECB, after all, had suggested that they were preparing for a GREXIT." ("Europe trashed democracy", Costas Efimeros, The Press Project)
It's nice to know that EU leaders ascribe to the same basic moral code as Don Corleone, isn't it?
The fact is, a slow motion bank run has been underway in Greece for more than a month draining roughly 40 billion euros from the Greek banking system. If a deal hadn't been struck on Friday, the ECB would have pulled the plug on its liquidity assistance program and blown the whole system to kingdom come. That's how the Eurocrats planned to say goodbye to their long-struggling member, Greece, by giving them a sharp jolt to the groin before razing their economy to the ground. That tells you everything you need to know about the Eurogroup.
If Greece got the boot on Friday, it's humanitarian crisis would have deepened overnight while the blow to the capital markets would have paved the way for another financial crisis.  Fortunately, the catastrophe was averted mainly because Varoufakis was able to cobble together a viable plan for meeting the Eurogroup's basic requirements while creating significant opportunities to ease conditions in Greece.  Don't get me wrong; this isn't a perfect deal by any stretch, but it is the best deal that could have been reached given the circumstances and the unbridled hostility from German finance minister Wolfgang Schaeuble who was eager to scuttle the whole project and throw Greece to the wolves.  Varoufakis managed to out maneuver the irascible Schaeuble and get some of what he wanted, but only through stiff-necked resolve and significant compromise.  As a result, Greece is still a member of the Eurozone,  but just barely. A rejection of its reform package today (Monday) could push the beleaguered country out of the 19-member Union for good.
Keep in mind, the Eurogroup made it perfectly clear from the beginning that they weren't going to restructure Greece's debts or end the austerity program. The issues weren't even on the table. So, those who think that Varoufakis should have given the Eurogroup an ultimatum ("Reduce our debts or we'll leave.") simply don't understand the nature of the negotiations.  Varoufakis was forced to operate  within very strict parameters. Given those limitations, he nabbed a very respectable deal. Even so, it's only natural for people to feel let-down, especially since Syriza had promised much more than they could deliver.  But that doesn't mean Varoufakis is a traitor or a sellout. Not at all. It merely means that Syriza's belief that it could end austerity but keep Greece in the Eurozone proved to be unfounded. In fact, German opposition has made it nearly impossible. The larger point is this: Syriza had no mandate to spearhead a Grexit.  That is not what the people voted for or what they want.  Varoufakis's was asked to do the impossible, square the circle. In that regard, he failed. But still, the deal he hammered out should mitigate Greece's slump to some extent, although one should not expect a full-blown economic recovery, not without a healthy dose of fiscal stimulus which is nowhere in sight.
Varoufakis managed to change the terms of the deal which is now referred to as the "existing arrangement" rather than a "program".  According to Norbert Haring, this new "arrangement"…"is not a "technical" extension of the "program" any more, but an extension of the funding arrangement, plus vague conditionality."  ("Was it worth it? Concessions to Greece relative to the rejected draft of 16 February", Nobert Haring)
It all sounds very tedious and legalistic, but the change is significant. You see, the real fight between Varoufakis and the Eurogroup was over this precise issue, that is, changing the inflexible, ironclad austerity "program" into a looser "arrangement" where polices can be altered via–what Varoufakis dubbed –"constructive ambiguity." Varoufakis objective is to create enough gray area for Greece to regain sovereign control over its own economic policies. Constructive ambiguity will help to achieve that, provided the reforms meet the Eurogroup's fiscal targets.
Here's more from Haring's post:  "There is no mention any more of "successful conclusion of the program", nor of "program" in the text. Instead a successful conclusion of the review of the "conditions in the current arrangement"  is the new condition. This allows the Greek government to continue to say that the old program cannot be successful. It also allows for changes in the program, as "conditions of the arrangement" is deliberately more vague."    ("Was it worth it? Concessions to Greece relative to the rejected draft of 16 February", Nobert Haring)
This isn't just legal claptrap. It's a critical change in the way the policy is implemented.  Once again, Varoufakis has loosened the financial straitjacket in which Greece finds itself, which can only be seen as progress.
The new deal also allows Greece to decide its own reform package rather than the troika dictating what government expenses to cut or which publicly owned assets to sell.  Here's another excerpt from Haring's post:   "Most important change of the whole document: Addition of "The institutions will, for the 2015 primary surplus target, take the economic circumstances in 2015 into account." Excessive, self-defeating austerity is off.  Only the target for 2015 is mentioned, because everything further out would have to be part of a new arrangement, still to be negotiated."
So Varoufakis has achieved his goal of reducing austerity. Not only is there greater flexibility operationally but, also, Greece will control the levers of decision-making  in the "field of tax policy, privatisation, labour market reforms, financial sector, and pensions". Naturally, the lower the primary surplus, the more fiscal stimulus is available for economic growth. (Running a surplus during a depression is absolute madness, but this is the lousy hand Varoufakis was dealt.)
Haring's final comments are a good summary of Varoufakis's achievement:
"Was it worth the hassle to reject the draft of 16 February, just to accept the statement four days later? For Athens it most certainly was. It got the promise that no self-defeating, excessive austerity would be asked of it any more, the assurance that it could devise its own economic and social policies, as long as they did not impact negatively on the interests of its partners, rather than having to execute and leaving in place all the measures accepted by the former government and strongly rejected by the people. These are huge improvements for Athens, with no significant counterbalancing downside compared to 16 February."  ("Was it worth it? Concessions to Greece relative to the rejected draft of 16 February", Nobert Haring)
Clearly, this is a good deal for Greece, but let's not go overboard; the basic situation still stinks to high heaven, mainly because the Eurogroup would rather lecture and punish than give a struggling member a helping hand.  Had the Eurozone evolved into a viable political union that distributed fiscal transfers to the weaker states on the periphery, Greece would have emerged from its recession years ago. Instead, the fiasco drags on endlessly punctuated by infrequent outbursts from EU leaders who vehemently defend belt-tightening measures that have only made matters worse.  If anything, this experience should help the Greek people decide whether there's a future for them and their children in the Eurozone or not.  Dealing with authoritarian boneheads (The Eurogroup) may eventually prove to be more trouble than its worth. (A Grexit looks better by the day!)
As for Varoufakis, well, he passed the finance minister's test with flying colors. He distinguished himself as a capable horse trader and managed to squeeze more concessions out of the EU's  austerity-obsessed representatives than anyone thought possible. The man proved that he's neither a "sell out" or a "traitor".(as some claim.) Quite the contrary, he kept his word and did exactly what the Greek people asked of him.
At the very least, he deserves credit for a valiant effort.
With the fall of Debaltsevo some interesting military-technical questions are starting to emerge. Is the Ukrainian general staff grossly incompetent, or outright treasonous?  "A colonel is a rank," says my source, a former general officer of a NATO-affiliated army, "but a general is a clinical diagnosis."
Ever since Hannibal's masterful double-pincer maneuver at Cannae it has been the wet dream of field commanders to repeat the feat, to surround and annihilate the enemy in a cauldron. Some ancient strategists, like Sun Tzu, believed that it is better to let the enemy retreat through a corridor rather than bleed it to death, but the concept is alien to the blood-thirsty European mind. As it happens, the Western experience is that – rather than prompt the surrounded force to fight to the bitter end – the envelopment rapidly leads to demoralization and the loss of combat effectiveness of the defending force. Kiev 1941 is the most spectacular example of what happens when an army leaves its flanks exposed to the claws: 600,000 Red Army soldiers ended up in "the bag," the biggest surrender in history.
Sometimes a general will deliberately expose his ostensibly vulnerable pocket to enemy attack in order to lure the foe into a well-defended trap. This is exactly what happened at Kursk in July 1943, when – in its last offensive action on the Eastern Front – the Wehermacht spectacularly wasted countless tanks and men to achieve the elusive feat. It turned out to be a fatal defeat, mathematically predicted by the Stavka.
Debeltsevo was no Cannae 216BC, let alone Kiev 1941 or Kursk 1943, but in essence the problem was the same: do you reinforce a potential cauldron while its threatening flanks remain vulnerable? My interlocutor, with no axe to grind in the ongoing fight, says that from the purely professional point of view it was insane to reinforce failure:
This 'strategy' is reminiscent of Hitler's obsession with defending all those indefensible Fetsungen, from Stalingrad to the Kurland, Budapest and Breslau, for political reasons. But in the end, military realities catch up with the political vision. Today's Ukrainian generals were trained in the Soviet military academies over a quarter of a century ago. The doctrine may seem outdated, but still they surely know the score. Nevertheless, just like their colleagues everywhere else, they are susceptible to political pressures which trump professional arguments. The victims are the hapless conscripts. The death squads will get away.
The result is that one-third of Ukraine's battle-hardened troops – up to 8,000 soldiers – are surrendering en masse, or are about to surrender. They could have been safely withdrawn until about a week ago.
What is particularly curious is that last August several major Ukrainian units, albeit of smaller size, were surrounded under similar circumstances – and ended up surrendering. It seems that the Ukrainian top brass does not mind sacrificing the hard-core fighters who may prove troublesome to the Kiev regime. The Right Sector's claim that the Ukrainian High Command is riddled with Russian spies may sound like an ultranationalist rant, but one is left to wonder at the generals' inaptitude. Debaltsevo should not have been defended the way it was defended. A sober commander would have evacuated it while the exit road was still open.
This is a value-neutral analysis of the military score on the ground. Its political consequences will be considered in the days to come.
The "Exceptional" U.S. Suffers Crushing Defeat in Debaltsevo…
"There's no city left. It's destroyed."

— Anonymous Ukrainian soldier following the battle of Debaltsevo
In less than a year, the United States has toppled the democratically-elected government of Ukraine, installed a Washington-backed stooge in Kiev, launched a bloody and costly war of annihilation on Russian-speaking people in the East, thrust the economy into a downward death spiral, and reduced the nation to an anarchic, failed state destined to endure a vicious fratricidal civil war for as far as the eye can see.
Last week, Washington suffered its greatest military defeat in more than a decade when Ukraine's US-backed army was soundly routed in the major railway hub of Debaltsevo. Roughly, 8,000 Ukrainian regulars along with untold numbers of tanks and armored units were surrounded in what-came-to-be-known-as "the cauldron."  The army of the Donetsk Peoples Republic led by DPR commander  Alexander Zakharchenko, encircled the invading army and gradually tightened the cordon, eventually killing or capturing most of the troops within the pocket. The Ukrainian Armed Forces suffered major casualties ranging between  3,000 to 3,500 while a vast amount of lethal military hardware was left behind.
According to Zakharchenko, "The amount of equipment Ukrainian units have lost here is beyond description."
Additionally, the US-backed proxy-army saw many of its crack troops and top-notch units destroyed in the fighting leaving Kiev unable to continue the war without assistance from allies in the US or Europe.  The full impact of the defeat will not be known until angry troops returning from the front amass on the streets of the Capital and demand Petro Poroshenko's resignation. The Ukrainian President is responsible for the massacre at Debaltsevo.  He was fully aware that his army faced encirclement but ordered them to remain in order to satisfy powerful right-wing elements in his government. The disaster is even more terrible due to the fact that it was entirely avoidable and achieved no strategic purpose at all. Extreme hubris frequently impacts outcomes on the battlefield. This was the case at Debaltsevo.
The debacle ensures that the bumbling president's days are numbered. It's nearly certain that he will either be replaced or hanged sometime in weeks ahead. He has already flown his family to safety out of the country, and there's growing speculation that both Washington and the far-right nationalists who occupy the Security Services will insist on his removal. That paves the way for a second Ukrainian coup in less than a year, a grim reminder of the tragic failings of US policy in Ukraine. Check out this blurb from a post at the Vineyard of the Saker:
"Looks like the Nazi death squads are on the march again, this time they are looking at Kiev.  Thirteen death-squad (aka "volunteer battalion") leaders have now declared that they are forming their own military command under the command of the notorious Semen Semenchenko. Officially, they are not in any way opposed to the current regime, so said Semenchenko, but in reality their rank and file members are pretty clear about what they want to do: organize a third Maidan and toss out Poroshenko.
What makes these 21st century version of the SA so dangerous for Poroshenko it that he, unlike Hitler, does not have a 21st century version of the SS to eliminate them all overnight.  In fact, according to many reports the entire southern part of the rump-Ukraine is now "Kolomoiski-land" fully under the control of the oligarch who finances these death-squads.  Add to this the fact that most of the Rada is composed of the very same battalion commanders and assorted Nazi freaks, and you will why Poroshenko is now very much in danger……

The sad reality is that there is simply nobody in the Ukraine capable of disarming these so-called "volunteer battalions".  There are now thousands of uniformed Nazi freaks roaming around with guns who can now impose their law of the jungle on everybody.  It sure looks like the future of Banderastan will be something like a mix of Somalia and Mad Max – a failed state, a comprehensively destroyed economy, a collapsed social order and the law of armed gangs of thugs." (The Vineyard of the Saker)
If Poroshenko is doomed to be the scapegoat in the Debaltsevo cock-up, it's only because he followed the foolhardy advice of his Washington paymasters. Had he listened to his military advisors instead, he probably would have withdrawn his troops earlier and spared himself a Gadhafi-like demise.  Now, that's probably no longer possible.
Poroshenko's desperation has led to an appeal to western allies and the United Nations for the deployment of a peacekeeping mission in Ukraine.  The request is an admission of defeat and has no chance of being implemented, mainly because it  violates the terms of the recent peace agreement (Minsk 2.0), but, also, because voting members on the Security Council (Russia and China) are certain to veto the idea. Clearly, Poroshenko, who is increasingly embattled and reviled, is grasping at straws hoping to avoid the same violent end he ruthlessly inflicted on so many of his countrymen. Here is a brief summary of recent events from the World Socialist Web Site:
"The debacle suffered by the Kiev regime exposes the utterly reckless and frankly stupid character of the policy pursued by Washington and its EU allies in Ukraine….

The initial attempts of the Kiev regime and its CIA backers to subjugate east Ukraine by sheer military terror, relying on fascist militias and select units of the Ukraine army that it considered to be reliable, have failed….

Nevertheless, Washington is pressing Kiev to prepare for a renewed offensive and is still discussing directly arming the Ukrainian army against Russia with US weapons….

In west Ukraine, the population is evading or resisting draft orders to obtain more cannon fodder for the east Ukraine war. At the same time, Ukraine's economy, cut off from its main industrial base in east Ukraine and its export markets in Russia, is collapsing.

"The country is at war that they cannot afford to fight. There is no economy any longer….Gerald Celente of Trends Journal told Russia Today. "That $160 billion loss of trade with Russia has destroyed the economy, when it was already in a severe recession. It went from very bad to worse than depression levels."

("US-backed Kiev regime faces military debacle in east Ukraine war", Alex Lantier, World Socialist Web Site
Washington has largely won the information war, having persuaded Congress and the American people that US policy in Ukraine is "just", but on the ground, where it counts, Washington has encountered one catastrophic failure after another. This process will undoubtedly persist until the costs are too exorbitant to bear.
As the NATO juggernaut directed by a U.S. NeoCon foreign policy marches towards a nuclear confrontation with Russia, the American public is being manipulated to accept that Foggy Bottom knows best. Even under the placid Obama regime, the chicken hawks are able to restart a new cold war that is getting hotter by the moment. The singular opportunity to forge a lasting peace after the fall of the Soviet Union has been squandered by the globalists, who lust after their only superpower status. Well, the time is approaching for payback. Only God can prevent the annihilation from WWIII, since Dr. Strangelove has the code for the nukes and the culture that permeates military planning actually believes that a nuclear war can be won.
This is the context that underpins the cry for citizens to demonstrate their trusting patriotism in an ongoing internationalist regime that seeks a permanent empire.
When George Washington spoke of patriotism as "It may be laid down as a primary position, and the basis of our system, that every Citizen who enjoys the protection of a Free Government, owes not only a proportion of his property, but even of his personal services to the defense of it", it is unimaginable that he would see current administrations as the embodiment of a Free Government, or that citizens have a moral obligation to defend an aggressive interventionist imperia that is endangering the survival of the entire planet.
Honest Conservatives reject Neo Conservatism as a perversion of true national interests. The irony that an internationalist like Teddy Roosevelt would be lionized as a great patriot is attributed to his strong persona, while ignoring the consequences of his entanglement policies. His carrying of a "Big Stick" set the stage for the 21th century of using a blunt club.
What exactly is patriotic about sending generations of youth, to be used as cannon fodder, for the sole purpose and benefit of global elites, who really rule our country?  When TR says: "Patriotism means to stand by the country" has become a meaningless viewpoint, since the control of the government is in foreign hands that have destroyed all semblance of what once existed as OUR Country.
Popular public polls always provide higher support for the President than for legislators in Congress. Because of no small measure, the House and Senate have abdicated their constitutional duties in foreign policy since the Korean War. Leaving to the executive branch the full weight of determining relations with foreign nations has allowed the decisive influence to be concentrated in the State Department establishment.
While the military-industrial-security-complex and the intelligent community agencies are the dominant power behind the globalist policy, the treasonous elites and foreign Banksters who control the strings are the only benefactors after the body count is compiled.
Under this set of circumstances, what actual duty does a loyal American have to do the bidding of a corrupt and illegitimate government? Do you believe that George Washington fought the Revolution to allow the City of London to rule over the foreign policies of our own country?
Even though the last two centuries have decidedly been influenced if not totally compromised by foreign agents, especially those among the Rothschild central banking cabal, the final responsibility for the loss of our country lies with the American people.
Americans have seldom exemplified a burning desire to understand the truth. Most are content to believe that their leaders are good men and women and have the best interests of the nation as their goal. The fact that such a myth bears little resemblance with reality never gets through to the flag flying households that proudly display their Love It or Leave It bumper stickers.
Their uncritical and all consuming Patriotism is a false and destructive sentiment. By allowing the mass media manipulation and distorted historical lessons to be accepted as mainstream culture, the forces of global dominance are able to achieve their worldwide governance.
Now this assessment is disturbing to many people and the bearer of the message risks becoming ostracized from polite society. Yet, such a reaction does not refute the accuracy of the argument.
What can or should a responsible citizen do to prevent the systematic betrayal of our country and the even more important, what can be done to stop the madness of NATO's belligerency?  The Russian Federation under Putin is not the same threat of the Soviet Union of Lenin or Stalin.
The practice of civil disobedience is most closely associated with fringe or radical dissenters. Ever since the demonstrations of burning draft cards and wearing the stars and stripes as bandanas of the Viet Nam era, the silent and moral majority became distrustful of protests. Nonetheless, the public display of discontent has influenced the body politick more than voting between bi-partisan clones of the same established order.
Every rational person instinctively understands that money interests exert the primacy influence over public policy. Laws are administered and enforced according to the legal judiciary that operates, not as an arbitrator or adjudicator for justice, but as a protector of the patrician system.
Defiance has a charm about the image that movies exemplify, but little support when it comes down to popular engagement. The Henry David Thoreau of Philosophy may be discussed in conversation, but is seldom practiced in ordinary life decision. People have surrendered their courage to confront governmental abuses. As the docility of personality becomes the normal standard for the "Political Correct" culture, government is emboldened to discard the public opinion that differs with official policy.
Taking to the street is seen in Europe frequently, even if it not reported on the nightly news. In the Brian Williams version of embellishment, the civilian receptor of perpetual war propaganda is blinded by the non news in order to accept the phony narrative. As the latest "Wag the Dog" episode of this year's "War on Terror" play for the crowd, the ISIL miniseries gets overshadowed in the rating with the Ukraine designer conflict.
Those who believe the sirens sounds from the triplets – Jen Psaki, Marie Harf and "Big NeoCon Mama" Victoria Nuland over at the State Department, are the most pathetic patriot impostors imaginable. Lost in the spin is that the State Department was an eager participant behind the Ukraine coup d'etat.
However, public apathy persists that the notion of spontaneous civil disobedience combustion is totally absent from public consciousness. With the susceptibility of simulated patriotic appeals, the swayable dullards will demand retaliation after the next cover-up deception is triggered.
In a social order where it is impossible to throw out the bums in elections and courts will not follow the constitution, the lonely protestor has few options. Civil disobedience may not be popular in a psychologically induced environment, but denial is never a positive choice when tyranny is the official mode of rule.
With the announcement that Israeli's Benjamin Netanyahu's March 3 speech to Congress, the stakes are dramatically raised to eliminate Syria and Iran as a threat to the greater Zionist state and worse yet, to marginalize Russia and demonize Putin as a devil incarnate.
When the media cheerleaders do their usual genuflections for Bibi's call to arms, the rest of us are being used as bargaining chips to force a total capitulation or face nuclear destruction. If this is not an overwhelming reason to call for our own government to stand down, what would be? Threats from Israel that they will use their nukes against anyone who defies their demands, illustrates, who the real belligerent is in the region.
The upside down nature of the authentic patriotism and what passes as a blank check for brinkmanship madness should be clear to even the least informed. Still, the inevitable responses to those, who demonstrate or employ protest with civil disobedience, are put up as enemies of the state.
These are times for sober reflection. Dispel the manufactured and false flag crisis and concentrate on the bona fide threats that reside within our own shores. Fifth column subversives have assumed key position within the government. Their loyalty to causes or countries other than our own is a core factor in the insecurity that prevails.
If civil disobedience is not your cup of tea, start digging your bomb shelter. The odds that our Congressional Representatives will grow a backbone are remote. Presidents view themselves as the most powerful and supreme leader of the world as opposed to an American servant.
Dissent is the true patriotism when it is focused on eliminating despotism and restoring our foreign policy in keeping with George Washington's Farewell Address. If you really love your country, put an end to the gunboat armadas of the TR mentality and follow the lead of the father of your country.
Americans need to mature and grow-up. The dangerous world we live in was created largely because of the militarized intervention of the imperial U.S. Empire. Drawing lines in the sands of the Middle East is only superseded in pushing Russia to accept Ukraine to become a NATO member.
Ironman Varoufakis's Revolutionary Plan for Europe…
"The ongoing dispute between the German and Greek governments is nothing less than a democratic revolution against German hegemony and the attempt of the Germans and their paladins in the EU to dictate Greek domestic policy."

–Mathew D. Rose, It's a revolution, Stupid! Naked Capitalism

"Germany is eating itself over Greece. It is eroding its moral authority, and seems prepared to destroy the eurozone's integrity just to make a point."

–Paul Mason, Germany v Greece is a fight to the death, a cultural and economic clash of wills, Guardian
If you haven't been following developments in the Greek-EU standoff, you're really missing out. This might be the best story of the year. And what makes it so riveting, is that no one thought that little Greece could face off with the powerful leaders of the EU and make them blink. But that's exactly what's happened. On Monday, members of the Eurogroup met with Greece's finance minister, Yanis Varoufakis, to decide whether they would accept Greece's terms for an extension of the current loan agreement. There were no real changes to the agreement. The only difference was semantics, that is, the loan would not be seen as a bailout but as "a transitional stage to a new contract for growth for Greece". In other words, a bridge to a different program altogether.
In retrospect, Varoufakis's strategy was pure genius, mainly because it knocked the EU finance ministers off balance and threw the process into turmoil. After all, how could they vote "thumbs down" on loan package that they had previously approved just because the language was slightly different? But if they voted "thumbs up", then what?
Well, then they would be acknowledging (and, tacitly, approving) Greece's determination to make the program less punitive in the future. That means they'd be paving the way for an end to austerity and a rethink on loan repayment. They'd also be conceding that Greece's democratically-elected government had the right to alter the policies of the Eurogroup. How could they let that happen?
But, then again, how could they vote it down, after all, it was basically the same deal. As Varoufakis pointed out in a press conference on Monday:
"We agree to the terms of our loan agreements to all our creditors". And we have "agreed to do nothing to derail the existing budget framework during the interim period."
See? It's the same deal.
This is the conundrum the Eurogroup faced on Monday, but instead of dealing with it head-on, as you would expect any mature person to do, they punted. They put off the loan extension decision for another day and called it quits. Now maybe that was the smart thing to do, but the optics sure looked terrible. It looked like Varoufakis stared them down and sent them fleeing like scared schoolchildren.
Now, remember, Monday was the absolute, drop-dead deadline for deciding whether the Eurogroup would approve or reject the new terms for Greece's loan extension. That means the Eurogroup's task could not have been more straightforward. All they had to do was vote yes or no. That's it.
Instead, they called 'Time Out' and kicked the can a little further down the road. It was not a particularly proud moment for the European Union. But what's even worse, is the subterfuge that preceded the meetings; that's what cast doubt on the character of the people running EU negotiations. Here's the scoop: About 15 minutes before the confab began, Varoufakis was given a draft communique outlining the provisions of the proposed loan extension. He was pleasantly surprised to find that the document met all his requirements and, so, he was prepared to sign it. Unfortunately, the document was switched shortly before the negotiations began with one that backtracked on all the crucial points.
I'm not making this up. The freaking Eurogroup tried to pull the old switcheroo on Varoufakis to get him to sign something that was different than the original. Can you believe it? And it's only because Varoufakis studiously combed through the new memo that he was able to notice the discrepancy and jam on the brakes. As it happens, the final copy was just a rehash of the same agreement that Varoufakis has rejected from the onset. The only difference was the underhanded way the Eurogroup tried to slip it by him.
Now you tell me: Would you consider people who do something like that "trustworthy"?
Of course not. This is how people behave when they don't care about integrity or credibility, when all that matters is winning. If the Eurogroup can trick the Greeks into signing something that's different than what they think they're signing; then tough luck for the Greeks. "Caveat emptor". Buyer beware. The Eurogroup has no problem with that kind of shabby double-dealing. That's just how they play the game.
But their trickery and bullying hasn't worked, mainly because Varoufakis is too smart for them. And he's too charismatic and talented too, which is a problem for the EU bigwigs who resent the fact that this upstart Marxist academic has captured the imaginations of people around the world upsetting their little plan to perpetuate Greece's 6-year long Depression. They never anticipated that public opinion would shift so dramatically against them, nor had they imagined that all of Europe would be focused laserlike on the shady and autocratic workings of the feckless Eurogroup. That's not what they wanted. What they wanted was carte blanche to impose their medieval policies on the profligate Greeks, just like the good old days after Lehman Brothers tanked. After all, that's how a "anti-democratic imperialist project" like the EU is supposed to work, right?
Right, except now Varoufakis and his Marxist troopers have thrown a wrench in the Eurogroup's plans and put the future in doubt. The tide has turned sharply towards reason, solidarity and compassion instead of repression, exploitation and cruelty. In just a few weeks, the entire playing field has changed, and Greece appears to be getting the upper hand. Who would have known?
If you look at the way that Varoufakis has handled the Eurogroup, you have to admire the subtlety, but effectiveness of his strategy. In any battle, one must draw attention to the righteousness of their cause while exposing the flaws in the character of their adversary. The incident on Monday certainly achieved both. While David never really slayed Goliath, Goliath is certainly in retreat. And that's alot better than anyone expected.
As for the "cause", well, that speaks for itself. The Greek bailout was never reasonable because the plan wasn't designed to create a path for Greece to grow its way out of debt and deflation. No. It was basically a public relations smokescreen used to conceal what was really going on behind the scenes, which was a massive giveaway to the banks and bondholders. Everyone knows this. Check this out from Naked Capitalism:
"According to the Jubilee Debt Campaign, 92% of €240 billion Greece has received since the May 2010 bailout went to Greek and European financial institutions." (Naked Capitalism)
Yep, it was all just one big welfare payment to the moocher class. Meanwhile, the Greeks got zilch. And, yet, the Eurogroup wants them to continue with this same program?
No thanks.
As far as Greece's finances are concerned, they've gotten progressively worse every year the bailout has dragged on. For example, Greece's debt-to-GDP ratio has gone from 115 percent in 2010 more than 170 percent today. The country is headed in the wrong direction, which is what makes Varoufakis's remedies so compelling. It's because everyone knows that 'if you are already in a hole, stop digging'. That's the logic behind Varoufakis's position; he simply wants to "stop digging." But that can't be done by borrowing more money to repay debts that only get bigger with each new bailout. And it can't be done by implementing excruciating belt-tightening measures that increase unemployment and shrink the economy. It can only be done by reducing one's debts and initiating programs that help to grow the economy back to health. This isn't rocket science, but it is anathema to the retrograde ideology of the European Union which is one part bonehead economics and one part German sanctimony. Put the two together and you come up with a pre-Keynesian dystopia where one of the wealthiest regions in the world inches ever-closer to anarchy and ruin for the sole purpose of proving that contractionary expansion actually works. Well, guess what? It doesn't, and we now have six years of evidence to prove it.
It's worth noting that the Eurogroup hasn't budged one inch from its original position. In other words, there really haven't been any negotiations, not in any meaningful sense of the word. What there has been is one group of pompous blowhards reiterating the same discredited mantra over and over again, even though austerity has been thoroughly denounced by every reputable economist on the planet. Of course that doesn't matter to the ex-Goldman swindlers at the ECB or their hairshirt counterparts in Berlin. What they want is to extract every last drop of blood from their Greek victims. That's their game. And, of course, ultimately what they want to do is annihilate the entire EU welfare state; crush the unions, eviscerate pensions, wages and health care, and privatize everything they can get their greasy hands on. That's the real objective. Greece's exorbitant debts are just a means to an end, just a way to decimate the middle class in one fell swoop.
Keep in mind, the EU just narrowly avoided a triple-dip recession in the third quarter, which would have been their third slump in less than six years. How do you like that track record? It just illustrates the stunning mismanagement of the Union's economic affairs and the incompetence of the bureaucrats making the decisions. Even so, these same leaders have no qualms about telling Greece to step in line and follow their diktats to the letter.
Can you believe the arrogance?
Fortunately, Greece has broken from the herd and set out on a new course. They've disposed of the mealy-mouth, sellout politicians who used to run the country and put the A-Team in their place. And, boy, are they happy with the results. Syriza's public approval ratings are through the roof while Varoufakis has become the most admired man in Europe. The question is whether this new troupe of committed leftists can deliver the goods or not. So far, there's reason for hope, that is, if we can agree about what Varoufakis's strategy really is.
In earlier writings, Varoufakis said that he wants a New Deal for Greece. He said:
"Unless we have a new deal for Europe, Greece is not going to get a chance….It's a necessary condition that the eurozone finds a rational plan for itself…. until and unless the eurozone finds a rational plan for stopping this train wreck throughout the European Union, throughout the eurozone, Greece has no chance at all." Naked Capitalism)
Okay, so Varoufakis wants to stay in the EU, but he wants a change in policy. (Reducing the debts, ending austerity, and boosting fiscal stimulus.) But he also has more ambitious plans of which no one in Brussels, Frankfurt or Berlin seems to be aware. He wants to change the prevailing culture of the Eurozone; gradually, incrementally, but persistently. He wants a Europe that is more democratic and more responsive to the needs of the member states, but he also wants a Europe that is more united via institutions and programs that will strengthen the union. He believes that success will only be achieved if concrete steps are taken "to unify the banking system", mutualize debt ("the Federal Government having its own debt over and above states.") …"And thirdly we need an investment policy which runs throughout the Eurozone… a recycling mechanism for the whole thing. Unless we have these things,… I'm afraid there is absolutely nothing to avert the continuation of this slow motion derailment." (Naked Capitalism)
So, there you have it. Nationalize the banking system, create a Euro-wide bond market, and establish mechanisms for fiscal transfers to the weaker states like we do in the US via welfare, food stamps, gov contracts, subsidies etc. to create some balance between the very rich and productive states like California and New York and the poorer states like South Dakota and Oklahoma. That's what it's going to take to create a viable United States of Europe and escape these frustratingly recurrent crises. Varoufakis knows this, but of course he's not pushing for this. Not yet at least.
Instead, he's decided to take it slowly, one step at a time. Incremental change, that's the ticket. Just keep plugging away and building support until the edifice cracks and democracy appears.
That's Varoufakis's plan in a nutshell: Revolution from within. Just don't tell anyone in Berlin.